Thor bisa dibilang menjadi salah satu karakter terkuat pada lini karakter utama Marvel Cinematic Universe (MCU) dan memiliki filmnya sendiri dalam semesta tersebut. Sebagai salah satu punggawa Avengers yang masih bertahan, Dewa Petir ini masih memiliki kisah dalam perjalanan hidupnya sebagai pahlawan super, yang kali ini diangkat dalam 'Thor: Love and Thunder'.
'Thor: Love and Thunder' merupakan film aksi pahlawan super terbaru dari semesta sinema Marvel. Layaknya 'Thor: Ragnarok' 2017 lalu, film keempat dari Dewa Petir kembali disutradarai oleh Taika Waititi dan membawa beberapa bintang Hollywood ternama, seperti Chris Hemsworth, Tessa Thompson, Natalie Portman, dan Christian Bale.
Dalam kisah terbaru ini, Thor berpisah dengan Guardians of the Galaxy karena hadirnya Gorr the God Butcher yang mengancam eksistensi para dewa di semesta, seiring dengan hadirnya Jane Foster yang memiliki kekuatan seperti Thor bersama palu Mjolnir-nya.
Secara narasi, 'Thor: Love and Thunder' tampil dengan cerita baru Thor dalam perjalanannya selepas 'Avengers: Endgame'. Alih-alih tampil dengan cerita super panjang seperti beberapa film MCU sebelumnya, film keempat Thor ini terbilang singkat dengan selipan kejadian yang banyak berlatar antara trilogi Thor beberapa tahun lalu.
Terkait dengan lore MCU-nya, 'Thor: Love and Thunder' membawa penonton hanyut dalam kisah Thor sepanjang durasinya. Oleh karena itu, koneksinya dengan berbagai film lain dalam semesta tersebut terasa sangat minim dan akan terasa lebih menggugah bagi yang sudah menikmati trilogi Thor. Akan tetapi, sensasi filler di dalamnya tetap memiliki nilai hiburannya tersendiri dengan hadirnya berbagai easter egg terkait properti intelektual dari Disney dan selipan pop culture lainnya.
Tidak hanya itu, kehadiran adegan setelah credit roll di dalamnya juga memberikan opportunity baru dalam keberlanjutan semesta Marvel yang sudah dibangun sejak 2008 silam ini.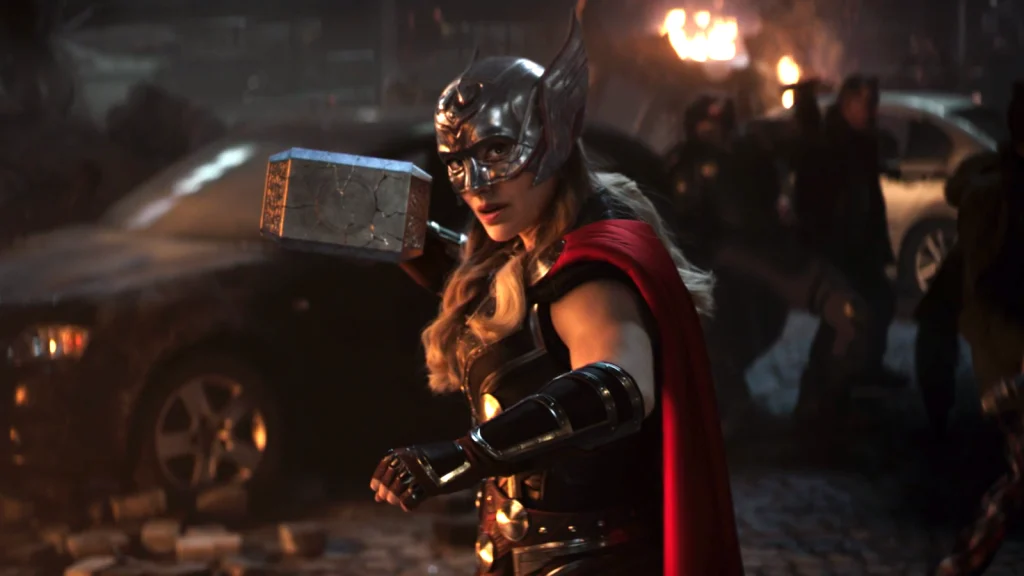 Tentu saja, sorotan utama tertuju pada karakter Thor, Valkyrie, dan Jane Foster. Ketiganya berhasil menghidupkan 'Thor: Love and Thunder', terutama kala momen Thor dan Jane Foster yang sudah lama didambakan para pencinta sinema Marvel. Akan tetapi, film terbaru MCU ini tetap menghadirkan nuansa cukup mencekam berkat hadirnya Gorr the God Butcher yang memberikan thrills tersendiri di setiap kemunculannya. Bisa dibilang, penjagal dewa ini adalah salah satu villain terbaik dalam Phase Four, utamanya dari karakterisasinya yang dibangun dengan baik sepanjang film.
Seperti berbagai film MCU lainnya, 'Thor: Love and Thunder' diwarnai oleh kehadiran berbagai aktor-aktris Hollywood ternama. Meski begitu, spotlight dari film ini bukan terletak pada Chris Hemsworth, melainkan lebih cocok diberikan pada Christian Bale yang menjadi Gorr the God Butcher. Aktor berdarah Britania itu terasa total membawakan karakter villain tersebut, menjadikan sang penjahat terbaru ini terlihat mengerikan dan manusiawi di saat yang sama.
Secara teknis, 'Thor: Love and Thunder' tetap tampil megah. Sorotan utama tentu dari penggunaan CGI-nya yang sangat rapi, serta set design yang ditampilkan lebih menggugah dibandingkan trilogi Thor sebelumnya.
Pada akhirnya, 'Thor: Love and Thunder' adalah hiburan singkat penikmat MCU dari rumitnya multiverse. Dengan cerita yang terasa terpisah dibanding film-film pada Phase Four lainnya, kisah baru Thor ini adalah fanservice bagi yang sudah menikmati trilogi Thor sebelumnya secara lengkap dengan selipan pop culture yang tetap menghibur sepanjang durasinya.