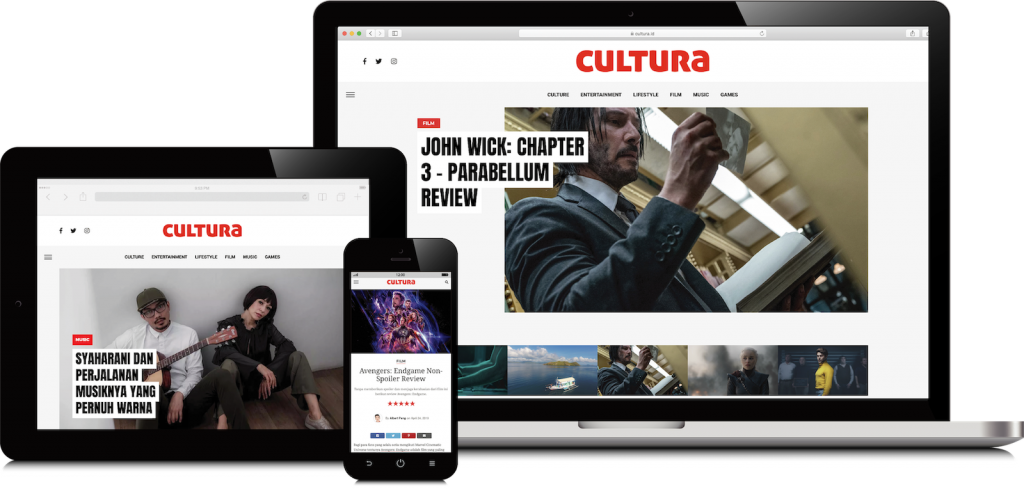 An independent online magazine about culture, lifestyle and entertainment. The site is carefully curated to provide high-quality contents related to culture, current issues, lifestyle and entertainment news.
Cultura Magazine (formerly JakartaVenue.com) is the go-to entertainment news site for the culturally obsessed.
Masthead
Founder
Andhika Zulkarnaen
Partner
Prismanda Dwiyoga Ibrahim
Senior Reporter
Egon Saputra
Photojournalist
Dicky Bisinglasi
Photographer
Reza Syathir
Seto Ery
Writers
Bernadetta Yucki
Contributors
Albert Pang
Gerry Ardian
Atika Sumarsono
Adriyani Ayu
Rieska Utami
Gloredtha Y. Rambe
Randy Aprialdi
Reza Nur Aprillia
Lathifah Indah
Galih Dea
Yaya Badria
Bayu Saputra
Bayu Ade Prabowo
Cultura Studios
Creative agency that produces custom content and experiences that tap into the cultural vibrancy, fun and prestigious equity of Cultura Magazine.
Cultura Live Session
Weekly showcase, also an opportunity, for curated musician/band to perform one of their songs and cover a song they love. Recorded live as intimate video performances in a place represented the musician/band the mostㅡeither a studio, an office, or anywhere else. We support local artists!
Check our videos on YouTube.