Bagi sebagian besar orang, masa remaja adalah salah satu fase paling penting yang menentukan arah hidupnya. Mengenai bagaimana ia menyikapi berbagai macam hal di sekitarnya hingga penemuan jati diri, semua hadir untuk membangun karakter seorang remaja. Sekilas, itu menjadi salah satu sorotan dalam 'Virgo and The Sparklings' yang sedang tayang di bioskop.
'Virgo and The Sparklings' merupakan film aksi pahlawan super produksi Screenplay Bumilangit yang diarahkan oleh Ody C. Harahap. Menempatkan Adhisty Zara sebagai pemeran utamanya, film ketiga dalam Jagat Sinema Bumilangit ini berkisah tentang Riani yang terpaksa berpindah-pindah sekolah atas petaka dari kekuatannya. Bersama dengan teman-teman barunya, ia berusaha untuk mewujudkan mimpinya membangun band rock terkenal dan memahami kekuatan terpendamnya seiring hadirnya musuh perusak tatanan masyarakat.
Secara narasi, 'Virgo and The Sparklings' hadir dengan representasi cerita cenderung maju dan linear. Cerita sendiri berkutat pada Riani yang berusaha untuk menjadikan hidup remajanya lebih seimbang karena kekuatannya. Akan tetapi, sajian naratif dalam film remaja pahlawan super ini terasa sangat tumpeng tindih, membuatnya terasa tidak konsisten karena bangunannya yang seakan ingin menampilkan banyak hal.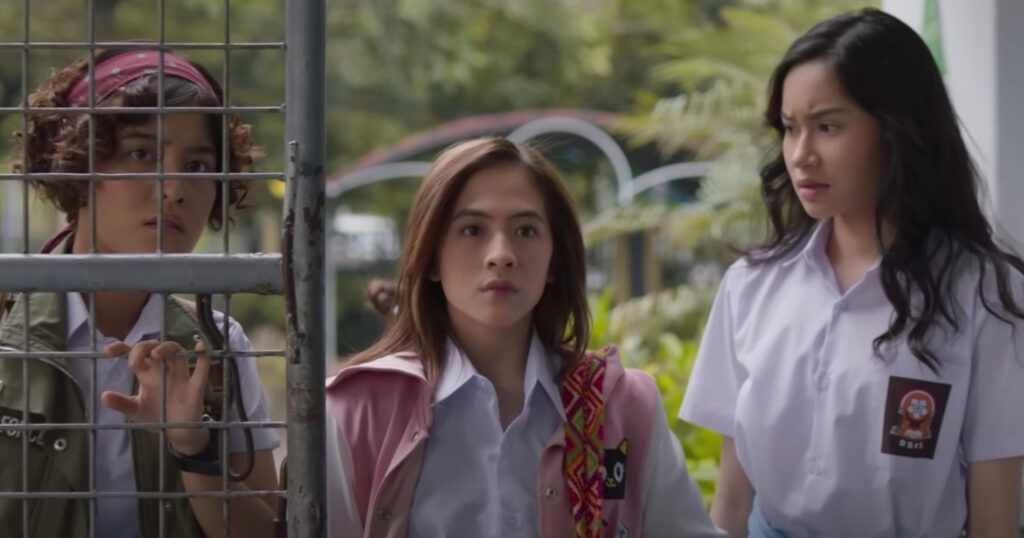 Menjadi bagian dari Jagat Sinema Bumilangit, 'Virgo and The Sparklings' mengambil arah yang berbeda dari 'Gundala' dan 'Sri Asih'. Alih-alih tampil dengan nuansa kelam bak DC, film superhero arahan Ody C. Harahap ini disajikan dengan tone yang cenderung cerah demi menyesuaikan latar seputar remaja. Dikemas dengan representasi yang asik melalui deret musik penggugah mood dan komedi pengundang tawa, film ini tampak seperti coming-of-age drama yang dibalut sentuhan pahlawan super sebagai sisi baru adaptasi sinematik Bumilangit.
Akan tetapi, tone cerah ini tampak terusik dengan hadirnya Carmine sebagai antagonis dalam 'Virgo and The Sparklings'. Carmine dengan ambisi besarnya mengubah dunia dengan kekuatannya tampak terlalu menggebu-gebu, membuat eksistensinya tampak out-of-place pada film ini. Belum lagi minimnya latar belakang dari sang antagonis yang membuat penonton akan sulit paham dengan grand purpose darinya.
Tak berhenti di narasi, aspek karakterisasi adalah hal minim lainnya pada 'Virgo and The Sparklings'. Mendampingi Riani, ada berbagai karakter lain yang tersaji, seperti Monica, Ussy, dan Sasmi dengan sorotan besar. Ketiganya yang tampak hadir sebagai sidekick dari Riani, tak pernah memiliki redeeming quality dalam plot utama meski representasinya tampak hidup berkat akting memukau dari para aktris terkait.
Banyak sekali karakter potensial yang sebenarnya dapat disorot lebih, seperti Leo dan anggota lain Scorpion Sisters, yang eksistensinya sayang sekali tak pernah benar-benar dipedulikan oleh naskah.
Layaknya berbagai film superhero, 'Virgo and The Sparklings' tetap tampil dengan ragam adegan aksi. Banyak berpaku pada penggunaan special effects, implementasinya tampak downgrade dari 'Gundala' dan 'Sri Asih' karena masih banyaknya scene yang terlihat tidak nge-blend dengan efek-efeknya. Ini pula yang sekali lagi mencederai experience kala menonton kisah Riani seiring durasinya.
Akhir kata, 'Virgo and The Sparklings' adalah usaha Screenplay Bumilangit dalam menyajikan tone berbeda dalam Jagat Sinema Bumilangit. Meski memberi kesegaran, representasinya yang tampak setengah matang membuat sinarnya cukup pudar seiring runtime.