Setelah "Werewolf by Night" menjadi FTV yang memeriahkan perayaan Halloween, Marvel Studios kembali dengan FTV terbaru untuk menyambut Natal. "Guardians of the Galaxy Holiday Special" menjadi persembahan baru Marvel yang sudah bisa di-streaming di Disney+ Hotstar sejak 25 November.
Sebelumnya 'Guardians' juga merilis special short series, "I Am Groot". Tampaknya memang franchise the underdog team ini memiliki banyak potensi proyek spesial tanpa terasa canggung. Setiap karakter memiliki style dan vibe masing-masing. Mampu bersinar ketika sedang tampil bersama maupun ketika sedang melakukan petualangan terpisah.
Kali ini kita akan mengikuti petualangan Mantis dan Drax. Mendengar cerita bahwa Yondu menghancurkan natal Peter Quill saat masih kecil, Mantis tergerak untuk melakukan hal spesial kali ini. Terutama mengingat Peter yang telah melalui masa sulit semenjak Gamora pergi. Tak sendirian, Mantis meminta bantuan Drax untuk pergi ke Bumi bersamanya. Keduanya hendak membawa aktor Kevin Bacon, idola Peter, sebagai hadiah natal.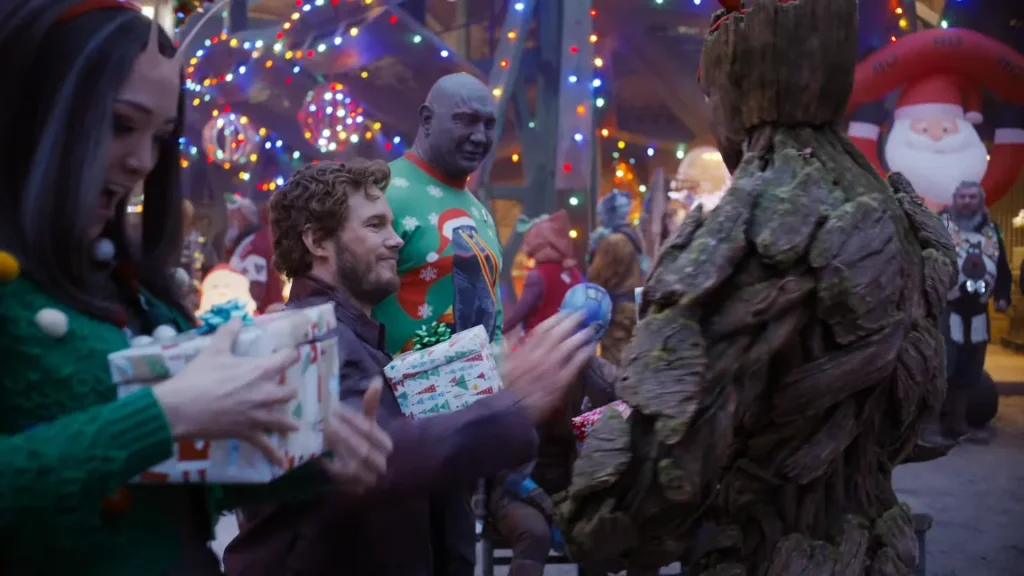 Persembahan Natal yang Menghadirkan Kehangatan
Ada nilai-nilai spesial yang patut diaplikasikan dalam film berlatar natal, diantaranya semangat akan musim liburan, momen berbagi kebahagian, dan niat baik untuk orang tercinta. Film natal yang baik juga kerap menghadirkan nuansa nostalgia dan kehangatan dalam keluarga. "Guardians of the Galaxy" selalu tentang keluarga. Formasi keluarga yang unik dalam gang Peter Quill ini justru memberikan pesona tersendiri yang selalu berhasil membuat kita tersentuh dalam berbagai skenario.
FTV spesial liburan ini menjadi sajian ringan tanpa penjahat, hanya petualangan anggota 'Guardians' untuk menyambut natal. Konsep liburan yang masih asing bagi mereka. Ketidakpahaman mereka tentang natal justru menambah konten komedi.
Plotnya juga terbilang sederhana, namun secara mengejutkan tetap berhasil membuat penonton terhibur bahkan kembali tersentuh dengan interaksi para 'Guardians' ini. Akan ada plot flashback yang dieksekusi dalam bentuk animasi sederhana, namun dijamin bikin baper buat kita penggemar berat "Guardians of the Galaxy".
Special Holiday berdurasi 44 menit ini mungkin sekilas terlihat sebagai proyek tambahan yang asal lewat. Namun sangat sayang jika terlewatkan, karena produksinya tetap niat dan sajikan hiburan yang maksimal.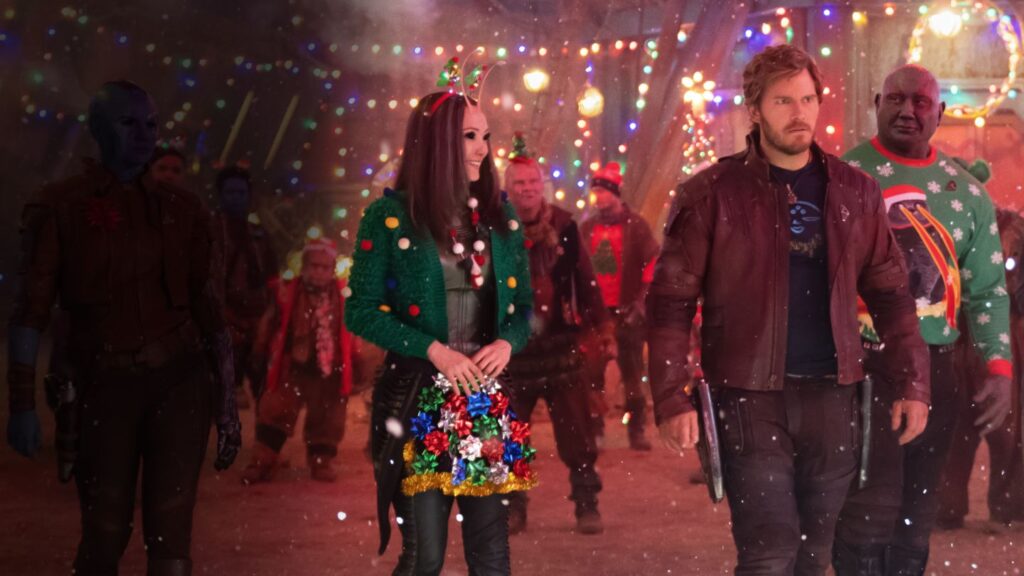 Interaksi Humoris Mantis dan Drax yang Menghibur
Bintang utama dalam "Guardians of the Galaxy" kali ini adalah Mantis dan Drax, masih diperankan oleh Pom Klementieff dan Dave Bautista. Duo satu ini memiliki chemistry sebagai sahabat dalam 'Guardians' yang tak kalah lucu seperti Groot dan Rocket. Dalam skenario kali ini, keduanya ternyata berbagi banyak rahasia. Karena salah satu rahasia penting Mantis hanya diketahui oleh Drax, hanya Drax yang mampu membantunya untuk memberikan hadiah natal terbaik untuk Peter.
Mereka kemudian melakukan petualangan berdua di Bumi untuk mencari Kevin Bacon yang tinggal di Los Angeles, California. Buat yang menikmati materi komedi pendek yang dibawakan oleh duo ini dalam film 'Guardians', dalam Holiday Special ini kita puas-puaskan melihat Mantis dan Drax saling melontarkan materi humor.
Tak hanya Mantis dan Drax, sepanjang Holiday Special ini ada banyak materi komedi yang diaplikasikan sepanjang plot. Ada banyak adegan-adegan pelengkap yang akan selalu mengundang tawa pada penonton. Kapan lagi melihat Nebula menari diiringi lagu natal?
Penampilan Soundtrack Tambah Kemeriahan
Perayaan Natal dalam "Guardians of the Galaxy Holiday Special" semakin semarak dengan soundtrack original spesial. Karena musik juga menjadi salah satu elemen yang menjadi ciri khas dari judul Marvel Studios ini.
Ada dua soundtrack original bernuansa natal dalam fim ini. Pastinya dengan lirik yang tak hanya catchy, namun juga menggelitik dengan materi komedinya. Kita juga akan melihat penampilan Kevin Bacon menyanyi di panggung sebagai pengiring montage perayaan natal yang semarak.
Adegan terakhir dalam Holiday Special ini juga akan sangat menyentuh dan meninggalkan kesan. Mungkin kita setidaknya bakal menonton FTV ini untuk kedua kalinya di Hari Natal nanti. Karena banyak momen lucu dan menyentuh yang patut ditonton lebih dari satu kali. Dengan begitu, "Guardians of the Galaxy Special Holiday" memiliki nilai yang dimiliki oleh film natal pada umumnya.
Meski plotnya sederhana dan sangat ringan, film seperti ini merupakan film yang akan selalu membuat kita rindu untuk menonton kembali ketika musim liburan tiba.