Konsep tentang multiverse masih menjadi teka-teki dalam ilmu fisika, namun dalam dunia pop culture, akhir-akhir ini multiverse banyak diangkat untuk dijadikan tema dalam suatu film.
Konsep multiverse sendiri semakin populer sejak rilisnya film-film Marvel seperti "Spider-Man: No Way Home" (2021) dan "Doctor Strange in the Multiverse of Madness" (2022), hingga tahun ini duo sutradara Daniel Kwan dan Daniel Scheinert berhasil memperkenalkan "Everything Everywhere All at Once" sebagai salah satu film multiverse paling absurd untuk saat ini.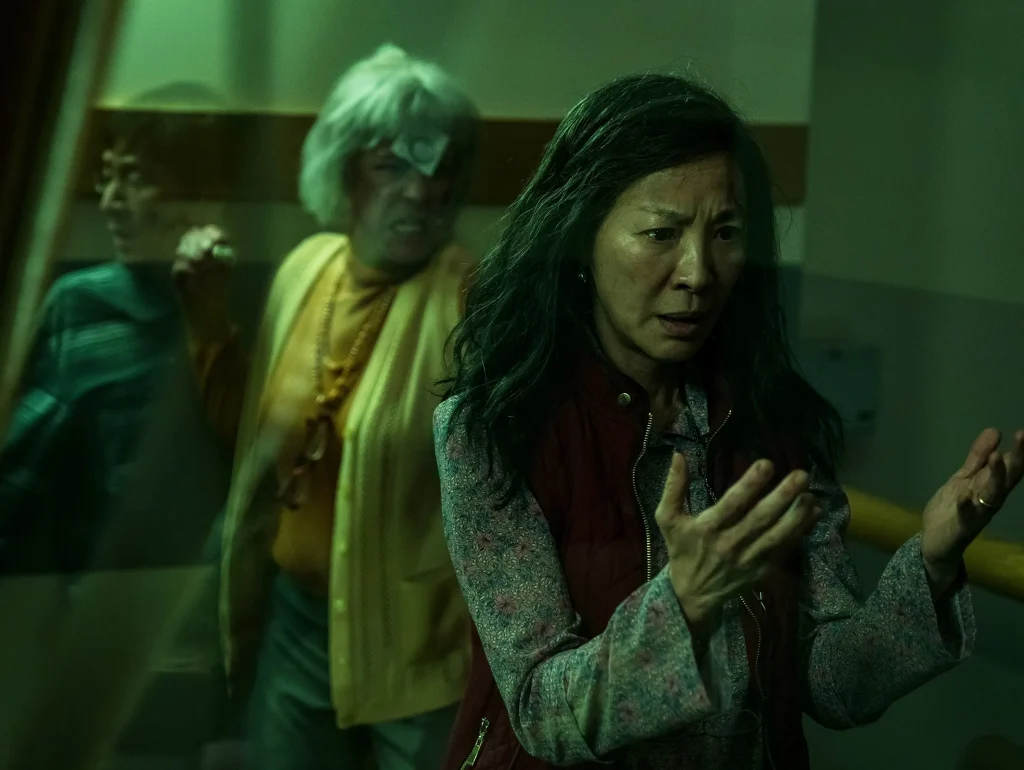 Drama Keluarga Dengan Konsep Multiverse
"Everything Everywhere All at Once" menceritakan kisah Evelyn Wang (Michelle Yeoh), seorang imigran Tiongkok yang memiliki usaha binatu di AS bersama suaminya, Waymond (Ke Huy Quan).
Pada awal film, kita ditunjukan kehidupan Evelyn yang flat, penuh tekanan, dan penyesalan. Bagaimana repotnya Ia mengurusi keuangan usaha binatunya sekaligus melayani para pelanggannya, dan bagaimana Ia menghadapi suaminya yang kurang cakap dalam hal berbisnis. Di satu sisi, Waymond sebagai suami sangat mencintainya, namun dihantui penyesalan karena tidak bisa membahagiakan istrinya.
Masalah lain juga dihadapi Evelyn, yakni hubungannya yang kurang baik dengan anaknya, Joy (Stephanie Hsu) yang merupakan seorang gay. Evelyn sebagai sang ibu belum bisa menerima orientasi seksual anaknnya itu.
Tekanan dan stress yang dihadapi Evelyn memuncak saat Ia sedang diaudit oleh dinas pajak. Saat tengah berhadapan dengan petugas pajak, tiba-tiba versi Waymond dari multiverse lain muncul dan menyeret Evelyn ke dalam petualangan absurd di mana nasib multiverse sedang dipertaruhkan, dan hanya Evelyn yang dapat menyelamatkannya.
Awal dari film memang hanya menceritakan seputar permasalahan keluarga imigran, hubungan istri-suami, dan hubungan ibu-anak yang sudah banyak diangkat di banyak film. Namun unsur drama realis pada paruh menit pertama film langsung dibuyarkan oleh munculnya konsep multiverse lain.
Duo Daniel Kwan dan Daniel Scheinert sebelumnya memang telah dikenal membuat film absurd semacam "Swiss Army Man" (2016), dan nyatanya tahun ini mereka kembali lagi membuat karya yang tidak kalah absurdnya.
Bagaimana tidak, berbeda dengan film multiverse lain, multiverse pada film ini menggabungkan semua benang kehidupan secara bersamaan, melilitkannya satu sama lain sehingga menciptakan dunia yang cukup aneh. Yang paling aneh adalah terdapat dunia yang hanya berisi manusia dengan jari-jari "hot dog" karena adanya perubahan proses evolusi.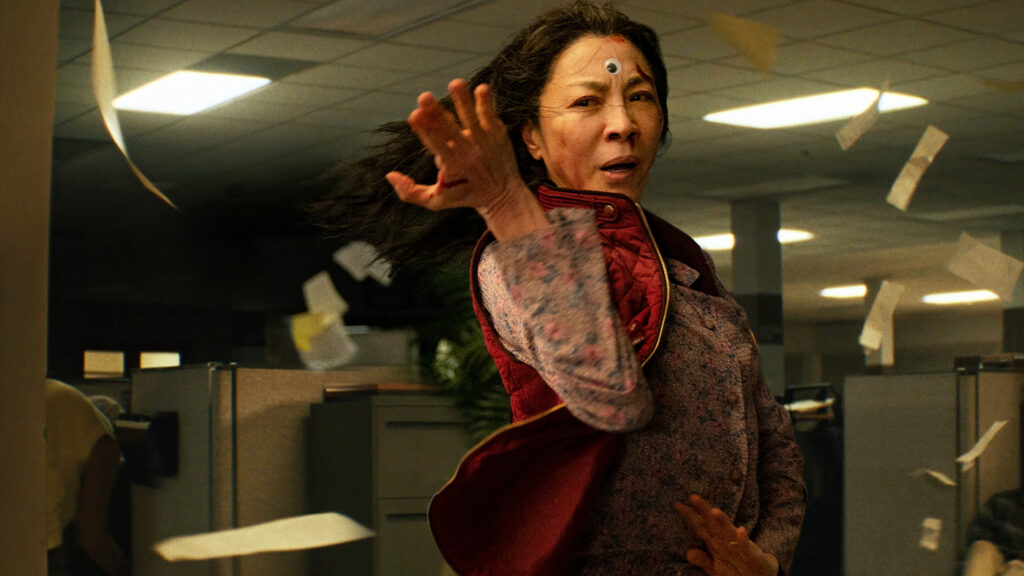 "Everything Everywhere All at Once" juga disertai aksi pertarungan yang cukup keren dan konyol. Proses penggabungan multiverse pada film ini cukup unik, yaitu bila suatu karakter ingin punya kemampuan dari karakternya di multiverse lain, maka ia harus melakukan hal-hal yang konyol.
Dibalik kekacauan, imajinasi, dan keabsurdan dalam film ini, lambat laun para audiens akan memahami bahwa ada suatu pesan filosofis yang ingin disampaikan Daniel Kwan dan Daniel Scheinert melalui kacamata Evelyn sebagai protagonist utama dalam film.
Visual Effect yang Menggugah
"Everything Everywhere All at Once" unggul dalam aspek visual. Adegan aksi yang diarahkan Andy Cheng, yang juga menggarap koreografi "Shang-Chi", cukup berhasil memukau audiens karena terlihat indah dan terasa lebih otentik.
Lalu departemen CGI film ini patut diapresiasi karena berhasil menciptakan visualisasi dari hasil imajinasi yang cukup gila dan absurd. Bahkan efek visualnya dapat disandingkan dengan film-film produksi Marvel dengan budget yang besar.
Kembalinya Michelle Yeoh
Aktris veteran Michelle Yeoh kembali menunjukan kebolehan aktingnya di film ini. Dalam "Everything Everywhere All at Once", Michelle Yeoh menunjukan ketrampilan seni bela diri, komedi, serta kemampuannya untuk menunjukan emosi sebagai seorang ibu paruh baya.
Film ini juga menjadi panggung bagi aktor berkebangsaan Vietnam Ke Huy Quan yang dikenal publik karena memerankan Short Round di "Indiana Jones and The Temple of Doom" (1984). Aktingnya sebagai Waymond seakan menjadi momen comeback setelah 30 tahun hiatus dari dunia akting.
Pada akhirnya, "Everything Everywhere All at Once" bukan hanya film action-comedy multiverse yang menonjolkan segi visual, melainkan duo Daniel sebagai sang sutradara sengaja membuat film ini sarat akan makna absurdisme khas Albert Camus.
Multiverse hanyalah bagian yang dimasukan untuk menyoroti pesan yang sebenarnya, yakni pentingnya keluarga, cinta, dan menemukan kebahagiaan dalam hidup.