Phase Four dalam keberlanjutan Marvel Cinematic Universe (MCU) sepertinya akan berfokus dalam konsep multiverse layaknya versi komik dari Marvel. Setelah beberapa kali mengangkat konsep tersebut pada beberapa line-up seperti serial 'Loki', 'What-If', dan 'Spider-Man: No Way Home', multiverse kembali diperluas melalui 'Doctor Strange in the Multiverse of Madness'.
'Doctor Strange in the Multiverse of Madness' merupakan film terbaru dalam Phase Four dari MCU yang disutradarai oleh Sam Raimi. Dibintangi oleh Benedict Cumberbatch, Elizabeth Olsen, dan Xochitl Gomez, film superhero ini berfokus mengenai kisah Stephen Strange yang harus berhadapan kembali dengan ancaman baru yang membahayakan multisemesta.
Layaknya berbagai film dan serial MCU lainnya, 'Doctor Strange in the Multiverse of Madness' tetap tampil dengan pola penceritaan yang maju. Tentu saja, film ini akan lebih mudah dinikmati bagi penonton yang telah secara berurutan menikmati berbagai line-up dari MCU, baik yang tayang di layar lebar maupun series pada bermacam-macam streaming platform.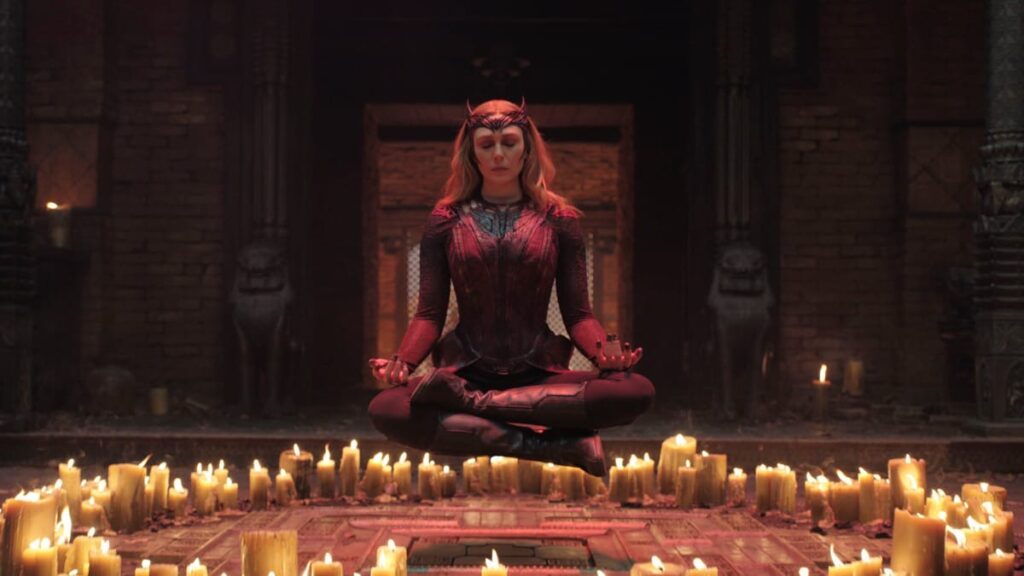 Berbeda dengan berbagai serial dan film sebelumnya yang masih secara samar-samar membawakan konsep multiverse, Sam Raimi dan kru secara lebih lugas membawa penonton dalam multiverse yang direpresentasikan secara menarik. Selain itu, sajian sinematik yang sedikit menyentuh horor ala sang sutradara juga berhasil dibawakan dan membuat penonton merasakan sensasi tegang dalam hiburan pahlawan super ini.
Seperti berbagai film dan series dalam MCU ke belakang, sekuel dari 'Doctor Strange' ini tetap tak melupakan jati dirinya sebagai film Marvel yang memberikan homage pada berbagai karakter komiknya. Di samping itu, film ini juga membawakan berbagai karakter dari film-film Marvel di luar MCU, memberikan fan service tersendiri bagi para penikmatnya yang sekaligus menjadi kekecewaan tersendiri karena role-nya yang kurang memberikan kesan.
Doctor Strange dan Wanda Maximoff sendiri merupakan highlight dalam 'Doctor Strange in the Multiverse of Madness', yang tampil menawan dengan persona-nya masing-masing. Sebagai karakter utama, Doctor Strange dengan berbagai versinya mampu memberikan nuansa seru dan unik yang sangat menghibur sepanjang durasi filmnya.
Wanda Maximoff yang akhirnya meng-embrace jati dirinya sebagai Scarlet Witch juga mampu memberikan thrills dengan kelihaiannya memainkan sihir hitam. Tak hanya dua karakter tersebut, kemunculan perdana America Chavez juga memberikan warna baru dalam MCU, yang sekaligus menjadi secercah masa depan bagi keberlanjutan semesta sinematik dari Marvel ini.
Secara teknis, 'Doctor Strange in the Multiverse of Madness' mampu memanjakan berbagai indera penontonnya. Visual penuh warna dengan sinematografi ciamik, scoring yang placement-nya terdengar sesuai dengan emosi yang ingin ditampilkan pada berbagai scene, serta penggunaan CGI yang rapi tentunya akan membuat penonton betah untuk menikmatinya sampai akhir.
Pada akhirnya, 'Doctor Strange in the Multiverse of Madness' adalah film MCU yang membuat konsep multiverse pada Phase Four tampak lebih menarik. Akan tetapi, dengan elemen sinematiknya yang tampak ambisius, film ini tentunya akan cukup sulit untuk dinikmati penonton yang masih awam dengan semesta tersebut dan juga penonton yang masih di bawah 17 tahun karena elemennya yang cukup memusingkan.