Kolaborasi antara 3 penyanyi yang mendominasi pop scene dalam beberapa tahun terakhir sepertinya memang dinanti-nanti. Ariana Grande, Lana Del Rey, dan Miley Cyrus memang seakan bermain di jalur yang berbeda secara musikal. Meskipun ketiga diva ini menunjukan vibe, sampai pesan yang kurang lebih sama. Kolaborasi ketiganya untuk soundtrack film Charlie's Angels terbaru pun mengejutkan sekaligus tidak sama sekali.
"Don't Call Me Angel" memberikan ide seorang wanita mandiri. Independen. Konsep yang sudah menjadi jargon film (dan soundtrack) Charlie's Angels selama bertahun-tahun. Lirik di lagu ini pun memberikan ide yang kurang lebih sama. Beberapa bagian dari lirik seakan memiliki kesinambungan tersendiri dengan mega hits "Independent Women, Pt. 1" dari Destiny's Child, yang juga merupakan soundtrack Charlie's Angels di tahun 2000.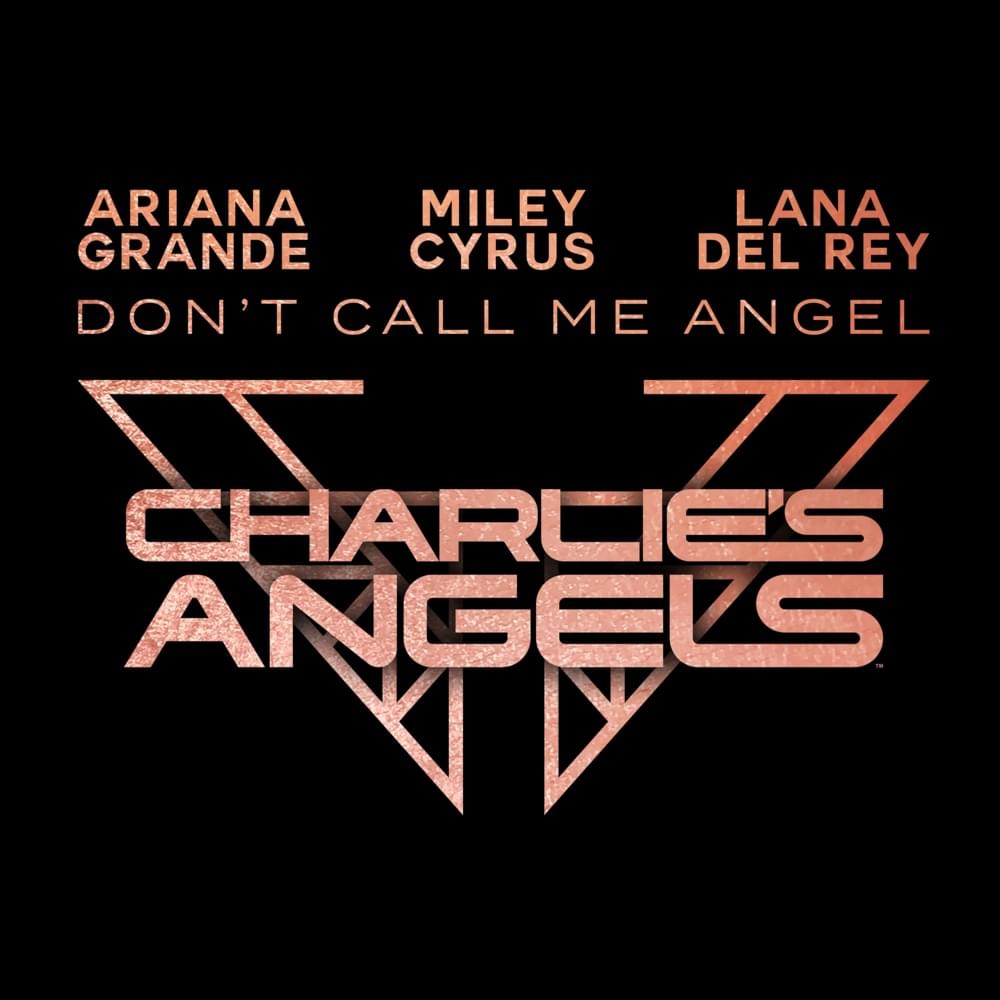 Sebelum berbicara mengenai single ini sendiri, video musik "Don't Call Me Angel" sangat layak dibahas. Video musik untuk soundtrack ini digarap oleh Hannah Lux Davis, yang sebelumnya sudah menggarap klip untuk Ariana Grande di hits "Boyfriend", "Thank U, Next", "7 Rings", dan "Break Up with Your Girlfriend, I'm Bored". Sedangkan ini merupakan kali pertama Lux Davis bekerja sama bareng Lana Del Rey, dan Miley Cyrus. Satu jawaban mengapa chemistry seakan kurang terbangun antara kedua diva tersebut di musik video ini.
Sebagai video musik untuk soundtrack film, tak heran bila ditemukan beberapa elemen Charlie's Angels di klip ini. Ariana Grande, Lana Del Rey, dan Miley Cyrus hadir dengan balutan dress berwarna hitam serta sayap, dengan warna yang sama. Scene berikutnya menunjukan Ariana berpose cantik, Miley di atas rig, serta Lana di ruang kontrol dan melempar pisau pada The Man. Tak terlalu wow bila membandingkan dengan video musik lain garapan Lux Davis memang.
Lagunya sendiri, sarat akan irama pop. Dibuka dengan chorus dari Grande yang meminta untuk tak dipanggil "Angel" meskipun ia bisa terbang. Lalu menyebut dirinya tak datang dari "Heaven." Chorus ditutup dengan sing-rap dari Miley Cyrus. Setelah hook catchy dari Ariana Grande di pembuka, line "I make my money and I write the checks/So say my name with a little respect," dari Miley Cyrus cukup layak mendapat apresiasi. Disusul dengan line apik berikutnya dari Ariana untuk bridge "Don't you know that I bite when the sun set?."
Dari dua bagian Grande dan Cyrus ini sendiri tak ada yang terlalu menantang. Falsetto range yang dibawakan Grande sama sekali bukan hal baru untuk sang diva. Begitu pun dengan Cyrus. Bagian Lana Del Rey untuk bridge pun masih sama. Masih berada dalam range aman untuk sang penyanyi. "I appreciate the way you want me, I can't lie/I drop it down, I pick it up," senandung Del Rey dengan nada monoton yang menjadi ciri khas tersendiri.
Pembagian masing-masing part dalam lagu ini untuk Ariana Grande, Lana Del Rey, dan Miley Cyrus pun jelas. Grande dengan bagian chorus yang terus berulang, Cyrus pada rap, serta Del Rey kebagian mengisi part bridge yang menurunkan tempo beberapa bar. Tak ada harmonisasi dari ketiga penyanyi ini yang justru menjadi kekurangan terbesar.
Tak adanya harmonisasi dari Grande, Cyrus, dan Del Rey sepanjang lagu membuat "Don't Call Me Angel" seakan sebuah mash-up. Bukannya kolaborasi. Ketiganya pun masih menggunakan genre mereka masing-masing dengan range aman sendiri. Tak adanya harmonisasi ini juga yang seakan menampilkan tak adanya chemistry untuk ketiganya. Satu hal yang juga terlihat dari video.
"Don't Call Me Angel" merupakan proyek single dan soundtrack yang tak terbayangkan, namun sekaligus terbayangkan. Terutama sekali lagi dengan pesan yang dibawa ketiga diva di lagu mereka masing-masing. Lagu pop mainstream dengan cliche mengenai jargon wanita mandiri dan independen dieksekusi dengan baik, harus diakui. Hanya saja kurangnya chemistry menjadi ganjalan berarti.