"We Have a Ghost" merupakan film horor komedi terbaru dari sutradara Christopher Landon. Sutradara spesialis horor ini terkenal melalui film "Happy Death Day" (2017) dan "Freaky" (2020). Netflix Original ini dibintangi oleh David Harbour (Stranger Things), Jahi Di'Allo Winston, Anthony Mackie, Jennifer Coolidge, Tig Notaro, dan Isabella Russo.
Kevin bersama keluarganya pindah ke rumah baru yang terlihat usang namun murah untuk memulai kehidupan baru. Kevin terlihat tidak antusias dengan tempat tinggal barunya, hingga ia bertemu dengan Ernest, hantu pria di loteng rumah. Persahabatan terjalin di antara mereka, sementara ayah Kevin malah mengambil keuntungan dari situasi Ernest.
Seperti film-film Landon sebelumnya, "We Have a Ghost" masih kental dengan nuansa komedi dengan protagonis remaja, berpetualang bersama temannya. Namun jika kedua film sebelumnya cenderung masuk kategori slasher dan teen scream, "We Have a Ghost" menjadi film paling berbeda dengan film-film Landon sebelumnya.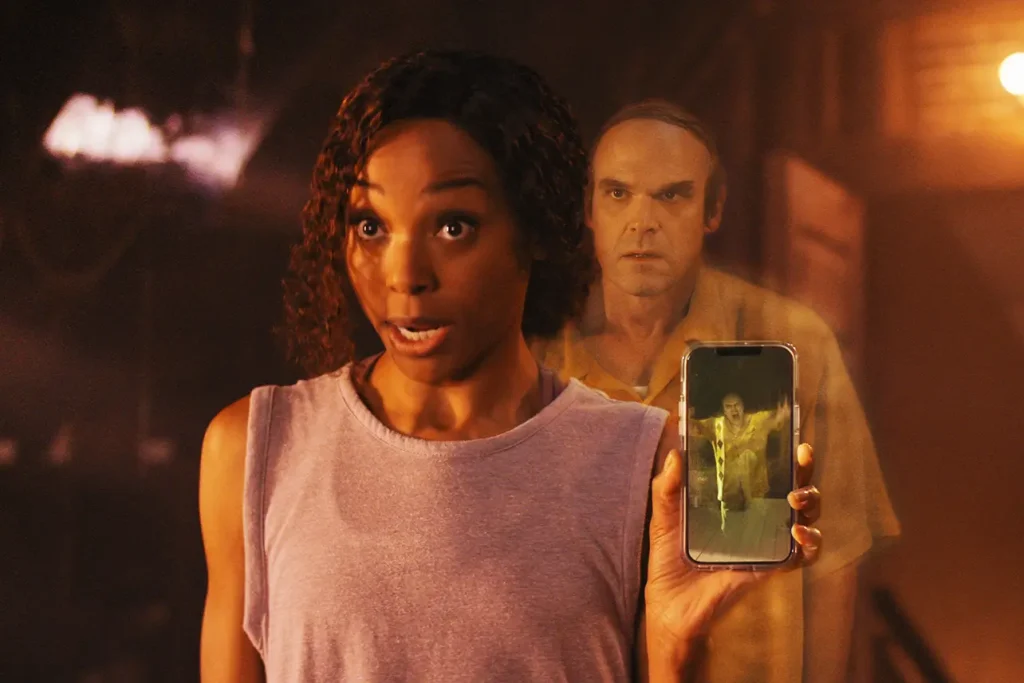 Horor Komedi Perpaduan Casper dengan E.T.
"Happy Death Day" terinspirasi oleh "Groundhog Day" (1993), sementara "Freaky" memadukan "Freaky Friday" (2003) dengan "Friday the 13th" (1980). Christopher Landon kembali mengambil inspirasi dari film-film klasik, "We Have a Ghost" akan mengingatkan kita pada film live-action "Casper" (1995) dan plot persahabatan alien dengan anak manusia, E.T.
Kevin mengaku bahwa kehidupannya lebih mengerikan dari penampakan Ernest. Setelah berusaha berkomunikasi karena kesepian dan penasaran, Kevin mempelajari bahwa Ernest bukan hantu yang menyeramkan apalagi berbahaya.
Kevin sebagai protagonis remaja yang memiliki kecenderungan baik ini pun lebih peduli untuk membantu Ernest "menyebrang". Namun keadaan menjadi rumit ketika ayah dan saudara Kevin malah mengeksploitasi Ernest sebagai konten media sosial. Dua objektif kontras inilah yang akan menjadi kendaraan utama plot. Di pertengahan juga ada adegan ala-ala "Ghostbusters", ketika penyelidik fenomena paranormal, Leslie Monroe, berambisi untuk menangkap Ernest. Namun plot yang satu ini terasa nanggung banget, hanya memberi alasan agar adegan kejar-kejaran yang seru.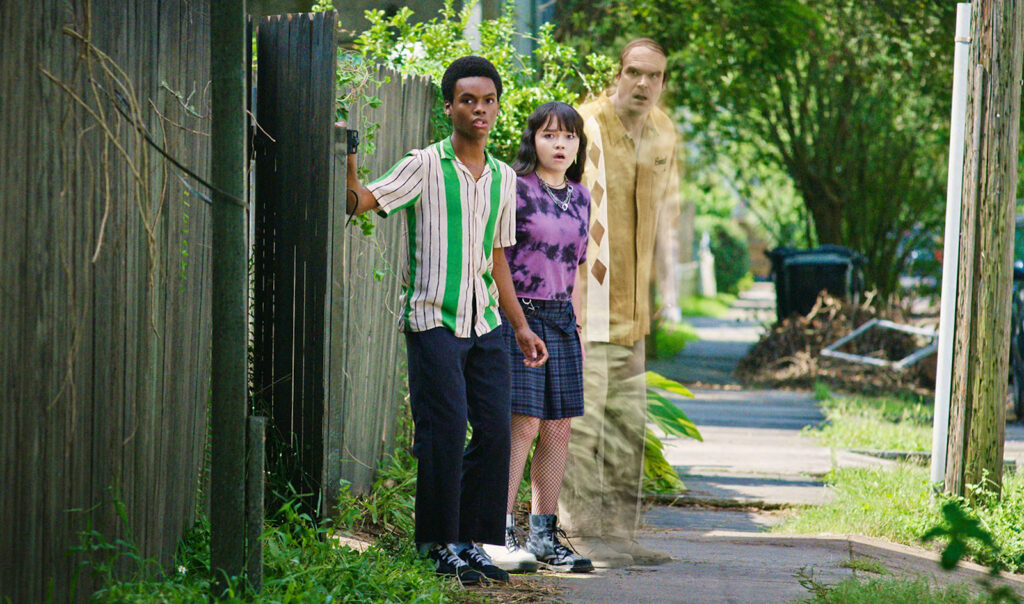 Persahabatan Kevin dan Ernest yang Dapat Chemistry-nya
Meski plot dan kebanyakan referensi dari film-film klasik, "We Have a Ghost" memiliki beberapa bagian yang seru. Salah satunya adalah persahabatan antara Kevin dan Ernest. Jahi Di'Allo Winston sebagai protagonis mampu tampil serius juga lucu. Berbagai ekspresinya sangat komikal dan memeable. Menarik ketika Winston dan David Harbour bisa membangun chemistry dengan penokohan Ernest yang tidak bisa berbicara.
Kevin hanya bisa mengajukan pertanyaan dengan jawaban 'ya' dan 'tidak'. Ernest hanya bisa mengekspresikan diri dengan gerakan, sentuhan, dan raut wajah. Persahabatan kedua karakter ini berhasil menyakinkan penonton, karena penampilan kedua aktor. Ditambah dengan kehadiran Joy Yoshino yang menjadi love interest sekaligus pendukung Kevin dalam memenuhi misinya sendiri untuk membantu Ernest.
Selain kisah persahabatan Kevin dan Ernest, ada juga hubungan ayah anak yang mengisi naskah "We Have a Ghost". Meski hanya disajikan sebagai selingan, konflik dan penyelesaiannya tetap dapat. Cukup untuk memberikan emosi pada Kevin sebagai protagonis.
Film Horror Keluarga yang Penuh Keseruan dan Akhir Menyentuh
"We Have a Ghost" memiliki plot yang sebetulnya sederhana, mirip banget sama plot E.T. Hanya yang berusaha diselamatkan adalah hantu, serta terjadi di era modern dengan media sosial. Bagian pertama mungkin sedikit membosankan, bagian kedua cukup seru meski semua misteri mulai mudah ditebak. Namun bagian ketiga akan menjadi momen yang mengharukan dan menyentuh hati penonton. Hal ini bisa dicapai karena setidaknya persahabatan Kevin dan Ernest telah dieksekusi dengan benar. Penokohan Ernest sebagai hantu yang tersesat dan terjebak juga cukup menimbulkan simpati pada karakternya.
"We Have a Ghost" merupakan film Christopher Landon yang ramah keluarga. Tidak mengandung kekerasan berlebihan, tidak sadis, dan tidak ada adegan dewasa seperti dua film sebelumnya. Perkembangan plotnya juga kronologis dan mudah untuk disimak, materi komedinya juga ringan.
Meski masih kalah dengan dua film pertamanya, Landon masih berhasil mempertahankan ciri khasnya dalam memproduksi film. Masih layak tonton dan tidak gagal total. Buat yang sedang cari tontonan bersama keluarga di rumah, "We Have a Ghost" bisa banget, nih jadi tontonan horor komedi yang seru.