Sebagai salah satu Netfix original series paling populer, "Stranger Things" season 4 menjadi serial yang paling diantisipasi tahun ini. Saat tiba penantian pada 27 Mei lalu, "Stranger Things" season 4 disambut dengan respon yang baik dari para penggemarnya. Saat artikel ini ditulis pun, serial ini masih menduduki peringkat satu sebagai serial Netflix paling banyak ditonton di Indonesia dalam kurun seminggu.
Untuk season 4, "Stranger Things" dibagi menjadi dua volume. Volume 1 telah rilis 27 Mei lalu, sedangkan volume 2 akan rilis tangga 1 Juli mendatang. Sang sutradara, Matt Duffer dan Ross Duffer, atau yang populer dengan nama 'The Duffer Brothers' sengaja membagi season 4 menjadi dua volume karena telah menyiapkan plot cerita yang lebih kompleks dan tidak terbatas hanya di kota Hawkins.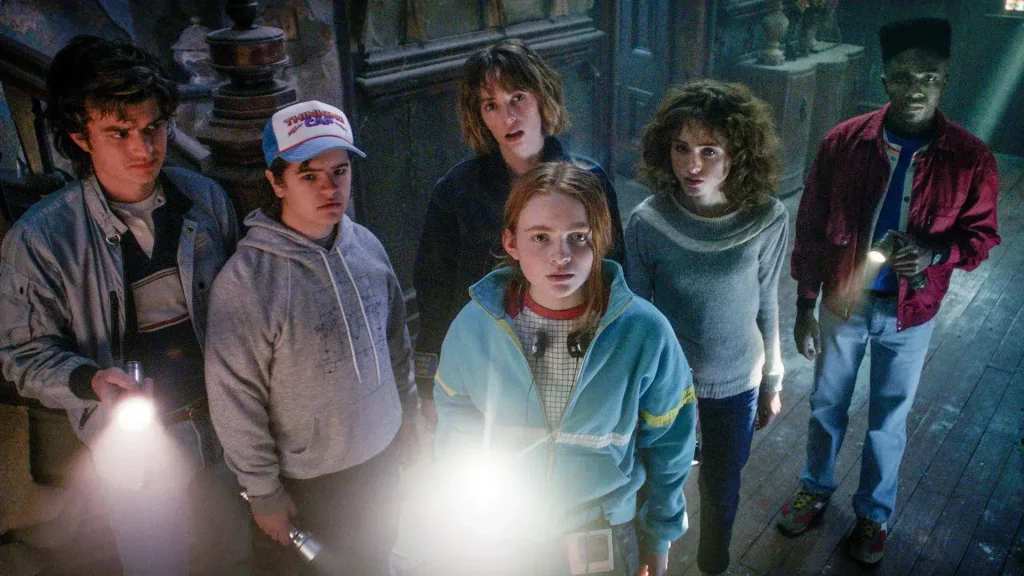 Kembalinya Dustin dan Gengnya
"Stranger Things" season 4 dimulai dengan memperlihatkan Dustin (Gaten Matarazzo) dan gengnya yang telah memasuki masa remaja. Mereka telah berpencar untuk menjalani kehidupan normalnya masing-masing. Di satu sisi, Eleven (Millie Bobby Brown) yang diadopsi oleh keluarga Byers telah pindah ke California. Lalu Jim Hopper, mantan sherrif Hawkins yang sebelumnya diperkiraan telah mati, ternyata masih hidup namun ditahan oleh tentara Rusia dan dibuang ke kamp kerja paksa.
Latar tempat yang terpencar antara Hawkins, Rusia, dan California ini menarik untuk diikuti dan berhasil menyuguhkan hal baru dalam serial ini. Para karakter yang telah menjalani kehidupan normalnya masing-masing dan melupakan upside down, terpaksa harus bersatu untuk sekian kalinya karena teror supranatural dunia upside down kembali menghantui mereka.
Keputusan The Duffer Brothers untuk membagi serial ini menjadi dua volume merupakan keputusan yang tepat. Ini karena penceritaan pada season ke 4 ini memang jauh lebih kompleks daripada season sebelumnya. Banyak pula adegan flashback yang dimunculkan untuk mampu menjelaskan asal-muasal dari semua terror yang menghantui kota Hawkins.
Salah satu aspek yang juga menarik dari season 4 ini adalah munculnya villain baru yang lebih berkarakter. Monster baru yang dinamai 'Vecna' (Jamie Campbell Bower) ini jauh lebih mengerikan ketimbang monster-monster sebelumnya, bahkan Vecna disediakan backstory sendiri yang membuat season ini menjadi season kunci untuk menjawab asal-muasal dunia upside down.
Tampilan fisik Vecna pun didesain dengan detail menakjubkan oleh Barrie Gower, make-up artist yang juga merias karakter Night King dalam "Game of Thrones" (2011-2019) dan para korban radiasi dalam "Chernobyl" (2019).
Lebih Dark dan Sadis
Nampaknya The Duffin Brothers sengaja membuat nuansa pada "Stranger Things" season 4 ini jauh lebih dark dan sadis daripada sebelumnya, barangkali sang sutradara juga mengikuti perkembangan Eleven dan teman-temannya yang sekarang telah beranjak dewasa.
Namun kita memang akan merasakan bahwa plot dalam season 4 ini jauh lebih kompleks, dark dan beberapa adegan sadis sukses menimbulkan kengerian bagi beberapa penonton. Salah satu adegan yang cukup memorable adalah saat pertama kali Vecna muncul dan membunuh Chrissy. Metode yang digunakan Vecna untuk membunuh korbannya dengan mematahkan tulang hingga mata yang pecah menjadi salah satu adegan yang cukup brutal.
Di tempat lain, perjuangan Jim Hopper (David Harbour) untuk bertahan dan keluar dari penjara Rusia merupakan sesuatu yang sama sekali berbeda dari serial "Stranger Things" sebelumnya. Di sebuah wilayah antah-berantah Rusia, penceritaan Jim Hopper untuk melarikan diri dari kamp kerja paksa menjadi salah satu sekuens yang penuh dengan aksi. Adegan-adegan ini juga lebih mengenalkan kita dengan sisi humanis dari Jim Hopper.
Overall "Stranger Things" season 4 Vol. 1 hadir dengan presentasi yang cukup berbeda dari pada season sebelumnya. Bagaimanapun juga, season ini menjadi season yang tidak boleh dilewatkan bagi para penggemar "Stranger Things" karena dalam season inilah, kita akan tahu motif di balik munculnya dunia upside down dan jawaban dari semua teka-teki yang telah tersebar sejak season 1.