Bagi beberapa orang, keinginan untuk mengubah apa yang sudah terjadi tentu menjadi satu hal yang dianggap lumrah. Akan tetapi, terkadang dampak yang dihasilkan atas perbuatan tersebut dapat mendorong munculnya bencana lebih besar dan menimbulkan dilema tersendiri pada orang tersebut. Singkatnya, hal itu yang ingin diangkat pada 'The Flash'.
'The Flash' merupakan film action superhero dari Warner Bros Pictures dan DC Studios yang diarahkan oleh Andy Muschietti. Membawa Ezra Miller sebagai The Flash, film ini berkisah mengenai Barry Allen yang tidak sengaja kembali ke masa lalu dan kemudian berniat untuk menghentikan kematian ibunya. Akan tetapi, aksinya ini membuat dirinya terjebak di semesta lain, membawa dirinya dalam konflik baru dan mempertemukannya dengan Barry Allen dan Bruce Wayne di semesta tersebut sembari mencari cara untuk kembali ke semestanya sendiri.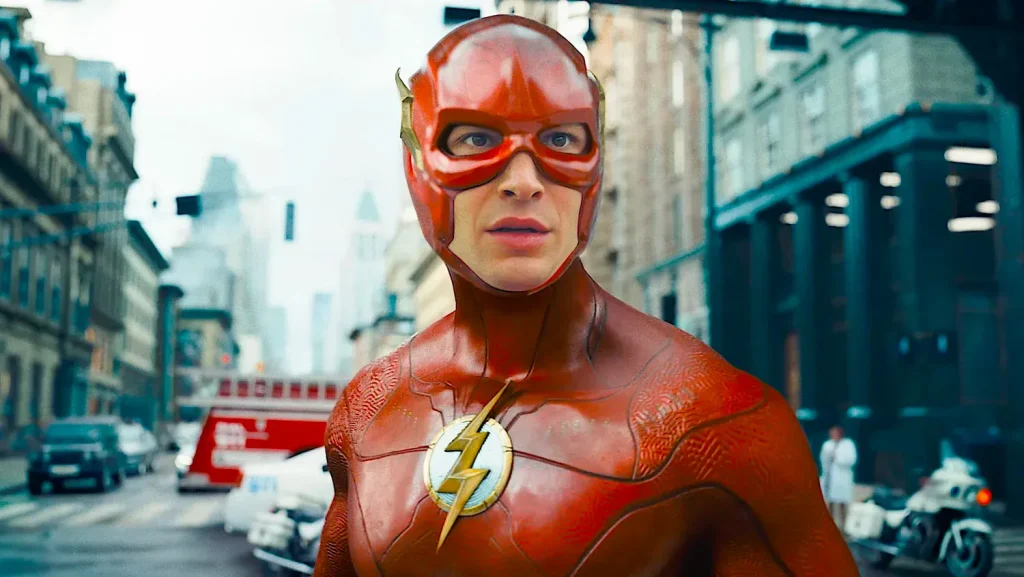 Secara narasi, 'The Flash' membawa premis yang kurang lebih serupa dengan 'Spider-Man: No Way Home'. Mengenai karakter titular yang ingin mengubah masa lalu, hingga nantinya ia harus berhadapan dengan ancaman berskala multiverse, membuat keduanya tidak berbeda jauh. Walau begitu, pembawaannya yang tampak lebih comedic membuat film ini lebih light-hearted.
Seperti 'Spider-Man: No Way Home' hingga 'Spider-Man: Across the Spider-Verse', 'The Flash' membawa konsep multiverse dalam penceritaannya. Alih-alih membawa kerumitan pada kisah Barry Allen, konsep tersebut dibawakan dengan simpel yang membuat ruwetnya multiverse pada DC jauh lebih mudah dipahami. Tak hanya itu, kehadiran film ini juga seakan membuka kemungkinan baru dalam keberlanjutan franchise film DC yang nantinya akan dirombak sepenuhnya pada beberapa tahun ke depan.
'The Flash' sendiri membawa beragam karakter di dalamnya. Barry Allen, yang terdiri dari dua karakter berbeda dan diperankan oleh Ezra Miller tampak berhasil direpresentasikan dengan baik terlepas dari perbedaan latar belakang dan karakterisasinya. Michael Keaton sebagai Bruce Wayne era duologi 'Batman' arahan Tim Burton berhasil tampil penuh charisma sekaligus memberikan kesan nostalgia bagi para pecinta Batman tahun 90an. Akan tetapi, Sasha Calle sebagai Supergirl terasa kurang tersorot meski karakterisasi Supergirl-nya terlihat unik.
Didukung dengan narasi dan karakterisasi yang baik, 'The Flash' terganjal dengan aspek teknisnya yang tampak di bawah rata-rata. Hal paling kentara adalah bagaimana rentetan penggunaan special effects yang terlihat masih belum melebur sepenuhnya dengan scene, membuat ragam aksinya seakan sangat superficial.
Akhir kata, 'The Flash' merupakan drama mengenai Barry Allen yang ingin mengubah masa lalu dan justru membawanya ke konflik skala multiverse baru atas tindakannya. Perpaduan kedua hal ini dan muatan drama komedinya membuat film ini tetap enjoyable terlepas dari special effects-nya yang tampak berlebihan.