Dalam setiap aksi, akan ada reaksi yang muncul setelahnya. Aksi-aksi ini pula yang selalu hadir sebagai salah satu langkah dalam membentuk takdir seseorang. Akan tetapi, tentu ada orang-orang yang ingin mengubah takdirnya, terutama apabila itu berhubungan dengan berbagai orang yang ia sayangi. Singkatnya, fokus itu yang ingin dibawa pada 'Spider-Man: Across the Spider-Verse'.
'Spider-Man: Across the Spider-Verse' merupakan film animasi superhero dengan genre action arahan Joaquim Dos Santos, Kem Powers, dan Justin K. Thompson, serta dibintangi oleh Shameik Moore, Hailee Steinfeld, hingga Oscar Isaac sebagai pengisi suara pada deretan karakternya.
Menjadi sekuel dari 'Spider-Man: Into the Spider-Verse', film ini berkisah tentang Miles Morales yang bertemu dengan Spot, mantan ilmuwan dari Alchemax yang menyalahkan Miles atas tragedy dan kekuatan barunya tersebut. Pertemuannya dengan musuh baru ini mempertemukan dirinya kembali dengan Gwen dan para penghuni Spider-Society, sekaligus memunculkan konflik baru dengan Miguel O'Hara kala remaja Brooklyn tersebut ingin melakukan tindakan yang membahayakan eksistensi multiverse.
Dalam narasinya, 'Spider-Man: Across the Spider-Verse' seakan ingin memberikan fokus yang sepadan antara Miles Morales dan Gwen Stacy sebagai Spider-Man versi keduanya masing-masing. Mengenai Gwen yang berusaha melupakan luka lamanya sebagai Spider-Woman dan Miles yang ingin menyelamatkan apapun terlepas dari segala dilema dirinya, film ini secara ringkas berhasil membangunnya menjadi sajian yang penuh rasa.
Seperti berbagai film superhero kekinian, tema yang diusung dalam 'Spider-Man: Across the Spider-Verse' ini berkutat pada keberadaan multiverse dan segala seluk-beluknya.
Dalam durasi yang mencapai 140 menit, sekuel 'Spider-Man: Into the Spider-Verse' ini berhasil memberikan ekspansi mengenai lore dari film sebelumnya secara gamblang namun tetap rapi. Akan tetapi, film memiliki flaw ketika memutuskan untuk memberikan cliffhanger, menimbulkan kesan menggantung pada plot-nya dan memaksakan penonton untuk menunggu sekuelnya.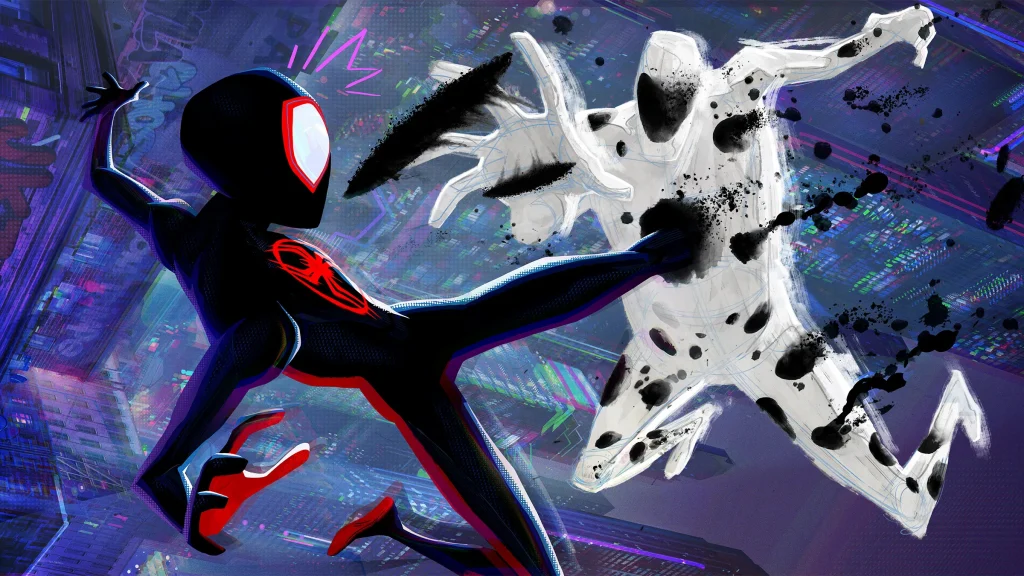 Sebagai film yang berfokus pada kemunculan Spider-Man dan mengkombinasikan elemen multiverse di dalamnya, 'Spider-Man: Across the Spider-Verse' tentu menyajikan berbagai iterasi Spider-Man dan karakter-karakter dalam lore manusia laba-laba ini di dalamnya. Baik pada versi yang muncul di komik, manga, film live-action, sampai di game sebagian besar dimunculkan dengan baik, menyajikan ultimate fanservice bagi yang menikmati segala versinya serta membuka wawasan bagi penonton baru mengenai versi-versi lain dari Spider-Man yang telah hadir hingga kini.
Meski mengusung bejibun versi Spider-Man di dalamnya, hanya ada beberapa versi Spider-Man yang diberi fokus dalam penceritaannya. Di samping Miles Morales dan Gwen Stacy, kembalinya Peter B. Parker dari 'Spider-Man: Into the Spider-Verse' serta kemunculan perdana Miguel O'Hara, Pavitr Prabhakar, serta Hobie Brown yang dikulik backstory-nya memberikan warna lebih dalam film ini.
Melalui karakterisasi yang unik dan didukung dengan voice acting yang mumpuni dari Oscar Isaac, Karan Soni, dan Daniel Kaluuya, rentetan karakter tersebut tampak hidup dan cukup accurate dengan source material-nya.
Sebagai film animasi, 'Spider-Man: Across the Spider-Verse' menyuguhkan sajian teknis yang maksimal. Penggunaan visual style yang eksentrik penuh warna, scoring yang funky, serta jajaran soundtrack asik berhasil memberikan pengalaman sinematik yang menyeluruh.
Akhir kata, 'Spider-Man: Across the Spider-Verse' adalah sajian sinematik yang menyenangkan lengkap dengan seabrek fanservice terkait Spider-Man dalam kisah multiverse-nya. Akan tetapi, kisahnya yang menggantung dalam durasi 140 menit menjadi flaw tersendiri sebagai film yang harusnya bisa standalone seperti prekuelnya.