Melanjutkan season sebelumnya, "The Boys" season 2 tayang dengan cerita yang lebih kompleks, namun dengan fokus cerita yang masih sama yaitu upaya The Boys untuk menjatuhkan perusahaan superhero Vought International.
Pada season 2, Eric Kripke sebagai sutradara sekaligus penulis naskah menambahkan banyak bumbu konflik serta karakter baru pada cerita.
Politik Bisnis Vought International
Setelah tewasnya CEO Vought International, Madelyn Stillwell (Elisabeth Shue) pada akhir season 1, kini kursi CEO digantikan oleh Stan Edgar (Giancarlo Esposito). Di tangannya, Vought International mencoba untuk berekspansi melalui kerja sama dengan Departemen Pertahanan AS.
Strategi baru ini dilakukan untuk meningkatkan keuntungan perusahaan dengan mencoba memasukan para superhero ke dalam militer AS. Vought International secara ilegal memberi cairan Compund V kepada para teroris agar mereka mempunyai kekuatan superhero. Dengan cara licik itu, The Seven dapat bergabung ke dalam unit militer AS, dan Vought akan mendapat keuntungan.
Di lain pihak, Billy Butcher (Karl Urban) mengasingkan diri karena dituduh membunuh CEO Vought sebelumnya, namun The Boys tetap beroperasi dengan hanya beranggotakan Hughie (Jack Quaid), Mother's Milk (Laz Alonso), Frenchie (Tomer Capon) dan Kimiko (Karen Fukuhara).
Penceritaan pada season 2 kali ini lebih kental akan unsur politik dan bisnis dibandingkan season sebelumnya. Kendati demikian, kompleksitas cerita pada season ini dirasa memang diperlukan dan tidak terkesan memaksa. Justru dengan semakin kompleksnya cerita dengan konflik masing-masing karakter membuat penceritaan semakin dinamis.
Contohnya dengan adanya politik bisnis Vought International, The Boys punya cara baru untuk mengungkap busuknya bisnis Vought, yaitu dengan mencuri Compund V dan mempublikasikan bahwa para superhero hanyalah produk laboratorium yang sedari awal dibuat untuk bisnis semata.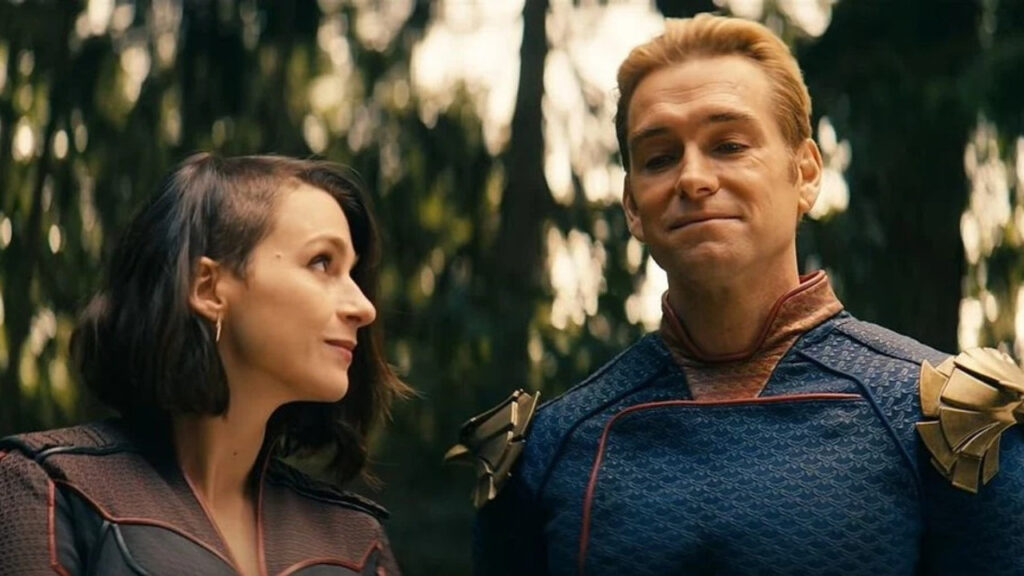 Karakter Baru yang Menarik
Selain plot yang lebih dinamis dan kompleks, "The Boys" season 2 menambahkan beberapa karakter baru yang menarik. Yang paling menarik perhatian adalah karakter Stormfront (Aya Cash) sebagai superhero yang rasis, sadis, serta memiliki agenda tersirat untuk The Seven.
Selain itu karakter Ryan (Cameron Crovetti) sebagai anak biologis Homelander juga diperkenalkan pada season ini. Hubungan ayah-anak yang rumit juga menambah bumbu konflik pada season 2.
Di lain sisi, Kimiko (Karen Fukuhara) pada akhirnya mendapatkan screetime yang lebih banyak dibandingkan season sebelumnya. Kisah latar belakang Kimiko dikembangkan dengan cukup baik dalam season 2 ini. Setelah kehilangan kakaknya yang dibunuh oleh Stormfront, Kimiko menyimpan kemarahan yang penuh dendam kepada Stormfront. Bahkan tanpa dialog sedikitpun, Karen Fukuhara sebagai pemeran Kimiko mampu mengkomunikasikan perasaan karakternya dengan ekspresi emosional dan penuh dendam.
Begitu juga dengan Frenchie (Tomer Capon), Ia juga mendapatkan pengembangan karakter yang cukup solid pada season 2 ini. Setiap karekter baru yang dimunculkan membawa berbagai konflik yang saling berhubungan dan semakin meningkat dari awal hingga memberikan akhir yang klimaks.
Lebih Banyak Aksi Brutal
"The Boys" season 2 menghadirkan lebih banyak aksi daripada season sebelumnya. Jika pada season 1 minim adegan pertarungan, "The Boys" season 2 menyuguhkan lebih banyak adegan pertarungan brutal ala The Boys. Apalagi ditutup dengan scene all girls brawl yang menghiasi episode akhir dengan klimaks.
Tak salah bila Rotten Tomatoes memberi rating 9.5/10 untuk episode 8 season 2 ini, karena memang akhir dari season 2 memberikan berbagai penyelesaian serta pengembangan setiap karakter. Namun karena masih berlanjut ke season 3, "The Boys" season 2 masih menyisakan cliffhanger yang bakal membuat penasaran para penonton untuk season 3.
Saat ini "The Boys" sedang berjalan untuk season ke-3 dan dapat ditonton di Amazon Prime.