Konsepnya menyajikan atmosfer Shanghai klasik di era kolonial Inggris circa tahun 1920-an. Interior bergaya Art Deco dengan sentuhan sofa berbahan kulit chesterfields, meja mah-jong berlapis marmer, deretan foto hitam putih di dinding, dengan rangka design layaknya sebuah gudang bergaya industrial dengan langit-langit yang tinggi.
Sebuah lukisan wanita Shanghai di sisi dinding belakang yang mengenakan Cheongsam, kostum tradisional China, lengkap dengan tusuk kondenya semakin memperkuat nuansa restauran ini.
Foundernya adalah Will Meyrick, seorang Skotlandia yang lahir di Portugal. Pria yang juga executive chef ini menawarkan citarasa Asia Tenggara terbaik di Mama San Kitchen Bar Lounge. Di antaranya adalah resep-resep dari Malaysia, Singapura, Thailand, Kamboja, Indonesia, dan Vietnam. Bahkan beberapa juga dari China dan India.
Pengunjung setia sudah akrab dengan teknik dan seni memasak Mama San. Tekstur menjadi sama pentingnya dengan rasa dan penampilan. Bahan-bahan yang digunakan telah diseleksi berdasarkan kesegaran dan kualitasnya, serta menawarkan kompleksitas dan keunikan dari rasa yang diasosiasikan dengan masakan-masakan dari area propinsi Sichuan, Shan, dan Hmong. Restauran ini kini menyajikan makan siang, makan malam, dan tapas di malam hari.
Mama San cocok untuk mereka yang suka bersantai namun masih bisa tetap bergaya, sambil menikmati masakan Asia Tenggara yang berkualitas dengan harga yang bersahabat.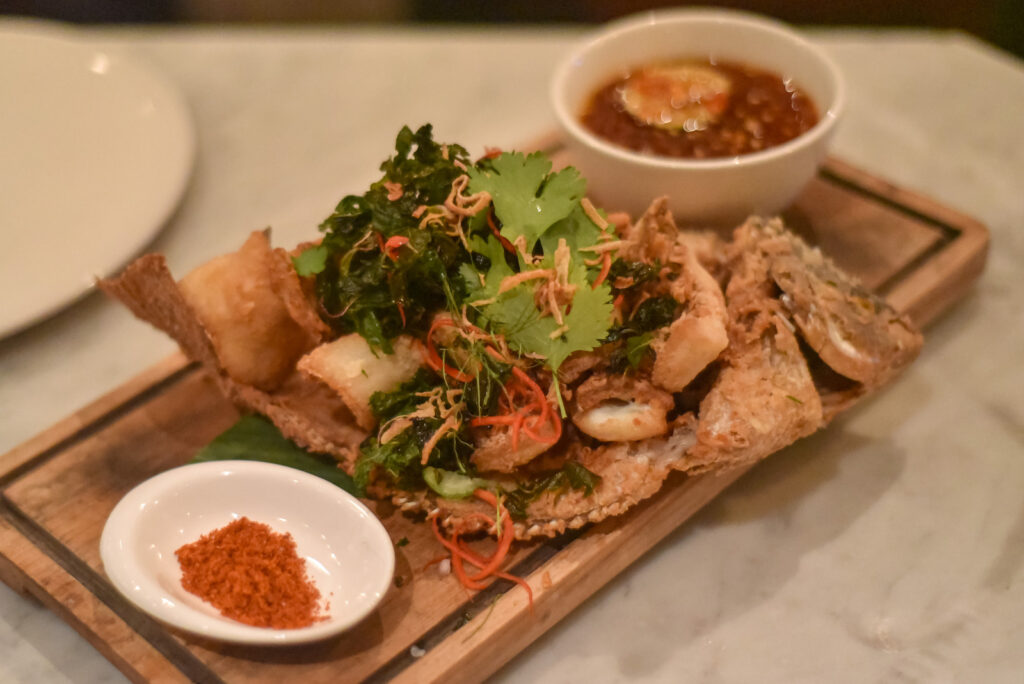 Menu yang wajib dicoba di antaranya adalah Prawn & Pomelo Salad with lime leaf, white coral mushrooms, sesame seeds and pork floss; grilled beef; Massaman Curry; Malaysian-style Char Kway Teow; Slow-Cooked Beef Cheek Rendang, dan Crispy Gourami Fish with Kaffir Lime, Ginger and Holy Basil.
Chef Will Meyrick juga menggawangi beberapa restauran seperti Sarong, Hujan Locale, Billy Ho dan Monsoon di Hong Kong. Di Mama San Bali pengunjung juga dapat menikmati beberapa pilihan menu istimewa dari restoran award-winning; Sarong Restaurant. Sebut saja menu Tandoori yang paling popular dari restoran fine dining ini, seperti: Sarong Butter Chicken, Chicken Banjara Kebab, dan Tandoori Paneer Tikka untuk para vegetarian.
Menu Lunch Specials tersedia dari pukul 12.00-15.00 setiap harinya, meliputi pilihan-pilihan yang menggiurkan seperti Vietnamese Pho Bo yang popular, Hainanese Chicken Rice, Tom Yum of Prawn & Squid, Soft Shell Crab Pad Thai Egg Net, dan Crispy Lemongrass Chicken.
Saat ini program Buy 1 Get 1 Free untuk Cocktails berlaku sepanjang siang dan malam. Diciptakan untuk melengkapi masakan yang tersaji dan membangkitkan selera makan, menu minuman di Mama San terinspirasi dari minuman-minuman klasik, yang mudah dipasangkan dengan makanan serta disajikan dengan sedikit kejutan atau twist di dalam gelas-gelas kristal cantik yang didesain khusus. Coba saja kesegaran dari Strawberry Basil Spritz, Elderflower Martini atau Chili dan Lime Margarita.
Selain menu-menu andalan tersebut, saat Cultura berkunjung juga sempat mencoba beberapa Cocktail pilihan. Chili and Lime Margarita misalnya. Minuman ini adalah perpaduan antara tequila, madu, sitrus peras, nanas juga chili. Citarasa asam, manis sekaligus aksen pedasnya menciptakan kesegaran tersendiri. What a twist!
Sementara untuk yang ingin take-away, Mama San Shop & Collect adalah solusinya. Program baru ini memungkinkan kita memesan secara online untuk kemudian diambil sendiri di restoran tanpa tambahan biaya antar.
Mereka yang merindukan masakan Mama San kini juga bisa mencoba membuat hidangan favoritnya sendiri di rumah dengan paket Ready-To-Cook Curry Paste Kits.
Gebrakan dan usaha untuk memelihara tradisi pelayanan tersebut membuat Mama San Bali tetap lekat di hati para penikmat kuliner atau discerning gourmands dari seluruh dunia. Selama ini Mama San telah identik dengan ikon kuliner Bali yang punya star power dan staying power. Hal ini pula yang membuat baik pengunjung baru maupun yang setia dan terus kembali.
Food and Drinks: 8/10
Atmosphere: 9/10
Service: 8/10
Mama San Bali, Kitchen Bar Lounge
Jl. Raya Kerobokan No.135, Kerobokan Kelod, Kec. Kuta Utara, Kabupaten Badung, Bali 80361
Opening Hours:
Everyday from 12.00PM – 03.00PM and from 06.00PM – 10.00PM.