"Fistful of Vengeance" (2022) merupakan film Netflix original yang menjadi kelanjutan dari serial bela diri fantasi, "Wu Assassins" pada 2019 lalu. Film laga kali ini kembali menampilkan Iko Uwais sebagai bintang utama, Lewis Tan dan Lawrence Kao. Tommy, Lu, dan Kai Jin pergi ke Bangkok untuk balas atas kematian saudara Tommy, Jenny. Namun, setelah mengungkap rencana utama penjahat dalam kisah ini, tujuan ketiganya berubah menjadi misi menyelamatkan dunia. 
Meski kita tidak menonton "Wu Assassins", tak akan menjadi masalah besar bagi kita sebagai penonton baru. Mungkin kita hanya akan dibuat terkejut dengan elemen fantasi yang langsung diperlihatkan pada babak pertama. Selebihnya, film karya sutradara Roel Reine ini menyajikan plot dan misi baru.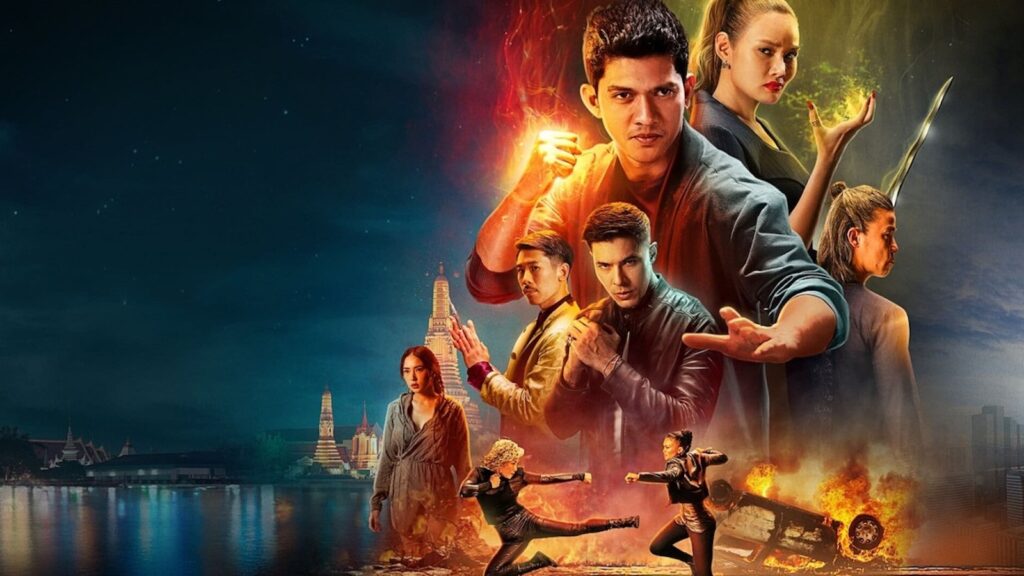 Dinamika Geng ala Fast & Furious dipadukan dengan Laga Fantasi Mortal Kombat
Penampilan trio Kai Jin, Lu, dan Tommy telah menjadi satu-satunya aspek yang menyelamatkan "Wu Assassins". Iko Uwais sebagai Kai Jin yang memiliki kekuatan super dan martial arts ikonik juga menjadi aspek utama penonton tertarik dengan film terbarunya ini.
Tak hanya bertiga, kita akan melihat dua karakter perempuan baru dalam geng Kai Jin, Preeya (Francesca Corney) dan Adaku (Pearl Thusi). Selain memberi plot romansa untuk Lu dan Tommy, keduanya ternyata juga dibekali kemampuan bertarung yg cukup membantu (sekaligus menambah masalah). 
Bukan geng terbaik yang pernah ada dalam film laga, namun tema geng campuran dalam film ini akan mengingatkan kita pada "Fast & Furious". "Fitstful of Vengeance" juga terlihat seperti versi rip off dari "Mortal Kombat" dan "Shang-chi". Namun, sentuhan fantasi bela diri ala "Avengers" dalam semesta film ini kurang terlihat signifikan dalam mempengaruhi adegan bertarung secara maksimal. Dengan label "Avengers" versi Asia, sebetulnya Wu Assassins telah memiliki berbagai aset cerita yang bisa dieksplorasi lebih lagi.
Perkembangan Cerita yang Terlalu Cepat dan Drastis
Film laga seperti ini selalu memiliki elemen yang sama dalam menciptakan plot; laga dan misi. Tak semudah kedengarannya, diperlukan kreativitas dan pengembangan ide yang variatif untuk membuat film memiliki plot yang enak untuk diikuti penontonnya.
Sesuai dengan judulnya, awalnya "Fistful of Vengeance" memang tentang misi balas dendam. Namun, secara cepat misi berubah secara drastis yaitu untuk menyelamatkan dunia dari Wu Xing. Namun, dengan ancaman yang terdengar besar, sepanjang film kita tidak akan merasakan urgensi bagi Kai Jin dan kawan-kawan untuk menyelamatkan dunia. 
Adapun alur cerita yang memberi perubahan besar pada plot yang bisa dikategorikan bodoh. Berkaitan dengan salah satu anggota geng Kai Jin, namun tak butuh waktu lama sampai penyebab skenario buruk terjadi tersebut terlupakan. Seakan penulis skenario ini cari mudahnya saja menuju babak showdown dalam film laga ini.
Sekuen Laga dan Bela Diri yang Kurang Mantap
Kalau kemampuan Iko Uwais dalam mengeksekusi bela diri di layar film sudah tak perlu diragukan lagi. Sayangnya, sinematografi yang digunakan kurang menonjolkan kehebatan tersebut. Editing adegan per adegan juga tidak rapi. Penonton akan dibuat lelah mengikuti perpinadahan frame demi frame dengan intensitas gerakan dan musik yang campur aduk. Seperti yang disebutkan sebelumnya, sentuhan fantasi atau laga ala superhero tidak mempengaruhi adegan laga secara signifikan.
Setiap adegan tarung dalam "Fistful of Vengeance" jadi sekedar adegan tarung dengan efek CGI minim saja. Seperti tinjuan yang mengeluarkan tenaga dalam berwujud angin, atau cahaya untuk menandai kematian karakter dengan kekuatan super. Babak showdown antara Pan dengan Kai Jin yang seharusnya menjadi klimaks juga tidak jelas eksekusinya.
Pada akhirnya, "Fistful of Vengeance" bukan sekuel yang penting untuk dieksekusi sebagai lanjutan "Wu Assassin". Kehadiran film laga berlatar Asia ini hanya sedang memanfaatkan euphoria dan trend, namun hanya menjadi satu lagi film laga Netflix yang terlupakan.