"Barbarian" merupakan film horor terbaru tahun ini yang disutradarai oleh Zach Cregger. Tess (Georgina Campbell) menyewa properti Airbnb di Detroit untuk wawancara kerja. Setibanya di lokasi, Ia bertemu dengan Keith (Bill Skarsgard) yang juga mengaku telah menyewa properti tersebut melalui aplikasi lain. Karena sedang hujan deras dan hari semakin petang, Tess dan Keith pun sepakat untuk berbagi Airbnb untuk semalam. Keputusan Tess untuk tetap singgah membawanya pada eksplorasi properti yang menjadi awal dari mimpi buruknya.
Banyak media memberikan ulasan dan headline yang menimbulkan ekspektasi tinggi pada penontonnya. "Barbarian" mendapatkan score 92% dari kritikus di Rotten Tomatoes (70% audience score), mungkin untuk alasan yang berbeda dari asumsi penontonya yang belum menonton. Sayang sekali, karena memang ulasan yang baik adalah tidak memberikan bocoran sedikit pun pada penontonnya.
"Barbarian" bukan the next "Get Out" (2017) atau the next "Don't Breathe" (2016). Film ini sebetulnya memiliki formula horor kelas B, namun dieksekusi dengan presentasi konsep baru yang unik.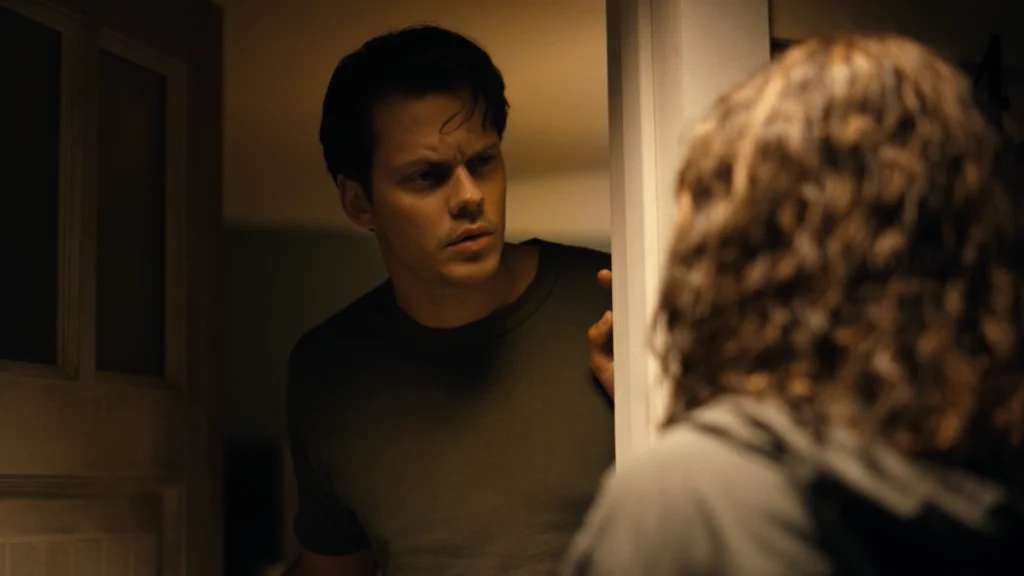 Belakangan ini istilah 'film wahana horor' dan 'jumpscare' memiliki stigma yang kurang bagus dalam skena horor. "Barbarian" menjadi bukti bahwa formula tersebut bisa dieksekusi menjadi wahana horor yang benar-benar menyenangkan. Film horor tak selalu harus elegan dan artistik. Sering kali memang brutal, memacu adrenalin, klise, dan membuat penonton merasa cemas dengan segala keputusan buruk yang diambil oleh protagonisnya.
Memilih Bill Skarsgard sebagai karakter 'pria misterius' dalam skenario ini menjadi pilihan yang sangat jenius. Aktor rupawan sekaligus memiliki citra mengerikan di skena horor ini mampu menambah ketegangan dalam plot. Seperti yang kita ketahui, Skarsgard terkenal sebagai sosok badut Pennywise dalam "It" (2017) yang mengerikan. Ia juga sempat bermain serial biografi "Clark" (2022) sebagai tokoh kriminal, Clark Olofsson. Namun penonton tak akan pernah menduga kemana karakter ini akan dibawa dalam kelanjutan cerita.
Tidak ada banyak hal yang bisa diungkapkan tentang "Barbarian" dalam ulasan. Karena film ini memiliki visi untuk menantang penontonnya. Trailer dan sinopsis resmi yang dirilis hanya menyebutkan sedikit dari keragaman materi konten yang akan penonton sekalinya terjun dalam film ini. Model trailer yang sudah jarang sekali kita temukan belakangan ini. Sangat disarankan untuk di mencari spoiler, karena sensasinya akan sangat menyenangkan jika kita menonton tanpa ekspektasi dan minim informasi tentang plot film ini.
30 menit pertama film akan menjadi babak yang menguji kesabaran dan menyelimuti penonton dengan ketegangan yang cukup membuat jantung lelah. Setiap babak dari film ini memiliki kelanjutan yang tidak mudah ditebak. Buat kita yang sudah terlalu banyak menonton film horor, mungkin akan mencoba menjadi penonton sok pintar yang menyalahkan semua keputusan yang diambil protagonis. Namun percayalah, plot film akan membawa kita pada sesuatu yang tidak terduga. Bahkan segala kebodohan klasik dalam film ini akan memberikan poin ekstra.
Ini mengapa "Barbarian merupakan film yang menantang penontonnya. Kita tidak boleh men-judge keputusan protagonis, atau menebak kelanjutan dari plotnya. Kunci untuk menikmati film ini benar-benar memulai tanpa ekspektasi tinggi dan membandingkannya dengan film-film horor berkualitas terbaru beberapa tahun belakangan.
"Barbarian" kini sudah bisa di-streaming di Disney+ Hotstar. Sudah memasuki pekan Halloween dengan berbagai rekomendasi hiburan di berbagai media, "Barbarian" bisa menjadi tontonan horor seru untuk ditonton sendiri atau bersama teman-teman.