'Avatar' adalah salah satu film paling terkenal yang hadir dari tangan James Cameron pada 2009 silam. Hadir dengan teknis memukau dengan narasi mengenai kerasnya kapitalisme dalam menindas suatu kaum, film dengan gross income terbesar sepanjang masa ini dielu-elukan sebagai masa depan sinema dunia. 13 tahun kemudian, muncul sekuelnya yang berjudul 'Avatar: The Way of Water'.
'Avatar: The Way of Water' merupakan film fiksi ilmiah arahan James Cameron. Membawa kembali Sam Worthington, Zoe Saldana, hingga Sigourney Weaver dan Stephen Lang, film yang berlatar lebih dari satu dekade setelah 'Avatar' ini berfokus pada keluarga Jake Sully dan Neytiri di Pandora. Keluarga ini kemudian diuji ketika musuh lama hadir sembari membaur di rumah baru mereka bersama suku Metkayina yang menguasai lautan Pandora.
Dalam narasinya, 'Avatar: The Way of Water' melanjutkan kisah Jake Sully yang saat ini sudah membangun keluarga bersama Neytiri. Film ini sejatinya merupakan Jake Sully yang harus mempertahankan keluarganya di tengah badai serangan dari kaum kapitalis terkait masa lalunya.
Akan tetapi, hadirnya musuh yang sama seperti pada prekuel dengan goal yang kurang lebih sama membuat sekuel terasa tak memberikan perbedaan. Belum lagi dengan penutup yang diselipkan cliffhanger, membuat sekuel 'Avatar' ini seakan hanya sebagai awal dari franchise yang bisa jadi merusak legacy dari pendahulunya.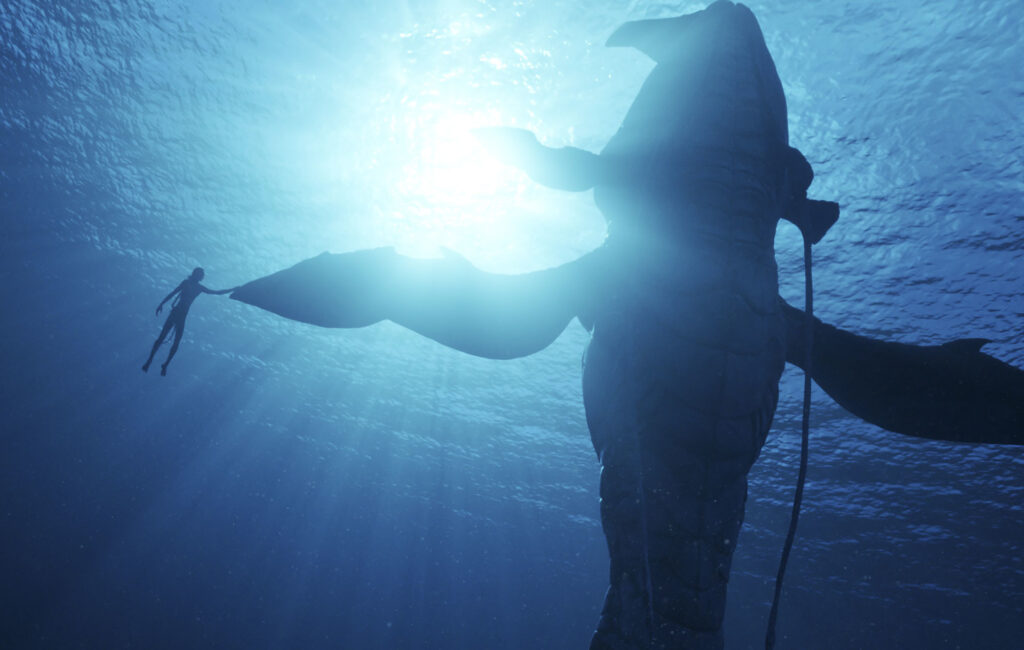 Dalam membangun lore-nya, 'Avatar: The Way of Water' hadir dengan ekspansi lebih besar terkait Pandora itu sendiri. Sepenuhnya meninggalkan Omaticaya yang menjadi pusat latar dalam 'Avatar'. Film kedua ini berfokus pada Jake Sully dan keluarganya kala harus membaur dengan peradaban Metkayina yang menguasai lautan Pandora.
Metkayina di dalamnya disajikan dengan indah dan mendetail, membuat penampilan peradabannya terasa seperti udara segar dalam franchise baru ini. Walau begitu, memberikan highlight pada latar baru dengan hampir mengabaikan sebagai besar dasaran yang dihadirkan pada latar lama menjadikan film ini terasa menanggalkan signifikansi dalam pondasi yang telah dibangun sedemikian rupa pada film pertamanya.
Hadir dengan cakupan yang lebih luas, 'Avatar: The Way of Water' memunculkan ensemble cast yang lebih besar dibanding prekuelnya. Meski Jake Sully dan Neytiri tetap dijadikan sebagai headliner, film ini sesungguhnya ingin memberikan gambaran dari anak-anak Jake dalam perjalanan berbeda yang seakan menjadi mirror dari sang ayah.
Format pembangunan karakternya terasa sama seperti 'Avatar', pembeda utamanya muncul pada setting yang berbeda. Meski begitu, para pemerannya mampu tampil baik dalam membawakan perannya, terutama Zoe Saldana yang tampil lebih powerful meski screen time-nya lebih sedikit dibanding prekuelnya.
Layaknya 'Avatar' 13 tahun lalu, sekuel ini juga hadir dengan pencapaian teknis mengagumkan. Sinematografi yang banyak bermain dengan wide shot dan didukung scoring yang seakan merepresentasikan colossal nature membuatnya memanjakan indera penonton. Tak hanya itu, penampilan set yang didesain sangat megah dan didukung dengan penerapan teknologi CGI canggih juga menjadikannya sangat menggugah meski durasinya yang hampir mencapai 200 menit.
'Avatar: The Way of Water' adalah kisah yang sama dengan civilization baru sebagai latarnya. Meski hadir dengan pencapaian teknis maksimal, narasi dan lore-nya serasa hanya sebagai penghias yang menandakan rusaknya legacy dari 'Avatar'.
Walau secara cerita kurang begitu menarik, Avatar 2 masih sangat layak ditonton selain karena visual-nya yang sangat sinematik dan memanjakan mata, film ini juga masih masuk kategori film keluarga. Pastinya cocok ditonton bersama keluarga sambil menikmati pemandangan Pandora.