Kerap kali, kita sulit menebak jalan pikiran artis yang lebih memilih untuk meluncurkan sederetan extended play (EP) dan bukannya long play (LP, disebut juga sebagai album). Mungkin terdapat campur tangan label di balik keputusan tersebut atau sang artis memiliki siasat tersendiri dalam meniti kariernya. Terlepas dari format, apa pun itu yang menjadi karya selanjutnya sang artis wajib mendapatkan perhatian saksama–apalagi bila kita ingin melihat tumbuh kembangnya.
Craziest thing happened in my backyard (selanjutnya disingkat menjadi CTHIMB) adalah EP keempat seorang Ardhito Pramono menyusul debut EP-nya yang bertajuk Ardhito Pramono (2017), Playlist, Vol. 2 (2017), dan a letter to my 17 year old (2019).
Untuk EP keempat ini, Ardhito telah mendeklarasikan bahwa ia berniat untuk mengeksplor sisi musikalitas yang lebih gelap–berkebalikan dari single-single Ardhito sebelumnya yang lebih 'manis' seperti "fine today" dan "bitterlove". Pertanyaannya sekarang adalah, apakah Ardhito berhasil mewujudkan visinya? Sayang sekali, mungkin CTHIMB justru adalah kemunduran pertama Ardhito.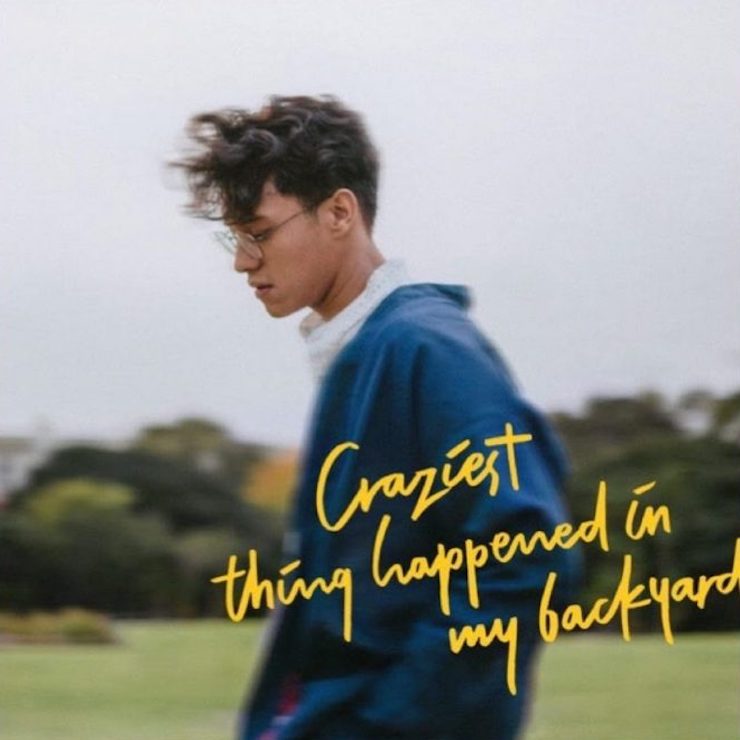 CTHIMB dibuka dengan track yang awalnya menjanjikan ("Trash Talkin'"). Dibalut dengan aransemen perpaduan antara rockabilly, garage rock, dan modern ragtime, Ardhito langsung melayarkan karisma rock star di dalam raga seorang musisi jazz. Akan tetapi, lirik Ardhito yang kontennya jelas-jelas masih melampaui usianya sendiri (I put your kids to sleep/I'm drying your bed sheets/Although it smells like a shit/She want it one more time) berujung ke final output yang tidak meyakinkan dan bahkan membingungkan. Bukannya menyampaikan pemberontakan, "Trash Talkin'" justru membuat Ardhito terdengar cocky. Ketidaksempurnaan yang sama kemudian mewarnai tidak hanya "Trash Talkin'", tetapi juga keseluruhan EP.
Memasuki "925", tiba-tiba Ardhito malah kembali ke genre smooth jazz dan memposisikan dirinya sebagai seorang karyawan yang bekerja 9-to-5 dan sedang berargumen dengan pasangannya. Kembali lagi, vokal Ardhito tidak berhasil dalam menyampaikan kisahnya sekaligus menciptakan emotional impact seorang protagonis yang sedang lelah fisik dan hatinya. Aransemen yang terlalu lembut beserta scat singing Ardhito yang nyaris datar juga semakin membuat emosi yang hendak disampaikan semakin kabur.
"Here We Go Again/Fanboi" menghadirkan lirik yang lebih gelap dan memperkenalkan dimensi baru dari seorang Ardhito Pramono. Namun sayang sekali, lagi-lagi ketiadaan harmonisasi antara vokal, lirik, dan produksi membuat pesan dan emotional impact yang hendak disampaikan menjadi kelabu. Mungkin bila dibawakan oleh musisi dengan vokal yang lebih matang dan penghayatan yang lebih dewasa, "Here We Go Again/Fanboi" bisa menjadi sebuah mahakarya.
Ardhito tampak kembali prima begitu memasuki "Plaza Avenue" yang lebih upbeat dengan lirik lebih ceria. Akhirnya, Ardhito memancarkan jiwa muda dari seorang musisi yang memang masih muda. Track penutup "Happy" membawa Ardhito ke dalam introspeksi diri dengan aransemen shoegazing yang lebih ethereal. Sayangnya, falsetto Ardhito yang nyaris nasal-y malah membuat balada yang seharusnya memikat menjadi terasa tanggung.
Apa yang dialami Ardhito bukan sesuatu yang baru. Pendahulu Pramono–seperti The Groove, Monita Tahalea, dan bahkan artis kontemporer internasional seperti Jamie Cullum dan Melody Gardot–pernah mengalami kemunduran serupa di awal karier mereka. Yang dibutuhkan di sini adalah jam terbang yang lebih panjang untuk Ardhito sehingga ia dapat menajamkan kemampuan vokalnya sekaligus mencicipi berbagai macam jenis aransemen musik yang sekiranya cocok dengan visinya.
Sejauh ini, bakat Ardhito lebih bersinar ketika ia menghadirkan jiwa mudanya dan cukup tampil apa adanya (seperti pada hits Ardhito sebelumnya "fine today" dan "bitterlove").
Syukurlah CTHIMB hadir dalam bentuk EP sehingga dapat dijadikan sebagai eksperimen trial-and-error yang sangat dibutuhkan olehnya. Begitu LP/album Ardhito tiba, di situ lah pembuktiannya yang sesungguhnya.
IN A NUTSHELL:
+ Ardhito Pramono semakin mengukuhkan komitmennya sebagai anak muda di ranah jazz Indonesia yang masih didominasi artis veteran
– Usianya yang belia kerap menjadi pisau bermata dua, yang tercermin pada production values yang setengah matang. Kepribadian Ardhito yang santai dan romantis nyaris tidak hadir sepanjang EP
TRACK PICKS:
"Plaza Avenue"