James Wan merupakan salah satu filmmaker yang telah menorehkan berbagai film, utamanya yang bertema horror dan thriller. Ia juga yang menciptakan The Conjuring, franchise film horor yang sangat populer di abad ke-21 ini. Akan tetapi, seri tersebut perlahan mulai mengalami penurunan, termasuk pada The Conjuring: The Devil Made Me Do It yang menjadi main installment ketiga.
The Conjuring: The Devil Made Me Do It merupakan film horror terbaru dari rumah produksi Atomic Monster dan New Line Cinema yang didistribusikan oleh Warner Bros Pictures. Disutradarai oleh Michael Chaves yang sebelumnya mengarahkan The Curse of La Llorona (2019), installment ketiga dari The Conjuring ini melanjutkan kisah Ed dan Lorraine Warren yang harus berhadapan dengan kekuatan jahat dan membawa korban baru.
Pembawaannya masih sama seperti seri-seri The Conjuring lainnya, penonton akan diperlihatkan pasangan Warren yang berusaha untuk mengatasi kekuatan jahat yang mengancam kliennya. Walau begitu, The Devil Made Me Do It ini mengusung elemen yang berbeda dibanding para pendahulunya.
Alih-alih hanya melawan setan atau iblis dengan kekuatan yang mengerikan, The Conjuring: The Devil Made Me Do It menghadirkan semacam cult yang mengutuk klien dari pasangan Warren di sini. Hal tersebut yang membuat judul ketiga dari The Conjuring ini lebih menarik dan menjadikan villain-nya sebagai antitesis sempurna dari pasangan tersebut.
Namun, usungan elemen seperti inilah yang membuat The Conjuring terbaru lebih terasa seperti film detektif dan superhero, terutama ketika sudah mendekati akhir durasi. Walau tetap dark seperti dua prekuelnya, installment terbaru ini justru terasa jauh dari kesan horror-thriller yang sudah dibangun sejak 2013 lalu.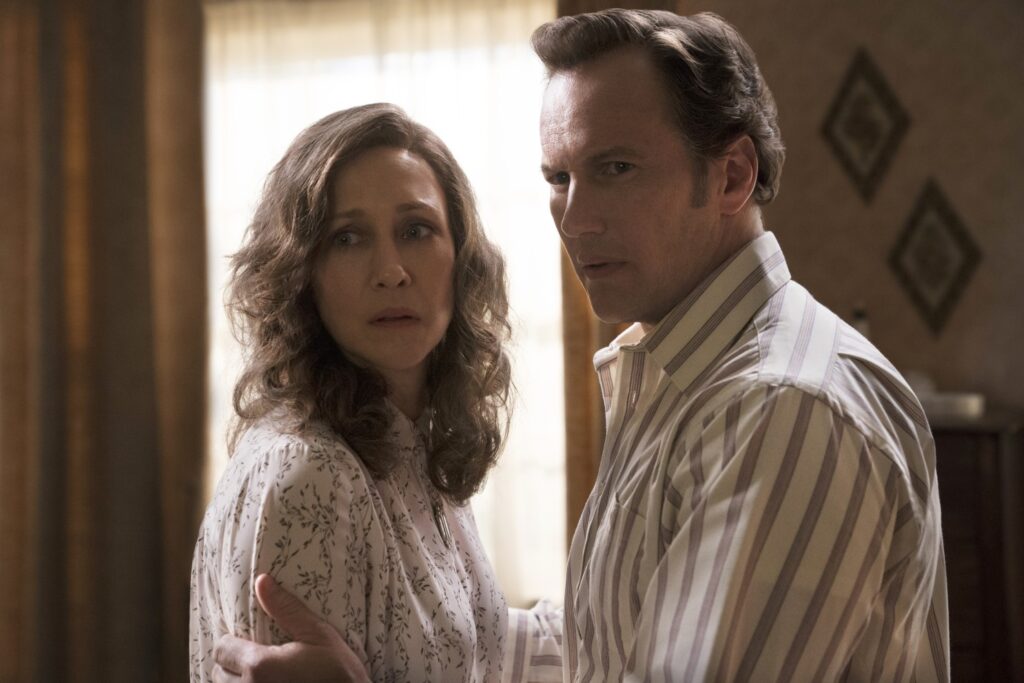 Kecenderungannya sebagai film detektif dan superhero-lah yang cukup mencederai elemen horor yang ingin ditampilkan pada The Conjuring: The Devil Made Me Do It. Segala trik untuk membuat penonton ketakutan dan ketegangan terasa hanya berhasil di opening sequence, dan semakin tergerus seiring durasi berjalan. Formula repetitif dalam menakutinya tampak sangat tertebak, sehingga mudah sekali untuk menghindari segala kejutan yang ingin disodorkan di depan mata.
Akan tetapi, kehadiran Ed dan Lorraine Warren yang sudah menemani sedari The Conjuring pertama pada installment terbaru ini tetap mampu membuat penonton merasa occupied sepanjang durasi film. Belum lagi screen time mereka yang mendominasi, menjadikan pembangunan karakter mereka jauh lebih dalam dibanding berbagai prekuelnya.
Meski lemah dalam aspek narrative, sisi teknis dari The Conjuring: The Devil Made Me Do It mampu tampil lebih menawan. Permainan kamera, sound design yang digunakan, sampai set yang tampil terasa digarap secara totalitas seakan dapat membawa penonton ke tahun 80an dalam misteri terbaru yang dihadapi pasangan Warren.
The Conjuring: The Devil Made Me Do It terasa lebih cocok sebagai film bertema detektif dengan formula superhero, karena pakem horror-thriller yang dibangun tampak semakin ditinggalkan. Meski begitu, fokusnya terhadap Ed dan Lorraine Warren tetap bisa membuat penonton occupied, terutama ketika mendekati akhir film.