Walau terasa tidak mungkin, mengkombinasikan film horor dengan komedi bukanlah hal yang mustahil. Melalui muatan yang diusungnya diiringi dengan berbagai elemen pendukung, film tersebut bisa berakhir dengan respon yang baik serta revenue yang memuaskan. Akan tetapi, hal tersebut belum tentu dapat ditemui pada film horor komedi dari Netflix, The Babysitter: Killer Queen.
The Babysitter: Killer Queen merupakan film horor komedi yang tayang eksklusif di Netflix mulai 10 September 2020. Film ini merupakan sekuel dari The Babysitter yang rilis tiga tahun lalu dan menuai respon positif. Seperti prekuelnya, film ini disutradarai oleh McG dan menjadikan Judah Lewis sebagai pemeran utama.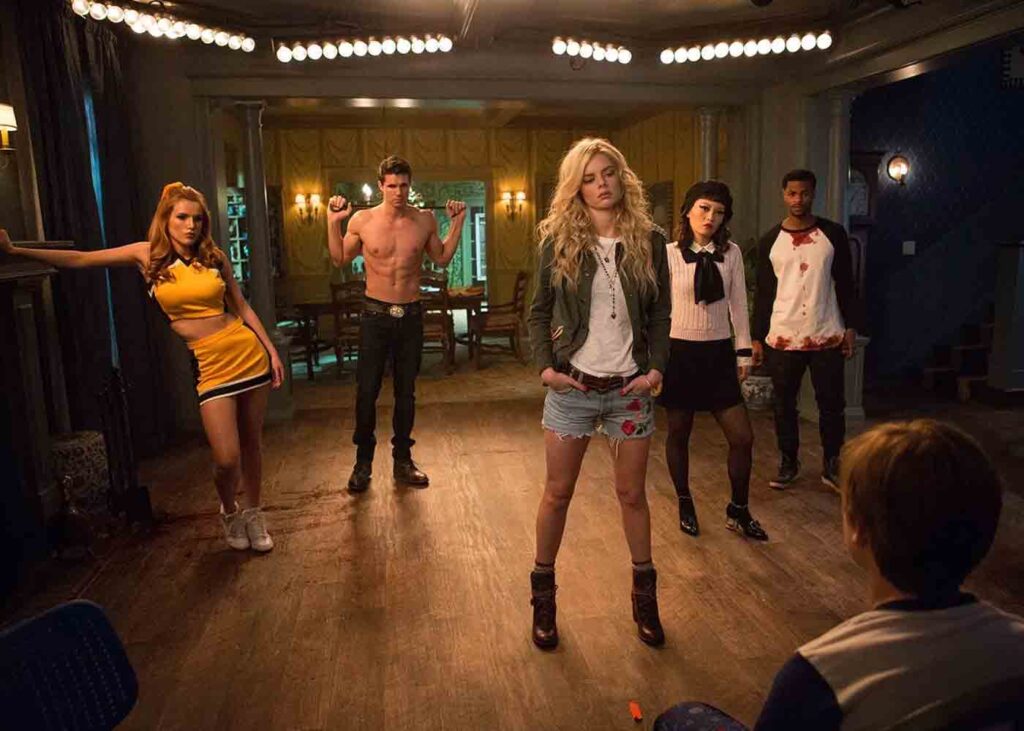 The Babysitter: Killer Queen melanjutkan kisah dari film sebelumnya, berfokus pada Cole yang saat ini sudah remaja. Karena peristiwa mengerikan pada dua tahun lalu yang melibatkan mantan pengasuhnya, Ia dibawa ke psikolog untuk terapi. Setelah memutuskan untuk kabur dan mengikuti pesta di sekolahnya bersama Melanie, sahabatnya sejak kecil, Cole kembali dihadapkan dengan sekte haus darah yang dibangkitkan kembali untuk memburu dirinya.
Anggota sekte pemuja iblis yang menginginkan darah manusia sebagai persembahannya, terdiri dari anggota baru dan anggota lama yang dibangkitkan kembali. Premis seperti ini sebenarnya persis seperti apa yang diusung di prekuelnya.
Kesamaan film ini dengan The Babysitter (2017) terdapat juga pada alur ceritanya yang sama, mulai dari bagaimana antagonis diperkenalkan, proses memahami sektenya, hingga pengungkapan dari tindakan yang dilakukan oleh antagonis. Inilah yang menjadikan film ini tampak minim inovasi dari segi penceritaannya.
Perbedaan yang mencolok adalah bagaimana film ini memperkenalkan para antagonisnya yang sudah muncul sejak prekuel. Melalui ragam flashback, adegan perkenalan mereka seakan ingin membuat penonton lebih peduli dengan para antagonis, walau pengaruhnya ke character development masih minim.
Hal paling menyenangkan kala menonton The Babysitter adalah muatan horor komedinya yang satisfying bagi penikmatnya. Melalui hadirnya selipan dialog yang lucu dibarengi dengan horor berbalut gore, rasa kegirangan dengan sedikit ngeri menjadikannya seru. Hal tersebut juga dibawa kembali pada The Babysitter: Killer Queen. Setiap pembunuhan dikemas dalam berbagai adegan sadis yang berlebihan.
Segi teknis pun juga mendapatkan treatment yang sama seperti penceritaan dalam The Babysitter: Killer Queen. Alih-alih tampil berbeda, film ini justru terasa sama persis seperti prekuelnya dari segala teknis yang diusung. Sinematografinya sendiri terasa biasa, dengan pergerakan yang santai dan cepat di beberapa adegan. Bila film horor terkenal menggunakan efek suara yang menegangkan, lain halnya dengan The Babysitter: Killer Queen yang sepenuhnya comical sehingga mengaburkan kesan horornya.
Walau tetap memberikan kesan menyenangkan melalui balutan komedi yang dibarengi adegan gore, film ini tidak menawarkan banyak hal baru dibanding prekuelnya. Akan cocok untuk yang ingin menonton film ringan bertema horor yang dikemas dengan kelucuan.