Syaharani and Queenfireworks baru saja merilis mini album keempatnya yang bertajuk "Aloha!" pada 1 Oktober 2019 lalu. Sebelumnya Diva Jazz Indonesia ini telah merilis single yang bertajuk "Apa Daya" pada pertengahan September 2019. Lagu tersebut merupakan pemanas menuju mini album "Aloha!" yang terdiri dari 7 track di dalamnya.
Album satu ini telah dikerjakan semenjak September 2018, memakan waktu kurang lebih 1 tahun untuk menyelesaikan keseluruhan lagu. Mulai dari proses penulisan lirik yang dijalani secara natural oleh Syaharani. Setelah jamming bersama musisi Queenfireworks lainnya dapat mendapatkan feel yang tepat, Syaharani siap melakukan rekaman di studio hanya dalam 1 hingga 3 take.
Di tengah populernya format rekaman musik digital, Syaharani and Queenfireworks punya alasan mengapa kita patut membeli album fisik mereka. Bekerja sama dengan graphic designer yang memvisualisasikan 4 track baru dalam album "Aloha!" melalui booklet yang simple dan artistik. Setiap lirik terdiri dari postcard yang bisa kita kirimkan pada orang sesuai dengan lagu yang memiliki makna tertentu untuk menyatakan perasaan.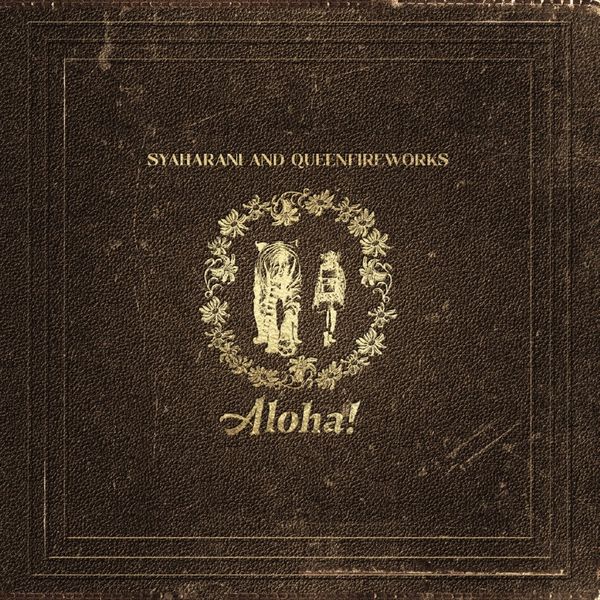 Syaharani memiliki ketertarikan besar dalam mengeksplorasi genre musik. Passion tersebut tersalurkan dalam berbagai track di album "Aloha!" yang kaya dengan warna musik.
"Apa Daya" yang menjadi single utama merupakan lagu dengan aransemen musik yang memiliki unsur reggae. Unsur reggae terasa melalui bassline dan tempo musik medium yang santai. Agar tetap menunjukan cita rasa Syaharani yang eksklusif, lagu dikemas dengan musik swing yang elegan. Mulai dari pembawaan vokal Syaharani yang powerful dan instrumen terompet hingga piano.
Pada track "Kiranya", Syaharani and Queenfireworks memadukan aransemen musik jazz yang lebih up beat dengan sentuhan alternatif. Instrumen musik terasa lebih kaya dalam lagu satu ini. Mulai dengan synth hingga riff gitar, namun masih dengan pola ketuk drum yang kompleks ala musik jazz. Adapun bagian solo gitar alternatif rock pada pertengahan lagu.
Syaharani tampaknya ingin menyuguhkan nuansa album yang ceria melalui berbagai aransemen musik yang up beat dengan pilihan chord yang membuat musik terdengar fresh dan bright. "Jangan Datang Lagi" memiliki lirik yang cukup sinis dan emosional, namun dibawakan dengan aransemen musik yang akan membuat kita merasa bahagia dan energi positif.
Lagu satu ini juga salah satu up beat dengan musik full band yang asik dan siap membuat kita berdendang mengikuti irama. Ketukan drum jazz yang khas masih menjadi statement dalam track satu ini, dipadukan dengan bassline dan gitar yang menambah kekuatan dalam track satu ini. Pembawaan vokal Syaharani dalam track ini juga terdengar ekspresif dan lepas.
"Oh So Lonely" merupakan track favorit Syaharani yang membuka dan menutup album "Aloha!". Lagu satu ini memiliki lirik yang melankolis dalam bahasa Inggris yang simple namun cukup emosional. "Oh So Lonely" dalam versi live yang terdengar lebih modern dijadikan track pembuka, sementara string version yang lebih megah dengan aransemen musik orkestra dipilih sebagai track penutup yang manis.
"Oh So Lonely" memiliki aransemen musik yang lembut dan menonjolkan suara emas Syaharani dengan permainan nada tinggi yang bertahap.
Secara keseluruhan, "Aloha!" merupakan album keempat Syaharani and Queenfireworks dengan keberagaman warna aransemen musiknya. Namun, eksperimen yang dilakukan tetap dikemas dengan ciri khas Syaharani dengan root sebagai musisi jazz.
Album dengan judul yang friendly ini hendak menyambut kita mendengar berbagai track yang ceria dan lebih menjalani hidup dengan bahagia sekalipun sedang merindu maupun mengharapkan seseorang yang tak ingin dijumpai lagi. Mendengarkan setiap track dalam "Aloha!" akan membangkitan nuansa nostalgia yang santai dan damai.