Rich Brian dan NIKI menggandeng rapper debutan baru 88Rising dari Indonesia, Warren Hue dalam single hits "California." Ketiga musisi muda dari Indonesia ini menarasikan bagaimana perjalanan impian mereka berhasil menembus Hollywood.
Go International mungkin menjadi impian sederet musisi dan artis. Impian untuk dapat membawa nama besar Indonesia ke panggung internasional; dengan sederet lagu-lagu hits yang dinikmati pendengar di seluruh dunia.
NIKI dan Rich Brian, dua musisi muda tanah air berhasil mencapai impian tersebut. Bersama 88Rising, mereka tidak sekedar berkarya. Melainkan membawa musik mereka dinikmati penggemar di berbagai belahan dunia. Membawa nama mereka dikenal luas hingga industri musik Amerika.
Membawa impian serupa, Warren Hue resmi menjadi bagian dari 88Rising di bulan Maret 2021 kemarin. Rapper muda ini pun pindah ke California demi mencapai mimpi dan cita-cita.
"California" merupakan hits dengan penggambaran perjalanan mimpi Rich Brian, NIKI, dan Warren Hue. Seperti diungkap oleh Brian, lagu ini mengenai tiga anak Indonesia yang berhasil mengejar mimpi mereka.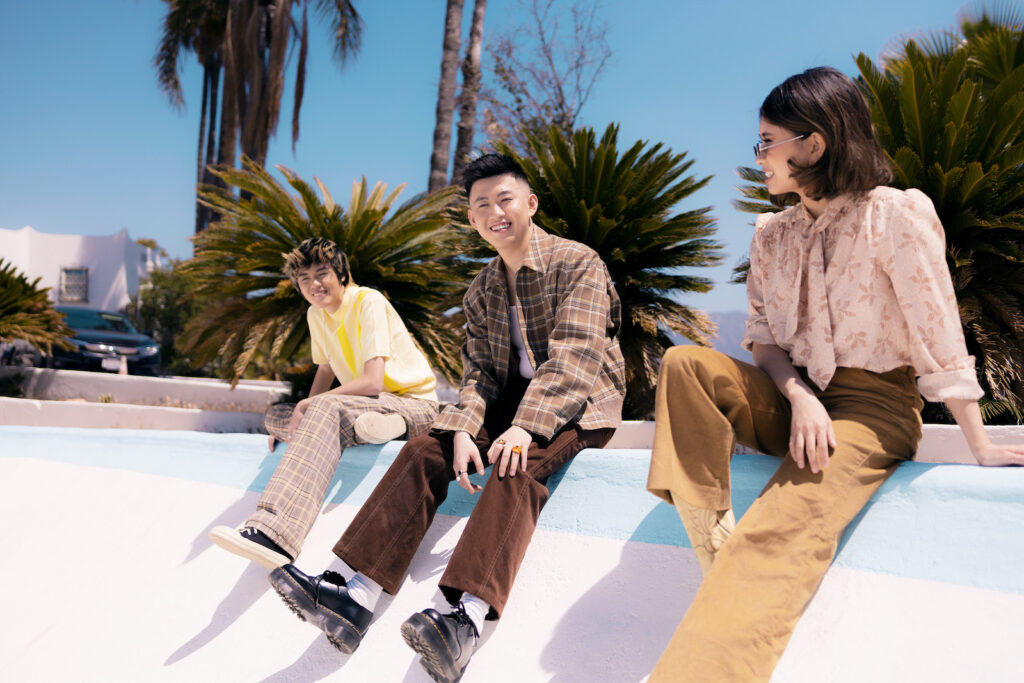 Mengusung irama pop dan melodic trap, "California" hadir melalui aransemen sederhana. Aransemen minimalis tanpa banyak transisi melodi maupun permainan instrumen ini seolah sudah menjadi ciri khas tersendiri dari Rich Brian dan NIKI; bila menilik dari rilisan dan hits mereka sebelumnya.
Meski musik di latar belakang kurang terdengar "wah", "California" justru jauh dari underwhelming. Lagu ini dibuka dengan verse rap Warren Hue. Sang rapper muda mengungkap dalam konferensi pers bahwa lirik pada verse rap tersebut ditulis berdasar pengalaman pribadi saat pindah ke California.
Perbedaan flow dan gaya rap Warren Hue dan Rich Brian pun menjadi satu daya tarik tersendiri. Bila Brian sudah "matang" dengan style rap miliknya-; terlebih dengan flow dan speed rap yang lebih cepat. Maka Warren memang masih terdengar belum begitu "bulat." Flow dari rapper satu ini justru terdengar mirip Eminem, dimana Warren mengakui sebagai inspirasinya.
Mengenai verse yang ditulis, Warren juga menyertakan pengalaman sebagai orang Asia hidup di Amerika. Sudut pandang ini digunakan pula oleh Brian dan NIKI, yang menggambarkan kehidupan di Amerika dari sudut pandang orang Asia.
Brian menyusul dengan verse miliknya setelah Warren. Kemampuan, keahlian, hingga musikalitas rapper satu ini memang tidak perlu diragukan. Begitu pun saat ia membawakan bar demi bar lirik di "California."
"Pindah ke LA, bertemu banyak orang. Empat atau lima tahun kemudian dan kami melakukan proyek masing-masing dan berkembang, dan memiliki banyak keraguan, dan melihat perubahan serta kedewasaan dalam sesama dan itu sungguh keren—dalam hidup kami dan musik," ujar Brian dalam konferensi pers mengenai proses kreatif di balik penulisan lagu ini.
Brian juga mengungkap makna dari lirik "Yeah, you've made it, you've been anxious" pada chorus. Ia menjelaskan lirik tersebut mengenai rasa anxiety dan tekanan yang harus mereka hadapi. Ini merupakan bagian high and low dalam proses mengejar mimpi itu sendiri.
"Saya bercerita tentang betapa besarnya tekanan yang kami alami di industri ini dan kami masih sangat muda. Mungkin karena banyak sekali orang, banyak sekali orang baru yang harus ditemui, banyak tempat di mana kami harus bertemu seseorang dan bersikap lain. Itu memunculkan anxiety yang tinggi."
Di sisi lain, NIKI menyebut "California" sebagai kolaborasi paling organik dari trio tersebut. "t was a cool trial and error because I had to rewrite stuff," ungkapnya membeberkan proses kolaborasi menulis lagu ini tidak jauh berbeda dengan sebelumnya untuk 'Heads in the Clouds II."
NIKI mendapatkan bagian cukup besar jelang akhir lagu. Pada versi studio, vokal sang penyanyi cantik balut dengan auto tune; sehingga mencapai vibe sama dengan verse Warren Hue dan Rich Brian. Saat ketiganya membawakan "California" secara akustik dan live, bisa didengar vokalisasi asli NIKI tanpa auto tune yang justru lebih apik.
"California" sebagai lagu trap-pop dengan nada-nada sendu. Beat melodic ala trap di latar belakang memberikan spotlight pada vokal serta flow rap dari ketiga musisi. Lagu ini pun terdengar emosional berkat lirik yang diangkat.
Sebagai bagian dari album kompilasi 'Heads in the Clouds III' di tahun ini, "California" menjadi pop-hits yang cukup solid.