Setiap orang tentu memiliki keluarga, entah yang terikat dengan darah maupun tidak. Apapun keadaannya, seseorang akan berusaha untuk menjaga keutuhan dari keluarga yang ia miliki. Setidaknya itulah yang ingin difokuskan pada 'Pertaruhan the Series'.
'Pertaruhan the Series' merupakan webseries dari Screenplay Films arahan Sidharta Tata yang tayang khusus di Vidio. Dibintangi oleh Jefri Nichol, Giulio Parengkuan, dan Widika Sidmore yang juga sudah muncul di versi filmnya 2017 lalu, serial ini berfokus pada Elzan yang menjalani kehidupannya setelah dipenjara. Kali ini, ia harus berhadapan dengan berbagai pihak baru dan kembali mempertaruhkan keluarganya.
Secara narasi, versi serial ini berlatar beberapa tahun setelah filmnya. Hal ini membuat 'Pertaruhan the Series' mengambil teknik serupa dengan 'Serigala Terakhir the Series', yang juga sama-sama menceritakan kisah setelah versi filmnya. Langkah ini juga sekaligus dihadirkan untuk memperkaya lore yang sudah dibangun sebelumnya, walau bisa dibilang premis yang berfokus pada kerasnya ibukota sudah terasa sangat usang.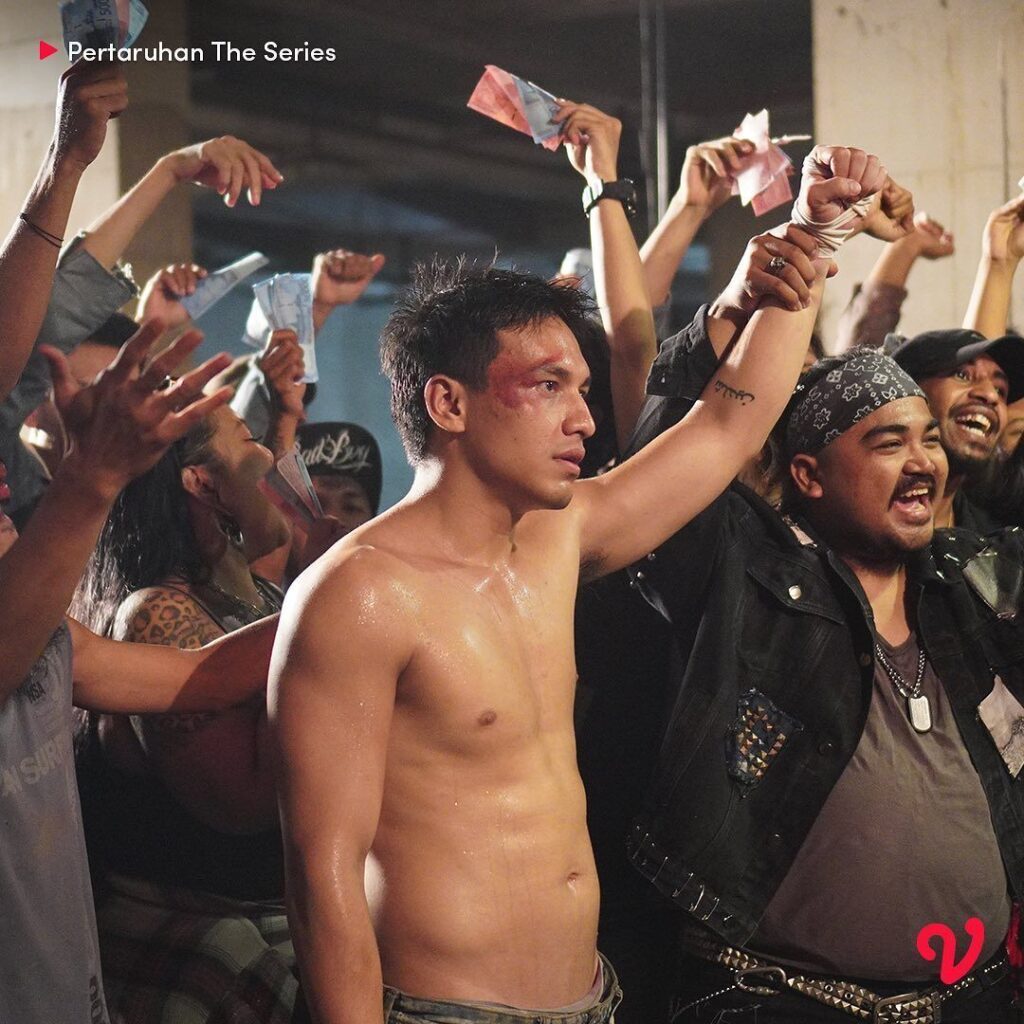 Berbeda dengan versi filmnya yang cenderung gritty, 'Pertaruhan the Series' ini terasa lebih light-hearted walau secara representasi bisa dibilang lebih gritty dari source material-nya. Selain itu, drama keluarga yang dibawa oleh 'Pertaruhan' pada 2017 lalu juga dibawa kembali dalam webseries ini dengan rasa yang lebih make sense dengan masa kini dan tetap memberikan ragam referensi dari sang film aslinya.
Hal menarik dalam 'Pertaruhan the Series' adalah bagaimana drama, komedi, dan laganya bisa dileburkan dengan baik dalam delapan episodenya. Semuanya ditampilkan dengan porsi yang pas tanpa mencederai esensi dari cerita utama. Kombinasi dari ketiganya membuat series ini terasa sangat enjoyable dan selalu berhasil memunculkan rasa penasaran bagi penonton, bahkan hingga akhir penayangannya.
'Pertaruhan the Series' sendiri bertabur dengan bintang-bintang kenamaan, salah satunya Jefri Nichol yang sedang bereksplorasi dalam industri sinema Indonesia. Sebagai salah satu main cast, performa Jefri Nichol sebagai Elzan tetap bagus, walau vibe yang ia tampilkan cenderung tak jauh berbeda dengan recent role-nya seperti Dom di 'Jakarta vs. Everybody'.
Sorotan terbaik di dalamnya patut diberikan pada Giulio Parengkuan yang sebelumnya sudah tampil di 'Pertaruhan' sebagai Ical, dengan karakter yang lebih dieksplor dan membuatnya memiliki banyak layer dari setiap emosi yang ia tampilkan. Tidak hanya itu, Kiki Narendra yang menjadi salah satu antagonis dalam 'Pertaruhan the Series' juga berhasil membawakan karakter Tony dengan baik, menjadikan series ini seakan sebagai rollercoaster ride dengan ragam emosi dari sang karakter.
Secara teknis, 'Pertaruhan the Series' terasa memiliki production value lebih tinggi ketimbang versi filmnya. Dengan set design yang lebih urban, permainan kamera yang memanjakan mata, serta color tone yang cenderung warm membuatnya asik kala ditonton. Belum lagi dengan koreografi dari action-nya yang digarap dengan baik, menjadikan webseries ini sangat memanjakan penikmat sinema laga lokal seperti The Raid.
'Pertaruhan the Series' bisa dibilang sebagai salah satu series terbaik yang dimiliki oleh Vidio. Dengan ragam rasanya, menikmati series ini adalah suatu keharusan, terutama bagi penonton versi filmya yang juga tersedia di platform tersebut.