Hadir dengan cukup tak terduga melalui album debut 'Walk the Talk', Pamungkas langsung mencuri hati para pendengar musik Indonesia. Secara genre di album ini, sebenarnya Pamungkas tak menghadirkan sesuatu yang baru. Musik pop dengan dentingan akustik, vokal mendayu menentramkan, serta lirik tentang cinta serta segala lika-likunya.
Pertengahan tahun ini, Pamungkas kembali hadir dengan Flying Solo. Album kedua yang dirilis melalui label Mas Pam Records mulai memperlihatkan jati diri dengan warna musik beragam.
Flying Solo terdiri dari 11 track, dengan 2 intro dan 1 outro. Format yang sama dari 'Walk the Talk'. Album ini, juga sama seperti 'Walk the Talk' tak dirilis dalam bentuk fisik. Murni hanya versi digital. Entah karena menyadari kurangnya minat untuk album fisik, atau akan adanya bentuk promosi lain dari label untuk dua album ini.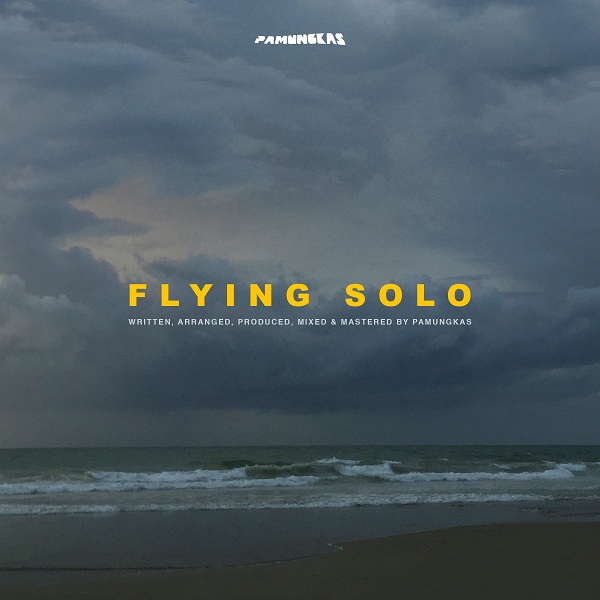 Bila 'Walk the Talk' sangat kental dengan musik pop, maka di 'Flying Solo' Pamungkas mulai menyisipkan genre-genre lain di dalamnya. "Intro III" dan "Intro IV" merupakan terusan dari "Intro I" dan "Intro II" di album Walk the Talk. Lirik yang keempat intro ini tak bersambung dan masing-masing terdengar memiliki nafas sendiri. Jadi pertanyaan bukan maksud dari penerusan dari judul ini?
Selain itu, "Intro III" cukup berhasil membuka dan memperkenalkan album ini. Sentuhan pop rock dan vokalisasi dari Pamungkas – yang sedikit banyak mengingatkan pada Alex Turner atau bahkan warna vokal dari Rex Orange County menjadi daya tarik utama. Iringan keyboard masih terdengar di latar belakang walaupun terdapat sentuhan synth dan auto-tone.
Bergeser pada track kedua, "Modern Love" memiliki lirik yang sangat quote-able. Pas disisipkan untuk caption di postingan di media sosial. "My words are flyin', your lips are smilin' / Our hopes are buildin' / But I don't care 'cause I'm sure that you know that / Nothin' lasts," menjadi bagian chorus yang manis dari track ini. Irama up beat di track pertama ini saja sudah menjadikan track ini salah satu favorite.
Track "Flying Solo" yang juga menjadi judul album justru tak terdengar begitu menonjol. Walau pun tetap saja, vokal dari Pam masih menjadi daya tarik yang membuat lagu ini sendiri bersinar. Irama up beat dari "Modern Love" dan "Flying Solo" masih dipertahankan untuk masuk ke track berikutnya. "Retirement of You" menggunakan synth yang lebih kental dari track lain sebelumnya. Lagu ini sebenarnya akan sangat pas digunakan untuk bergoyang bila saja terdapat variasi di instrumen dan irama di latar belakang. Sayangnya Pamungkas menggunakan beat yang cukup monoton dan lagi-lagi mengandalkan vokalisasi dirinya untuk mencuri perhatian.
"Break It" masih mempertahankan tempo rapat yang sama. Bahkan tak adanya perpindahan irama atau pun variasi dari instrumen di latar belakang akan menjadikan track demi track di album ini terdengar datar. Satu hal yang disayangkan.
Setelah disuguhi track demi track up beat, "Intro IV" menjadi perpindahan yang menyenangkan. Lirik untuk lagu ini menggunakan bahasa Indonesia dan instrumen yang minimalis. Sisi laid back vibe dari "Intro IV" dipertahankan ketika track berpindah ke "To The Bone." Lirik dari lagu ini saja sepertinya cukup untuk membuat Pamungkas sebagai penulis yang tak bisa dipandang remeh. Bagian di lirik "Take me home, I'm fallin'
Love me long, I'm rollin' / Losing control, body and soul / Mind too for sure, I'm already yours" menghadirkan sedikit irama R'nB yang sangat apik. Sepertinya tak salah bila "To The Bone" menjadi favorite di album ini.
"Nice Day" dan juga "Lover Stay" menghadirkan elemen musik retro dan juga disko yang apik. Sedikit tidak nyambung dengan track lain sebenarnya. Walaupun sekali lagi, Flying Solo sepertinya menjadi album pembuktian diri dari Pamungkas. Sehingga nyambung tak nyambung, inilah Pam. "Untitled" yang menjadi track terakhir sebelum "Outro I" pun berbeda dari sederet track lain di album ini. Manis, minimalis, sekaligus memiliki nyawa sendiri dengan sedikit polesan irama retro dari permainan keyboard.
Secara keseluruhan, Flying Solo merupakan album yang cukup memperlihatkan kemampuan Pamungkas dalam meramu musik. Terutama karena sang penyanyi memproduksi sendiri semua track di album ini.
Saat ini Pamungkas memang masih belum menyelesaikan masa promosi dan tur Flying Solo. Namun sudah ditunggu untuk rilisan berikutnya.