'JoJo's Bizarre Adventure' merupakan salah satu judul anime yang paling populer dalam kalangan pencinta pop culture Jepang. Selain dari ceritanya yang dianggap aneh, seri ini terkenal dengan segudang referensi dan berbagai momen memeable-nya. Bermacam-macam aspek tersebut banyak hadir pada 'JoJo's Bizarre Adventure Season 2' yang tayang pada 2014-2015 lalu.
'JoJo's Bizarre Adventure Season 2' merupakan seri anime yang berbasis dari story arc 'Stardust Crusaders' karya Hirohiko Araki. Kisahnya sendiri berfokus pada Jotaro Kujo, cucu Joseph Joestar yang sebelumnya muncul di 'Battle Tendency'.
Pada musim kedua ini, Jotaro bersama Joseph dan rekan-rekannya harus melawan Dio yang bangkit setelah satu abad terdiam di dasar laut. Akan tetapi, perjalanan mereka mengarungi Asia-Afrika tidaklah mudah karena hadirnya berbagai minion Dio yang tak kalah berbahaya dari vampir.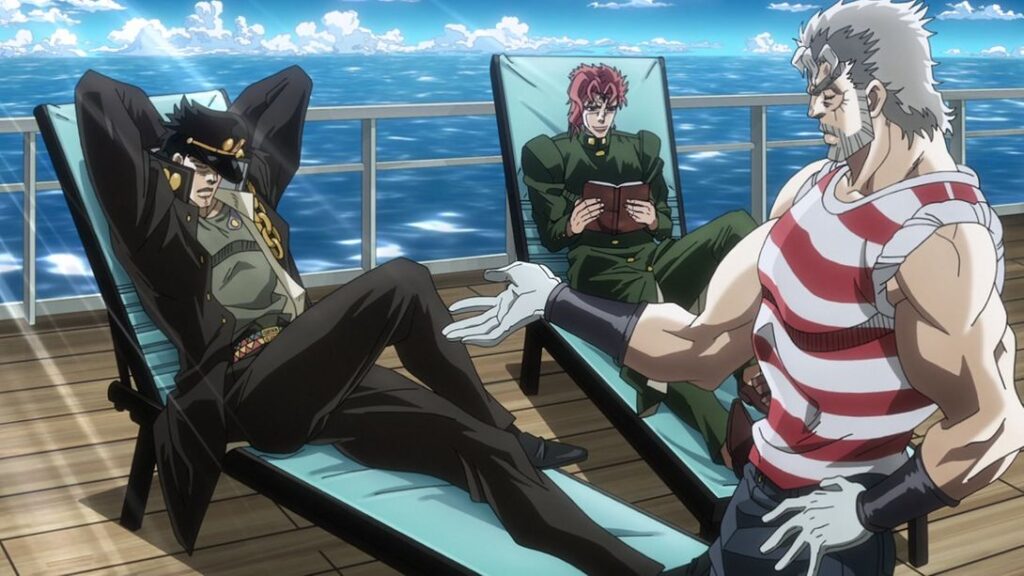 Hal yang membuat 'JoJo's Bizarre Adventure Season 2' ini tampak berbeda dengan musim sebelumnya adalah narasinya yang jauh lebih panjang. Melalui 48 episodenya, penonton akan dibawa dalam petualangan aneh dari JoJo ketiga dalam menghabisi Dio dan berbagai bawahannya. Semuanya dikemas dengan alur maju, dengan menyelipkan sedikit flashback untuk mendukung eksposisi pada beberapa bagian tertentu yang berkaitan dengan lore-nya.
Seiring narasinya yang tergolong panjang, 'JoJo's Bizarre Adventure Season 2' ini memaksimalkan karakterisasi dari berbagai karakternya. Pembawaan karakter seperti inilah yang membuat penonton akan lebih mudah dalam mengilhami mereka dengan segala ciri khasnya, bahkan bisa menangkap bahwa journey yang terjadi dalam 'Stardust Crusaders' ini terasa sangat personal.
Walau tetap hadir dengan nuansa serius, 'JoJo's Bizarre Adventure Season 2' memberikan sentuhan komedi yang lebih banyak. Berbagai momennya sukses mengundang gelak tawa, bahkan memberikan iconic reference yang akan bertahan sebagai pop culture dan memberikan rehat sejenak dari keseriusan dari kisah utamanya.
Man of the show dari 'JoJo's Bizarre Adventure Season 2' ini patut dilekatkan pada Jotaro Kujo. Ditempatkan sebagai JoJo ketiga, karakter remaja ini ditampilkan berbeda dengan Jonathan dan Joseph sebelumnya melalui bad boy persona-nya. Meski begitu, eksistensinya yang ditampilkan serba bisa membuatnya seakan memiliki plot armor, bahkan ketika final showdown-nya dengan Dio berlangsung.
Hal yang membuat 'Stardust Crusaders' ini berbeda adalah munculnya Stand sebagai basis kekuatannya, lain halnya dengan 'Phantom Blood' dan 'Battle Tendency' yang mengandalkan Hamon. Walau Stand sendiri representasinya tampak unik, akan tetapi minimnya koneksi dengan Hamon membuat transisi kekuatan ini terasa sangat janggal. Elemen ini pula yang membuat 'JoJo's Bizarre Adventure' ini memiliki ciri khasnya dibanding berbagai judul lainnya.
Pada akhirnya, 'JoJo's Bizarre Adventure' adalah kisah lanjutan baru yang berhasil memberikan ekspansi dari lore antar generasi JoJo ini. Akan tetapi, ceritanya yang kelewat panjang bisa jadi membosankan, terutama pada bagian-bagian awal.