Dalam kehidupan berbagai orang, ada saja memori yang dimiliki sebagai pengiring dirinya. Entah seberapa kuat tekad untuk melupakannya, memori ini tak bisa dilepaskan begitu saja dan kita harus bertahan dengannya sepanjang hidup. Sekilas, itulah sorotan utama dalam 'Guardians of the Galaxy Vol. 3' yang sedang mengudara di bioskop Indonesia.
'Guardians of the Galaxy Vol. 3' merupakan film action superhero dari Marvel Studios yang disutradarai oleh James Gunn. Membawa bintang kenamaan Hollywood seperti Chris Pratt, Bradley Cooper, hingga pendatang baru yakni Maria Bakalova dan Chukwudi Iwuji, film ini berkisah tentang Quill dan kawan-kawan yang berusaha untuk menyembuhkan Rocket setelah diserang oleh Adam Warlock dari Sovereign. Akan tetapi, mereka harus berhadapan pula dengan High Evolutionary yang menginginkan Rocket untuk kembali ke tangannya.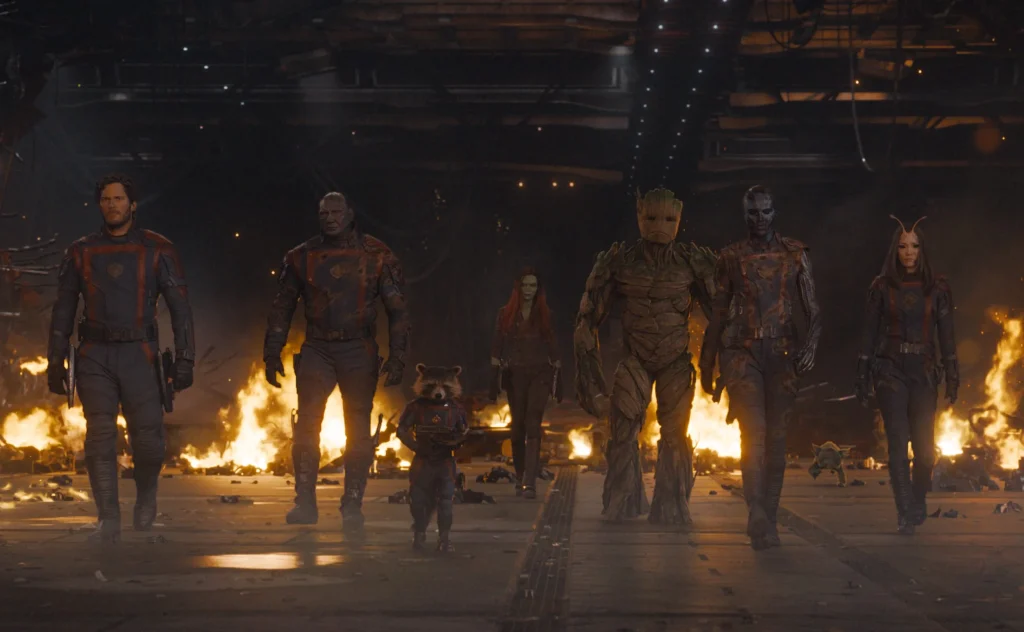 Secara narasi, 'Guardians of the Galaxy Vol. 3' tampak berbeda dibanding dua prekuelnya. Apabila dua pendahulunya lebih banyak berpusat pada Quill sang Star-Lord, penutup trilogi 'Guardians of the Galaxy' ini akan memusatkan cerita dari sisi Rocket. Salah satunya melalui vignette mengenai masa lalu Rocket yang tampak mendominasi cerita, serta bagaimana dorongan plot sepenuhnya hadir karena eksistensi sang rakun jenius tersebut.
Akan tetapi, kehadiran 'Guardians of the Galaxy Vol. 3' seakan hanya menjadi filler episode untuk keberlanjutan 'Phase Five' dari 'Marvel Cinematic Universe'. Lore yang terbatas pada penjaga galaksi, tak adanya recurring character dari luar cerita, hingga villain yang muncul sekejap membuat scope-nya terasa kecil dan minim kepentingan pada konflik multiverse yang disorot pada fase terkini MCU.
Seperti dua pendahulunya, 'Guardians of the Galaxy Vol. 3' tetap mampu memanjakan penonton dengan segelintir karakternya yang unik. Deretan main character-nya tampak developed seiring plot pada tiga filmnya, sayangnya tak diiringi dengan backstory yang berimbang karena fokusnya hanya hadir pada Rocket.
Ini yang membuat kemunculan Cosmo the Spacedog dan Adam Warlock minim esensi selain sebagai comic relief. Tak hanya itu, High Evolutionary yang diperankan dengan memukau oleh Chukwudi Iwuji seakan menjadi mad scientist penuh obsesi, bukan suatu ancaman besar.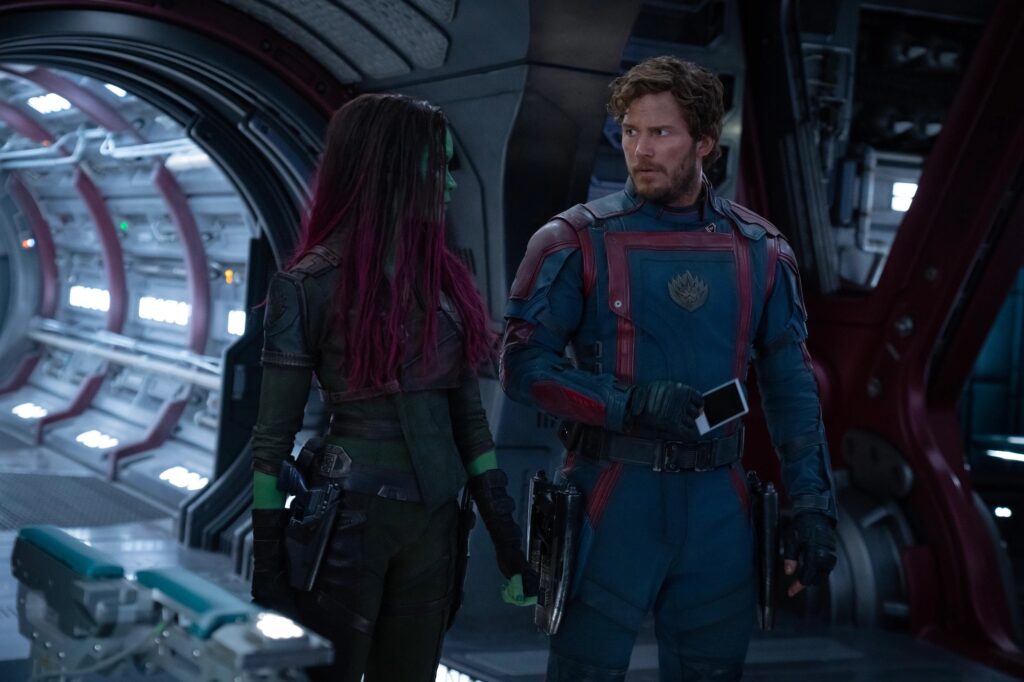 Walau 'Guardians of the Galaxy Vol. 3' terlihat lebih dramatis, James Gunn tak serta-merta menanggalkan aspek action pada filmnya ini. Meski tampak minimalis bila dibandingkan jajaran 'Marvel Cinematic Universe' lain, aksi yang disuguhkan sepanjang 150 menit ini tetap memberikan keseruan tersendiri, dimana puncak kemegahan laganya dapat dilihat mendekati penghujung cerita yang dikemas dengan penuh estetika dari koreografi mulus dan sinematografi continuous shot-nya.
Tak hanya itu, aspek teknis dalam seri ketiga 'Guardians of the Galaxy' ini juga tak boleh dipandang sebelah mata. Salah satunya melalui deretan soundtrack yang membawa nostalgia dan menambah keseruan serta diiringi pula dengan set design megah berbekal special effect yang berhasil blend-in dengan scene-nya.
Menikmati film ini pada studio bioskop dengan layar luas berteknologi seperti IMAX dan sound menggelegar tentunya akan melipat gandakan experience kala menontonnya.
Akhir kata, 'Guardians of the Galaxy Vol. 3' adalah kisah yang menarik untuk Quill dan kawan-kawan walau memang nuansanya terasa seperti filler episode yang minim esensi untuk konflik multiverse pada 'Marvel Cinematic Universe'.
Meski begitu, menonton film ini selagi sedang mengudara di bioskop tetap menjadi suatu keseruan tersendiri dengan segelintir hal menarik pada pemutarannya.