Green Day merupakan salah satu band senior yang masih berjaya hingga sekarang dan masih bertahan di genre musik Punk Rock. Telah berkiprah selama dua dekade, Billie Joe Armstrong, Mike Dirnt, dan Tre Cool memang pantas mengklaim diri sebagai ayah dari semua pendengar musik Punk Rock yang masih setia mendengarkan mereka hingga saat ini.
"Father of All…" (dengan judul lengkap "Father of All Motherfucker") merupakan album terbaru dari Green Day yang telah rilis pada 7 Februari 2020 lalu. Jika "American Idiot" mengajak generasi muda untuk sadar politik dan isu sosial, "Father of All…" hanya ingin mengajak kita untuk melupakan dunia yang sedang kacau dengan menari di lantai dansa.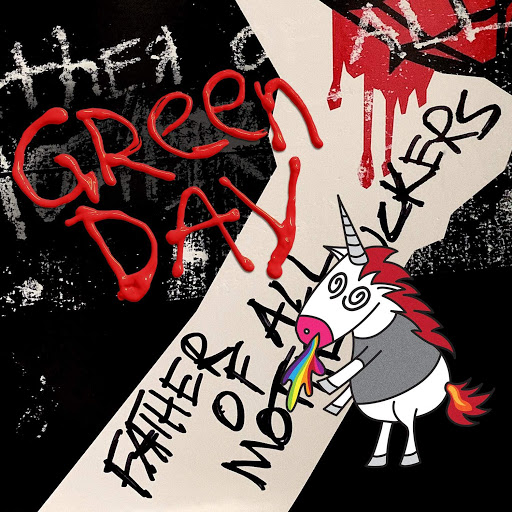 Album ini memiliki cover art yang mungkin sudah tidak asing lagi untuk para penggemar Green Day lama. Kita bisa melihat cover album "American Idiot" dengan tangan menggenggam granat berbentuk hati. Namun, cover album masterpiece tersebut ditumpuk dengan font baru dan karakter kartun unicorn yang memuntahkan pelangi.
"Kita hidup di masa yang berbahaya sekarang. Semuanya terasa tidak terprediksi. Amerika sedang dalam masalah dan sangat sulit mendapatkan inspirasi (dari topik tersebut) karena hal tersebut membuatku depresi", ungkap Billie dalam wawancara dengan NME.
"Father of All…" terdiri dari 10 track dimana Green Day bermain dengan musik Garage Punk dengan sentuhan Rock n' Roll.
Dibuka dengan track "Father of All…" yang merupakan single utama dari album ini. Lagu yang memang ditulis oleh Billie dan kawan-kawan murni untuk mengajak kita menari dengan lagu Punk Rock ala Green Day. Dilanjutkan dengan "Fire, Ready, Aim" yang mulai memperdengarkan sentuhan Rock n' Roll dengan instrumen piano sebagai pemanis.
"Oh Yeah!" merupakan salah satu track dengan tempo musik medium, memberikan jeda untuk track-track up beat berikutnya yang semakin membara.
"Meet Me on the Roof" dibuka dengan lirik 'I'm calling on the dancefloor' dan diiringi musik Rock n' Roll dengan sentuhan Bubblegum Pop seperti soundtrack dari film teenlit 60-an. Begitu juga dengan track "Stab You in the Heart" yang terdengar seperti salah satu lagu Elvis Presley namun diaransemen dengan sentuhan instrumen gitar distorsi ala Garage Rock.
Sementara "Sugar Youth" dan "Take the Money and Crawl" terdengar kental dengan aransemen musik Garage Rock. "Graffitia" menjadi track Punk Rock ceria yang menutup album "Father of All…"
Secara keseluruhan, "Father of All…" terbentuk dari track-track dengan semangat, keceriaan dan amarah yang dibawakan dengan sikap 'masa bodoh'. Green Day bukan lagi sekumpulan remaja naif yang membawakan musik Punk untuk menyuarakan isu politik, berharap dunia bisa berubah melalui protes mereka dalam album "American Idiot". "Father of All…" menyuarakan kemuakan Green Day akan dunia politik dan memilih untuk tidak ikut campur lagi dengan menulis lagu sesuka hati mereka.