"Extraordinary" merupakan serial komedi bertema superpower terbaru yang sudah bisa di-streaming di Disney+ Hotstar. Serial asal Inggris ini ditulis oleh Emma Moran.
Ketika setiap orang mendapatkan kekuatan super kecuali Jen (Máiréad Tyers), yang tak kunung mendapatkan kekuatan super hingga ia menginjak usia 25 tahun. Meski merasa payah dan mulai putus asa, Jen tak pernah berhenti berusaha untuk menemukan harapan di tengah krisis dalam hidupnya.
Di tengah popularitas konsumsi superhero mainstream, semakin banyak sajian bertema superhero dari sudut pandang baru. Mulai dari romantisme karakter villain hingga satir superhero seperti "The Boys" yang populer beberapa tahun belakangan.
"Extraordinary" bisa dikategorikan sebagai inovasi terbaru dalam niche ini yang patut ditonton. Ibarat "The Boys" adalah satir untuk superhero Marvel dan DC, "Extraordinary" merupakan satir dari film superhero 2000-an, "Sky High" (2005).
Jen yang Tidak Punya Kekuatan Super di Tengah Krisis Hidupnya
"Extraordinary" memiliki adegan pembuka episode pertama yang memberikan statement kuat pada Jen sebagai protagonis. Cukup berkesan untuk membuat penonton langsung terpikat dengan kisah Jen dalam semesta superpower yang baru. Bahwa ini adalah perempuan biasa yang sedang mengalami krisis pada usia 25 tahun.
Quarter-life crisis terasa lebih berat ketika ia tidak memiliki kekuatan super di lingkungan dimana semua orang memiliki kekuatan super. Kita tidak perlu tinggal di semesta unik yang sama untuk memahami penderitaan emosional yang dialami Jen.
Tema superpower dalam "Extraordinary" menjadi gimmick yang fresh dalam niche ini. Bisa menjadi materi komedi maupun diaplikasikan pada isu yang manusiawi. Terutama pada isu quarter-life crisis. Apakah Jen harus memiliki superpower untuk mendapatkan kehidupan yang lebih kayak dan pekerjaan yang lebih bermartabat? Tak melulu dari perspektif Jen, kita juga bisa menganalisa problem kehidupan yang relevan pada karakter-karakter pendukung lainnya.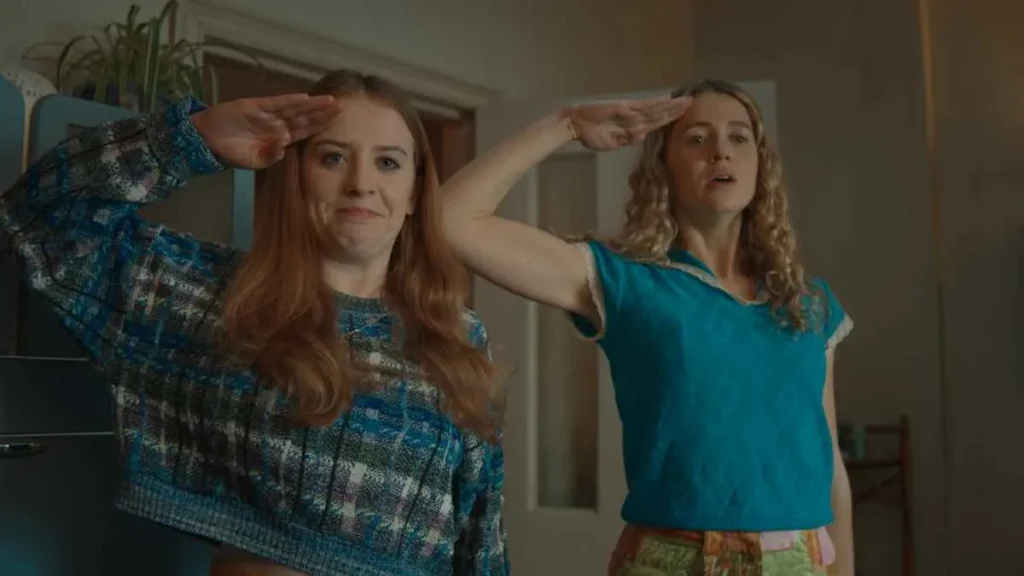 Ketika Memiliki Superpower Bukan Berarti Superhero
Jika semua orang memiliki superpower, tidak ada yang membutuhkan superhero. "Extraordinary" memiliki semesta yang unik, dimana semua orang memiliki kekuatan yang unik, namun tidak ada superhero seperti Superman atau Spider-Man untuk melindungi kota dari ancaman villain. Superpower bukan sesuatu yang besar dalam semesta ini.
Ibu Jen (Siobhan McSweeney) memiliki kekuatan mengendalikan teknologi, namun tidak berguna karena ia gagap teknologi. Carrie (Sofia Oxenham), sahabat Jen bekerja di firma hukum untuk menjadi medium arwah yang dibutuhkan dalam urusan legal, namun masih tinggal di apartemen lusuh bersama kekasihnya yang pengangguran.
Tidak ada yang spesial yang ketika semua orang memiliki kekuatan, bukan? Tidak ada penjahat maupun pahlawan super dalam "Extraordinary". Setiap orang juga tidak lepas dari problematika kehidupan, baik Jen yang tidak memiliki kekuatan maupun karakter lain dengan kekuatan.
Materi Komedi ala Inggris yang Konyol dan Vulgar
Eksplorasi tema superpower dalam "Extraordinary" sangat out of the box dan tidak terbatas. Kekuatan untuk bisa terbang, super cepat, teleportasi, dan mengendalikan waktu pastinya sudah biasa. Dalam serial ini, ada karakter yang bisa mengubah apapun menjadi PDF, menjadi 3D printer, dan masih banyak lagi kekuatan unik diluar nalar lainnya. Bahkan banyak yang memalukan dan tidak terlalu bermanfaat untuk kehidupan.
Dengan gimmick ini, "Extraordinary" mampu memberikan sajian humor absurd dan konyol yang mengundang tawa. Serial ini juga mengandung banyak materi humor dewasa yang vulgar dan seronok. Namun tidak secara visual, lebih pada teori dan beberapa dialognya saja.
Buat penggemar komedi Inggris, tema superpower, dan isu quarter-life crisis, "Extraordinary" bisa menjadi serial dengan materi komplit terbaru yang menghibur. Durasi per episode juga tidak terlalu panjang dan hanya terdiri dari 8 episode.