Pertengahan Juli kemarin, Ed Sheeran mengumumkan dua pemberitaan penting: merilis kolaborasi album dan juga pernikahan dengan sang kekasih, Cherry Seaborn. Pengumuman ini mengkonfirmasi sekaligus dua rumor mengenai sang superstar yang berhembus selama beberapa pekan sebelumnya. Menariknya ada hubungan besar antara album kolaborasi 'No.6 Collaborations Project' ini dengan pernikahan Ed sendiri. Salah satunya dari tema keseluruhan yang diangkat.
Album kolaborasi sebenarnya bukan "makanan" baru untuk Ed. Selain tentunya ia sendiri sudah menjadi kolaborator bagi puluhan artis untuk sederet hits track mereka. 'No.6 Collaborations Project' merupakan lanjutan dari EP 'No. 5 Collaborations Project' yang dirilis pada 2011. Tentunya 'No.6 Collaborations Project' hadir dengan budget yang lebih baik, serta deretan musisi, penyanyi, diva, superstar, dan nama-nama besar lain di industri musik Hollywood. Namun, bagaimana dengan kualitas dari album studio keempat dari Ed Sheeran ini? Apakah jauh lebih baik dari 'No. 5 Collaborations Project' yang hanya menggandeng beberapa musisi dan artis seperti Devlin, Wiley, P Money, Ghetts, dan JME?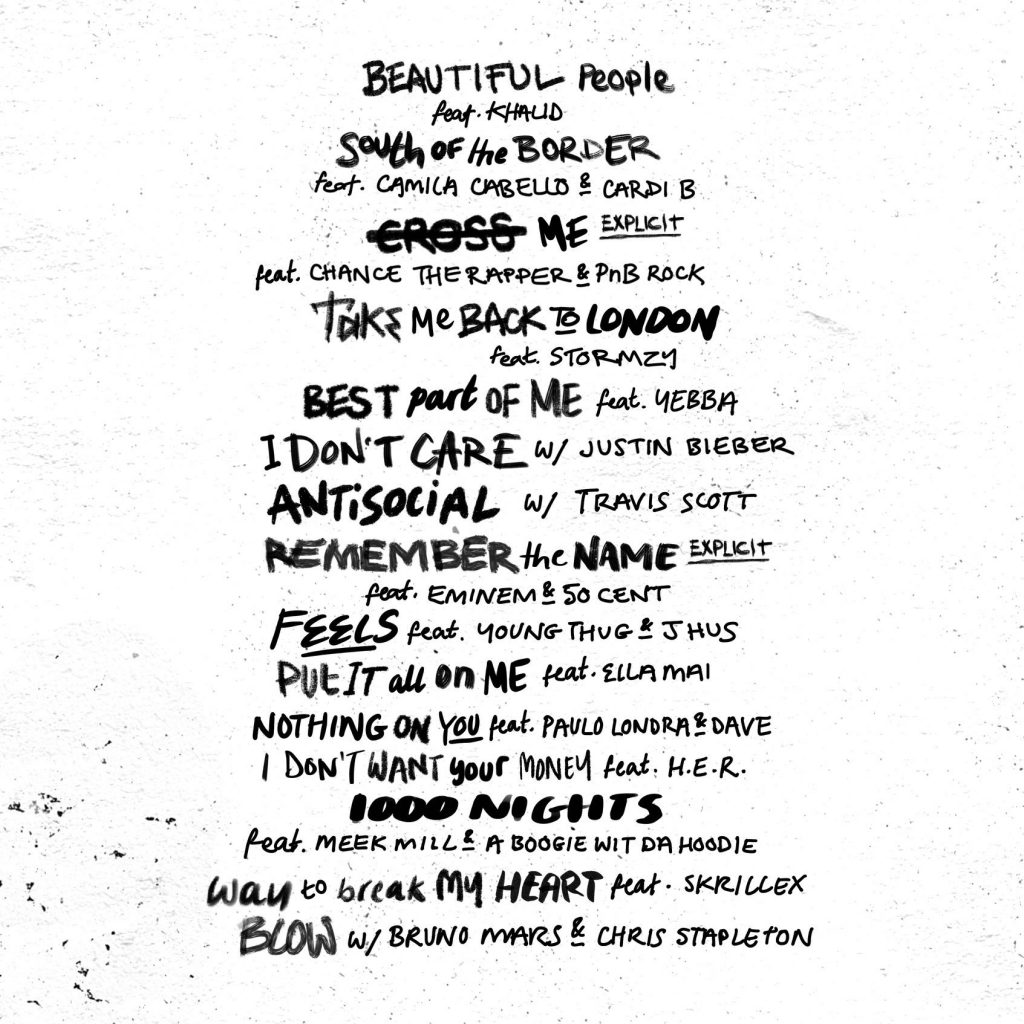 "I Don't Care" menjadi single pertama yang dirilis dari album kolaborasi 'No.6 Collaborations Project'. Menggandeng sesama pengantin baru, Justin Bieber, dance hall track ini bercerita mengenai cinta. Tema lirik sampai beberapa bagian instrumen dari "I Don't Care" sedikit banyak mengingatkan pada mega hits Ed, "Shape of You." Hanya sayangnya lirik untuk "I Don't Care" terdengar terlalu dangkal dibandingkan dengan hits sebelumnya: "I don't care when I'm with my baby, yeah/All the bad things disappear."
Bergeser dari dance hall, pop infused track kita dibawa ke "Cross Me," yang merupakan kolaborasi dengan Chance the Rapper. Untuk track ini sisi retro dan old school terdengar jauh lebih kental, walaupun seakan Chance the Rapper dan Ed Sheeran ragu untuk membawa "Cross Me" ke sisi lebih rock atau punk. Pada akhirnya track ini pun justru terdengar serba nanggung. Track "Beautiful people" dengan Khalid -yang sebenarnya track pertama di album ini, by the way- membawa pendengar kembali ke sosok Ed beberapa tahun lalu: seorang musisi dengan gitar yang menyanyikan lagu pop sedih tentang bagaimana ia "berbeda" dari orang lain. Di "Beautiful people", Khalid dan Ed menyanyikan lirik tentang mereka yang bukan bagian dari para "beautiful people", pada akhirnya mereka hanya "I'm not a cool guy, I'm a regular guy." Sebuah track apik walau mainstream.
Disusul dengan "Antisocial," kolaborasi dengan Travis Scott. Melanjutkan lirik sebelumnya, di track dengan dentuman cepat instrumen drum ini menegaskan mereka bukan bagian dari orang-orang keren: "All you cool people, you better leave now." Setelah dance track, rock, pop, dan hip hop, track kolaborasi dengan Camila Cabello dan Cardi B ini menyentuh genre Latin-pop fantasy. Ed bisa dibilang paling bereksperimen untuk track satu ini. Tak hanya untuk beat sampai latin sound yang disisipkan, namun juga dari segi lirik. Menyanyikan tentang seseorang dengan "caramel thighs" dan "curly hair", "South of the Border" seakan menjadi manifesto kecintaan Ed pada black music.
Satu hal yang mungkin disesalkan dari album kolaborasi ini bukan bagaimana Ed menunjukan kecintaannya pada cheesy lyric, sad pop, serta menegaskan dirinya bukan orang keren, dan ia suka black music. Justru upaya Ed untuk kembali menunjukan kemampuan rap-nya! "Take Me Back to London" featuring Stormzy menjadi upaya pertamanya untuk menyisipkan rap verse, yang sayangnya bisa mengecewakan. Tak hanya karena sing-rap dari Ed terdengar terlalu datar, namun flow yang ia gunakan terlalu mirip dengan "Bitch Better Have My Money" era Rihanna.
"Remember the Name" menjadi upaya "lebih dalam" dari Ed untuk memberikan flow rap dirinya. Verse rap: "Yeah, I was born a misfit, grew up 10 miles from the town of Ipswich/Wanted to make it big, I wished it to existence/I never was a sick kid, always dismissed quick/'Stick to singing, stop rappin',' like it's Christmas" dari Ed di track ini saja sepertinya cukup untuk menekan tombol skip. Untungnya track hip hop, R&B lain dari album ini seperti "Feels," yang menyatukan Young Thug dan J Hus, serta "Put It All On Me" feat Ella Mai jauh lebih. Bukti Ed seharusnya tetap setia di jalur vokal, bukan rap.
Pada cover story Vibe tahun 2014 silam, Ed memang sempat menyebut mengenai dirinya memiliki "hip-hop soul." Satu hal yang dibuktikan melalui sederet track hip hop apik dari album ini. Bahkan sepertinya tak akan salah bila mengatakan dibandingkan pop, dance hall, serta latin yang mewarnai 'No.6 Collaborations Project', hip hop menjadi suguhan terkuat. Secara keseluruhan, 4 dari 5 bintang sepertinya pas untuk 'No.6 Collaborations Project', tentu dengan kita melupakan semua upaya Ed Sheeran untuk rapping di beberapa track dalam album ini!