Sebelum "Alvin and the Chipmunks" menjadi trio tupai paling populer pada era 2000an, "Chip 'n Dale: Rescue Rangers" merupakan serial kartun petualangan yang kini menjadi bagian dari masa kecil anak-anak era 80an hingga akhir 90an. Dengan judul yang sama, Disney+ merilis film spesial sebagai momen reuni Chip dan Dale dalam semesta hibrida, dimana keduanya melanjutkan kehidupan setelah serial kartun mereka berakhir.
Dale, telah melakukan operasi CGI dan masih mencari harapan di dunia hiburan. Sementara Chip sudah lama meninggalkan dunia yang membesarkan namanya, kini bekerja sebagai karyawan perusahaan asuransi. Ketika Monterey Jack diculik oleh sindikat rahasia, keduanya kembali bekerja sama untuk menyelamatkan sahabat mereka, seperti Rescue Rangers di masa lalu.
"Chip 'n Dale: Rescue Rangers" lebih dari sekadar film reboot atau live-action adaptation. Berlatar di masa sekarang dengan konsep latar dimana manusia hidup berdampingan dengan dunia animasi. Tema secara keseluruhan akan mengingatkan kita pada film seperti "Space Jam" (1996), "Wreck-It Ralph" (2012), "Pixels" (2015), dan film-film sejenisnya.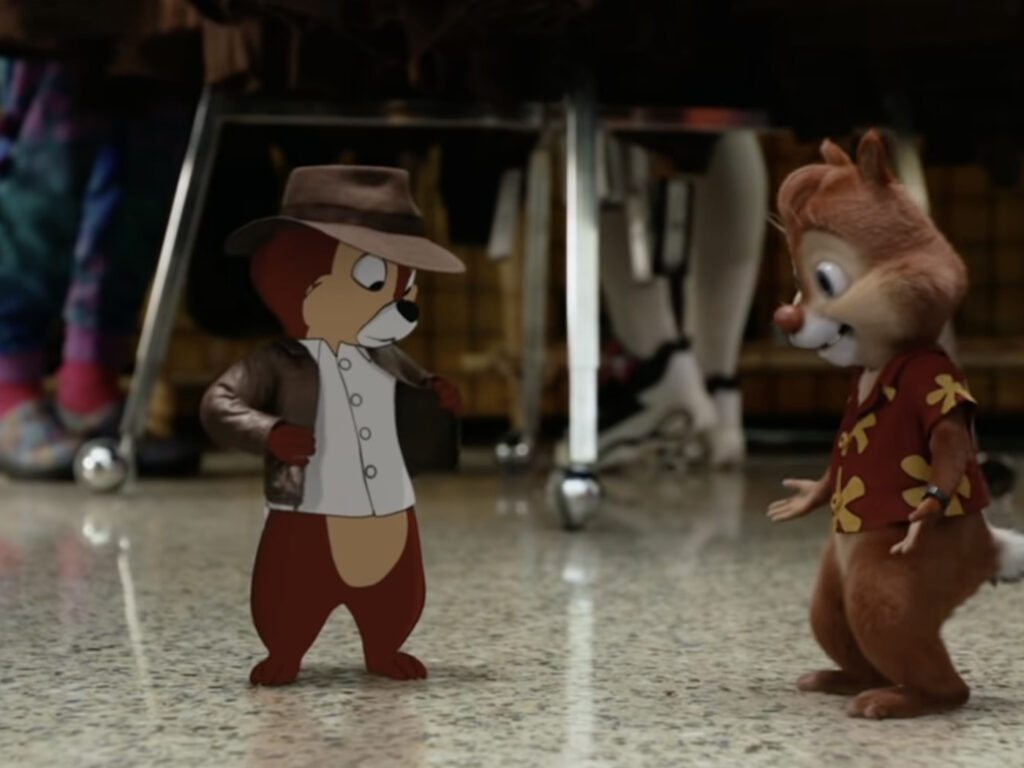 Berjumpa dengan Kartun Masa Kecil hingga Menertawakan Kegagalan Animasi CGI Ikonik
Tak hanya kembali bertemu dengan Chip dan Dale sebagai bintang utama, kita juga berjumpa dengan banyak kartun-kartun lama lainnya. Baik sebagai karakter pendukung atau sekadar easter egg di ujung layar. Jangan cuma dijadikan background sambil melakukan hal lain, butuh momen yang santai dan penglihatan yang jelih untuk menikmati 'Rescue Rangers' terbaru ini secara maksimal.
Tak hanya kartun-kartun dari studio Disney, ada juga penampakan dari koleksi Nickelodeon, dan referensi dari berbagai film cult classic. Presentasi dari berbagai referensi tersebut juga diaplikasikan dalam film dengan komposisi yang tepat. Tidak terasa overwhelming atau memaksa untuk menjadi lucu.
Tak hanya nostalgia dengan kartun klasik, kita juga akan dibuat tertawa dengan kegagalan animasi CGI paling yang sempat trending. Salah satunya ketika kita dibuat kaget dengan model CGI Sonic Hedgehog pertama dengan gigi manusia. Seiring berjalannya petualangan 'Rescue Rangers', akan ada lebih banyak lagi easter egg yang kita temukan, membuat kita selalu semangat menemukan referensi budaya pop dalam setiap adegannya.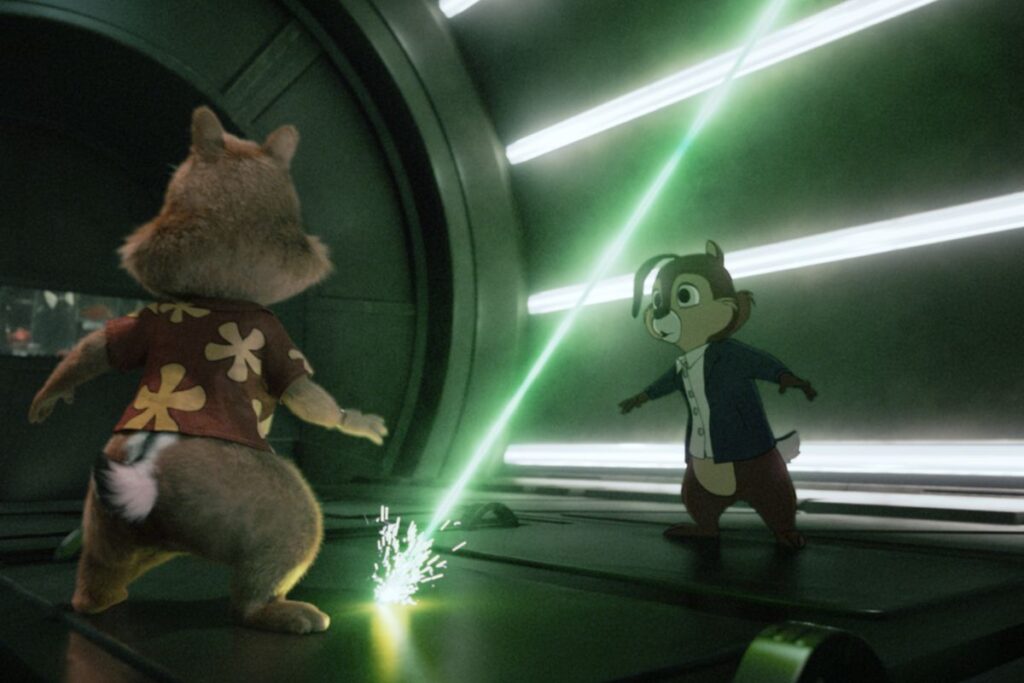 Melihat Perkembangan Animasi dari Masa ke Masa
Menonton "Chip 'n Dale: Rescue Rangers", kita akan melihat perkembangan animasi dari masa ke masa dalam satu layar. Mulai dari animasi 2D, seperti yang digunakan dalam 'Rescue Rangers' klasik, clay animation, hingga animasi CGI dalam wujud 3D. Semuanya berbaur dengan komposisi sempurna dengan background live-action.
Dalam proses transisi kartun 2D menuju CGI juga tidak selalu menghasilkan karakter yang sempurna. Film animasi spesial ini tak mampu melibatkan materi-materi 'gagal' tersebut menjadi subyek komedi sarkas yang menyenangkan untuk ditertawakan. Namun dengan melibatkan setiap gaya animasi dari setiap masa, "Chip 'n Dale: Rescue Rangers" telah menjadi presentasi kronologis dan seru untuk napak tilas perkembangan animasi yang komplit.
Tontonan Nostalgia Bagi Penonton Dewasa, Sekaligus Hiburan Ringan Anak Masa Kini
"Chip 'n Dale: Rescue Rangers" bisa jadi film terbaru di Disney+ hiburan komplit untuk semua anggota keluarga. Bagi para generasi milenial, film animasi mampu menimbulkan nostalgia. Dalam plot ceritanya yang sederhana, ada banyak elemen-elemen pendukung yang membuat petualangan kita sebagai penonton tetap terasa seru.
Sementara bagi penonton anak-anak masa kini, petualangan Chip dan Dale memiliki objektif yang jelas dengan skenario kronologis yang mudah diikuti. Referensi klasik yang mungkin hanya bisa ditangkap oleh penonton dewasa juga tidak akan mengganggu penonton di bawah umur untuk tetap bisa menyimak petualangan dua tupai lucu tersebut.
Skenarionya memang klise, ditambah lagi interaksi karakter animasi dengan aktor sungguhan yang terasa canggung. Namun hal tersebut tidak terlalu mengganggu film secara keseluruhan. Kita tidak akan menemukan materi komedi yang garing atau cringe sepanjang film.
Film animasi hibrida ini pada awalnya mungkin hanya terlihat seperti judul baru untuk menambah judul dalam katalog Disney+. Lebih dari itu, "Chip 'n Dale: Rescue Rangers" telah menjadi film terbaru yang bisa dinikmati oleh setiap anggota keluarga.