"All of Us Are Dead" merupakan salah satu komik OG dari platform Webtoon yang debut pada Mei 2003 silam, telah tamat pada November 2011. Tak lama lagi, serial adaptasi live action "All of Us Are Dead" akan rilis di Netflix.
Serial yang diangkat dari komik karya Joo Dong-Guen ini, terealisasi sebagai project live action di bawah arahan sutradara Lee JQ. Sebelumnya sutradara Lee telah menggarap beberapa serial K-drama seperti "Beethoven Virus" (2008) dan "The King 2hearts" (2012). 
Melalui konferesi press (26/1), Lee JQ mengungkapkan bahwa "All of Us Are Dead" menjadi pengalaman baru baginya sebagai sutradara, dengan tema cerita yang baru, latar yang baru, dan sederet aktor muda yang bekerja sama dengannya.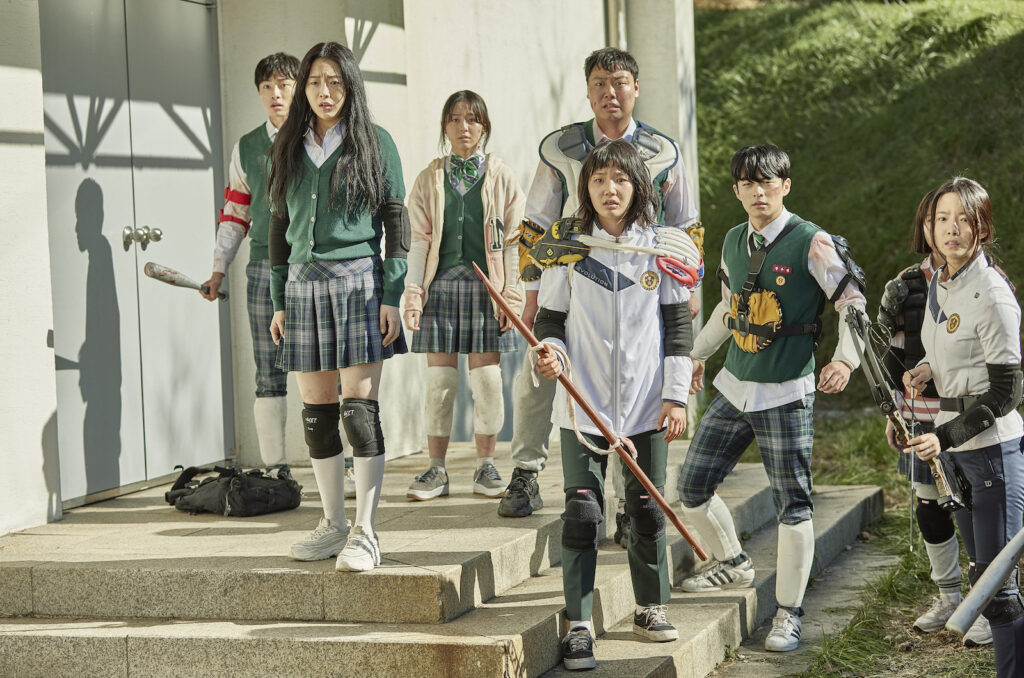 "All of Us Are Dead" dibintangi oleh Park Ji-Hoo, Yoon Chan-Young, Cho Yi-Hyun, Yoo In-Soo, Lee Eun-Saem, Lomon, Lim Jae-hyeok dan Lee Yoo-Mi (sebelumnya bermain dalam Squid Game). Park Ji-Hoo menjadi aktor termuda dalam jajaran cast dan masih mengemban bangku SMA selama proses syuting. "Terkadang saya pergi ke lokasi syuting mengenakan seragam asli sebelum akhirnya berganti seragam sekolah untuk serial ini", ungkap Park Ji-Hoo.

"All of Us Are Dead" sendiri memiliki premis tentang terjadinya zombie outbreak di lingkungan sekolah. Kisah lebih fokus pada sekuen bertahan hidup yang harus dilalui oleh sekelompok remaja, dengan sumber daya terbatas sambil menunggu bala bantuan karena terjebak di gedung sekolah.
Bagi sutradara Lee dan segenap aktor-aktornya, "All of Us Are Dead" akan memberikan latar tema dan jalan cerita yang baru, tak lepas dari fakta bahwa dewasa ini sudah ada banyak serial maupun film Korea dengan genre zombie thriller.
"Selama ini kita hanya melihat film zombie dengan karakter-karakter dewasa. Serial ini lebih fokus pada karakter-karakter remaja, dimana kita sering berkata bahwa mereka cenderung kekanak-kanakan. Melalui serial ini, kita akan melihat bagaimana para remaja menghadapi serangan zombie, bagaimana bereaksi dan mengambil tindakan", ungkap Lee JQ. 
Aktor Lim Jae-hyeok menimpali bahwa latar sekolah juga tidak memungkinkan para murid untuk memiliki senjata ampuh, seperti senapan, layaknya serial atau film zombie pada umumnya. "Kami hanya menggunakan apa yang ada di sekitar, seperti peralatan sekolah, meja, dan kursi. Menurut saya, ini faktor yang sangat membedakan."
Aktor-aktor lainnya juga setuju bahwa serial zombie ini akan menyajikan sudut pandang baru yang menarik, melihat bagaimana para remaja berinteraksi maupun mengambil keputusan di tengah situasi bertahan hidup yang sulit. Aspek inilah yang diklaim oleh Lee JQ bahwa "All of Us Are Dead" memiliki materi yang berbeda dengan serial zombie lain yang sudah ada. 
Layaknya serial dengan karakter remaja pada umumnya, sederet karakter dengan steriotip dan latar belakang dimasukan dalam serial untuk menciptakan kisah survival yang dinamis. Mulai dari karakter remaja kaya yang suka menyulut konflik, tukang bully, murid pendiam, sosok ketua kelas yang bertanggung jawab, kakak kelas ketua klub panahan, hingga remaja yang memiliki kemampuan atletis. Dengan karakter-karakter tersebut, kita pastinya memiliki ekspektasi tentang sekuen adegan aksi dan strategi bertahan hidup seperti apa yang akan mereka lakukan. 
Para aktor "All of Us Are Dead" juga telah melalui pelatihan fisik selama tiga bulan sebelum syuting. Yoo Chan-young berbagi kisah mengenai beratnya latihan bela diri selama satu jam penuh dengan tiga sesi. Efek pelatihan ini juga dirasakan oleh Lomon yang sempat memulihkan tubuhnya kembali selama tiga hari setelah pelatihan tersebut.
Sutradara Lee pun sempat mengkhawatirkan laporan dari pengarah laga yang menyatakan bahwa Ia mungkin akan membutuhkan stunt double. "Meski sempat khawatir, ternyata mereka cepat sekali membaik karena masih muda. Mereka mampu membangun energi dengan cepat."
Tak hanya ingin memberikan serial thriller yang menghibur dengan sekuen aksi, Lee JQ juga ingin penonton mendapatkan sesuatu untuk dimaknai melalui "All of Us Are Dead" dengan sentuhan dramanya.
"Kami bertemu dengan penulis aslinya dan berdiskusi banyak tentang bagaimana kami bisa menghidupkan ceritanya. Kami ingin mengangkat tentang harapan seperti apa yang harus dibawa ketika menjalani hidup, dan apa artinya menjadi manusia. Tidak hanya menghibur, kami juga ingin membuat sebuah drama yang dapat membuat orang berpikir", ungkap Lee JQ. 
"All of Us Are Dead" akan rilis pada Jumat, 28 Januari 2022 di Netflix.