Hyung Joo adalah seorang detektif veteran. Selain menyukai pekerjaannya, ia juga senang membaca Webtoon. Salah satu komik favoritnya adalah Hidden Killer yang ditulis oleh Ga Hyun. Sayang, di acara meet and greet Hyung Joo datang terlambat sehingga ia tak sempat bertemu dan mendapat tanda tangan Ga Hyun. Sialnya lagi, hari itu adalah hari kebebasan seorang napi yang ia jebloskan ke penjara yaitu Myung Chul.
Rasa dendam membuat Myung Chul membunuh orang yang terkait dengan hukuman penjaranya satu persatu. Termasuk senior kesayangan Hyung Joo yaitu Sun Ho. Myung Chul sengaja hanya melukai kaki Hyung Joo dengan satu tembakan dan membuat sang detektif menemukan mayat seniornya. Hal tersebut membuat Hyung Joo trauma. Ia bersikeran untuk pensiun menjadi polisi. Atasannya menolak dan mendorongnya pergi ke sebuah layanan kesehatan jiwa.
Namun baik Hyung Joo, Ga Hyun, maupun delapan orang lainnya datang bukan karena mereka memiliki masalah kejiwaan. Mereka diundang oleh seorang psikiater yaitu Lee Shin. Alasannya? Tidak ada. Lee Shin mengaku hanya memilih mereka secara acak. Tujuannya adalah memberi mereka kesempatan untuk pergi ke masa lalu tepatnya satu tahun dari sekarang. Tak dijelaskan apa risiko yang akan mereka dapatkan. Terdengar too good to be true ya?
Inilah masalahnya. Kesepuluh orang ini tidak merasa bahwa kesempatan yang diberikan Lee Shin harusnya dicurigai. Bila Lee Shin memiliki kemampuan untuk bepergian melintasi waktu, kenapa dia memberikan kesempatan itu pada orang lain? Lagipula Lee Shin nampaknya paham betul 10 orang yang ia berikan penawaran adalah orang-orang rapuh. Mereka mau tak mau mengambil kesempatan itu karena memiliki suatu hal yang ingin diubah di masa lalu.
Awalnya 10 orang ini tidak curiga. Sampai akhirnya ketika benar-benar kembali ke masa lalu, salah satu dari mereka mati. Mulai ada kecurigaan, apakah ini sebuah permainan yang mengancam nyawa? Bagaimana kalau mereka berusaha mengubah takdir, seperti pada kasus Ga Hyun? Apa efek samping atau risiko dari perjalanan menembus waktu ini? Semuanya menjadi misteri.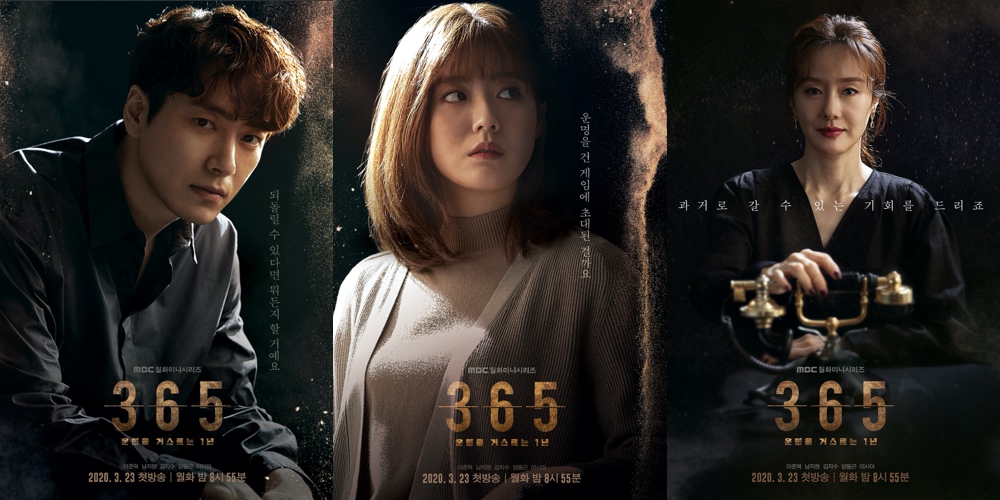 Walaupun ide ceritanya bukan hal baru, ada banyak nilai tambah yang diberikan oleh drama 365: Repeat The Year. Pertama, meskipun bergenre misteri, kita tidak dibuat stres ketika menontonnya. Pada beberapa drama, genre misteri membuat penontonnya merasa cemas. Kadang kita seperti tak tahan karena dibuat takut ataupun penasaran. 365: Repeat The Year justru menampilkan plot yang santai dan mulus.
Kedua, karakter Ga Hyun memberikan kesegaran tersendiri terhadap jalan cerita. Tingginya tudingan mengenai seksisme pada industri hiburan Korea acapkali membuat karakter perempuannya digambarkan menyedihkan. Diselingkuhi, tak berdaya, patah hati, menangis, dan lain-lain. Namun Ga Hyun tidak demikian. Ia segera mengakhiri hubungan tersebut—yang bagus—dan menceritakan perasaannya tidak dengan berderai air mata. Wajahnya tegar.
Ketiga adalah sinematografinya. Cukup menarik ketika kamera kadang-kadang disorot berdasarkan sudut pandang mata pemain. Misalnya saat Ga Hyun kembali ke masa lalu dan kamera yang bertindak sebagai matanya melihat kakinya dengan terkejut. Ia bisa berjalan lagi. Begitu pula sudut pandang karakter lain saat mereka satu persatu pingsan. Shoot ini memberi kesegaran sehingga drama ini tak terasa monoton.
Drama ini cukup menolong kita dari rasa jenuh ketika kebanyakan drama yang tengah tayang sebagian besar mengangkat genre romance. Bagi yang tidak suka genre romance maka genre misteri seperti 365: Repeat The Year akan sangat menarik untuk ditonton. Tayang di MBC, tiap episode hanya berdurasi 35 menit. 365: Repeat The Year merupakan drama adaptasi dari novel berjudul Repeat karangan Kurumi Inui.