Kesetaraan merupakan salah satu isu kuno yang masih hangat untuk didiskusikan hingga kini. Mulai dari gender, ras, hingga kasta sosial, tak akan ada habisnya untuk menyinggung isu tersebut ke permukaan dalam berbagai media. Seperti halnya yang ingin disajikan dalam 'Triangle of Sadness', film pemenang Palme d'Or pada Cannes Film Festival 2022 yang saat ini tayang secara terbatas di salah satu jejaring bioskop Indonesia.
'Triangle of Sadness' merupakan film dark comedy yang menjadi feature film perdana arahan Ruben Ostlund dengan bahasa Inggris. Dibintangi Harris Dickinson, Charlbi Dean, dan Woody Harrelson, film ini berkisah tentang Carl dan Yaya yang berlibur di yacht mewah bersama para konglomerat. Akan tetapi, kesenangan duniawi tersebut harus buyar ketika banyak hal buruk terjadi seiring waktu.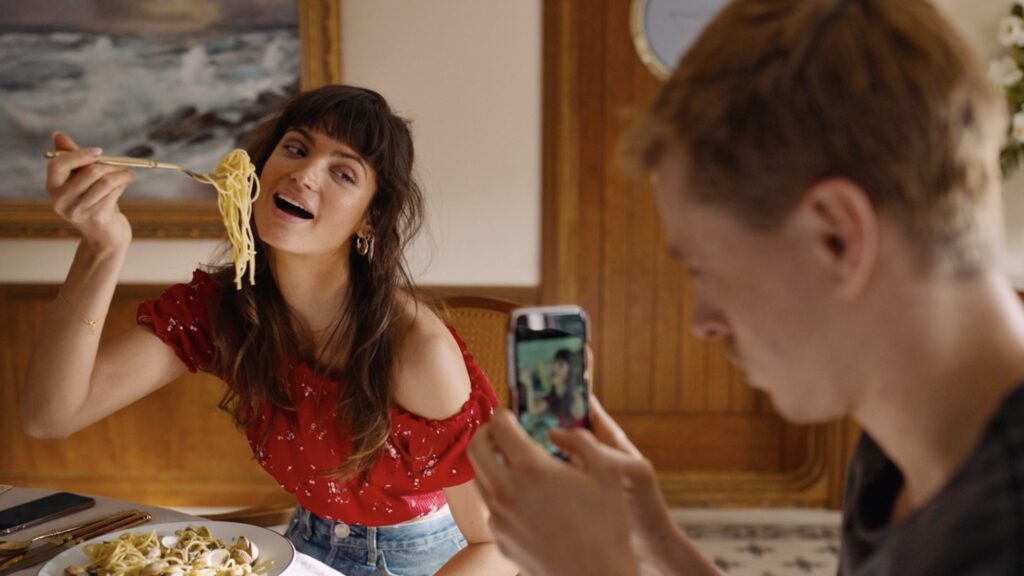 Sebagai bentuk sajian dari narasinya, Ruben Ostlund yang juga menulis naskah dari 'Triangle of Sadness' ini membagi kisahnya menjadi tiga chapter berbeda. Melalui langkah ini, penonton akan lebih mudah terserap dalam penceritaan yang ingin disuguhkan oleh sutradara. Meski memiliki runtime selama 147 menit, film ini tak terasa membosankan melalui temponya yang cenderung santai dengan penyisipan cerita yang terbilang rapi tanpa bermain dengan trope penceritaan mainstream.
Hadir sebagai satir dengan social commentary, 'Triangle of Sadness' memiliki kadar dialog yang besar. Ada berbagai bibit penceritaan yang dihadirkan melalui deretan dialog penuh bobotnya, menuntut penonton untuk menaruh perhatian sepenuhnya pada film ini bila tidak ingin melewatkan bermacam-macam detail yang dihadirkan, sekecil apapun itu. Walau di beberapa bagian terasa dragging, beragam dialog yang disuguhkan terasa menggugah dan mudah untuk dipedulikan.
'Triangle of Sadness' sendiri memunculkan bermacam-macam isu sosial di dalamnya, salah satu yang paling di-highlight adalah mengenai kesetaraan sebagai pusat dari konflik berbagai karakternya. Tak hanya itu, Ruben Ostlund juga menyelipkan ragam isu lain seperti kapitalis-komunis, konglomerat yang memandang rendah working-class people, hingga rasisme diangkat dengan penuh komedi bernuansa satir seiring pemutarannya.
Narasi yang ciamik dari Ruben Ostlund ini semakin lengkap dengan hadirnya deretan cast yang berperan baik di dalamnya. Harris Dickinson dan mendiang Charlbi Dean berhasil membawakan akting yang memukau melalui ragam cakupan emosi yang ditampilkan, didukung pula dengan performa apik dari jajaran supporting cast seperti Dolly de Leon dan Zlatko Buric. Sebagai aktor yang terlihat paling populer dalam deretan pemeran 'Triangle of Sadness', kehadiran Woody Harrelson terasa berlebihan walau tetap menarik, mengingat perannya sendiri hanya hadir pada chapter kedua penceritaan.
Satir menggugah dalam 'Triangle of Sadness' didukung dengan teknis memukau seiring pemutarannya. Aspek terbaik yang tersaji adalah sinematografi dan set design-nya, di mana bagian terbaik kombinasi keduanya terletak pada adegan makan malam bersama The Captain yang berhasil membuat penonton terasa hanyut dalam chaos di dalam kapal.
Akhir kata, 'Triangle of Sadness' adalah komedi hitam dengan social commentary yang berhasil dieksekusi dengan penuh cita rasa. Menikmati film perdana bahasa Inggris dari Ruben Ostlund ini adalah suatu kenikmatan duniawi, terutama bila disaksikan di layar lebar sekelas bioskop.