Anna Fox (Amy Adams) adalah seorang psikologis yang mengidap agoraphobia, Ia memiliki kecemasan yang membuat dirinya tak berani meninggalkan rumah. Suatu hari, keluarga Russell merupakan tetangga baru yang pindah di seberang rumah Anna. Ketika sesuatu janggal terjadi di rumah tersebut, Anna mulai terobsesi pada sebuah kasus di sekitar keluarga Russell yang menguji kesadaraannya dari realita dan halusinasi.
"The Woman in the Window" merupakan film thriller suspense terbaru di Netflix karya sutradara Joe Wright. Sekilas, film ini akan mengingatkan kita pada beberapa film bergenre serupa yang sudah pernah ada. Namun, adakah hal baru yang bisa jadi kita lewatkan dari film satu ini?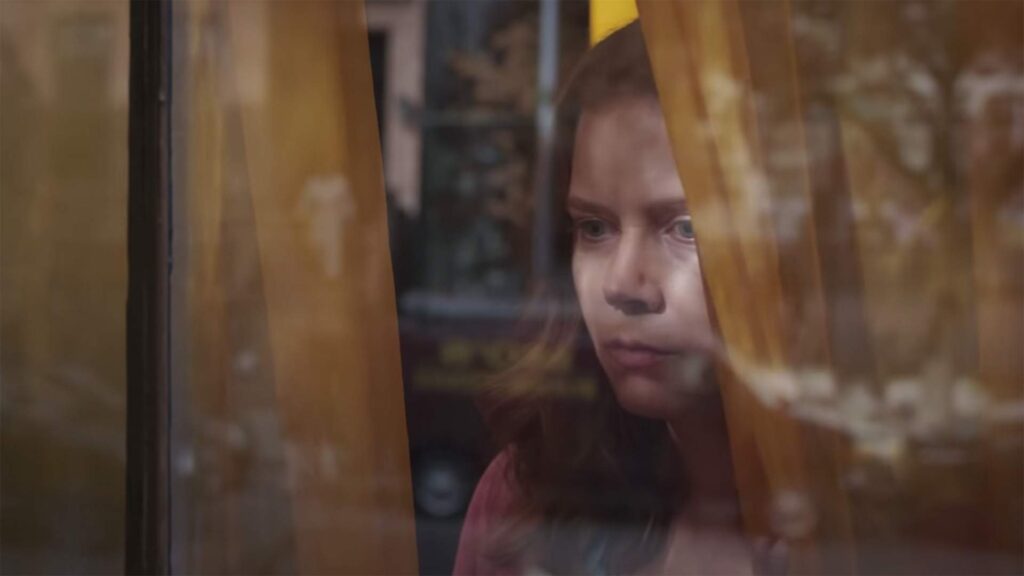 Perpaduan Antara Rear Window dan Girl on the Train
Buat kita penggemar film thriller klasik karya Alfred Hitchcock, "The Woman in the Window" otomatis akan mengingatkan kita pada "Rear Window" (1945). Premisnya juga nyaris serupa, dimana protagonis terjebak di tempat tinggalnya, sebuah apartemen bertingkat dengan banyak jendela, memberikan peluang untuk mereka mengamati tetangga ketika tidak memiliki hal yang lebih baik untuk dilakukan.
Dengan konsep dimana protagonis utama wanita terobsesi dengan kehidupan keluarga lain, juga akan mengingatkan kita pada film thriller modern, "The Girl on the Train" (2016) yang dibintangi oleh Emily Blunt.
Ketika terlalu banyak referensi dari kisah film yang telah diceritakan sebelumnya, maka sebuah film akan kehilangan originalitas dan elemen kejutannya. Setiap plot dalam film ini nyaris bisa ditebak. Sekalipun berbeda dari prediksi penonton, plot twist yang disajikan tidak akan terlalu membuat penonton terkejut lagi.
"The Woman in the Window" memiliki naskah dengan protagonis yang melebur dengan realita dan ilusi, diselimuti dengan overshadowing sebagai afirmatif pada babak pengungkapan. Namun, kisah satu ini tidak menyajikan materi yang baru, hanya pergantian karakter dan elemen.
Konsep Produksi yang Dramatis dan Teatrikal
"The Woman in the Window" memiliki konsep produksi visual atau sinematografi yang berusaha (terlalu) keras untuk menjadi artistik. Berpikir bahwa konsep ini akan memberikan kemasan yang unik dan memiliki statement. Mulai dari permainan cahaya yang berubah secara drastis dalam sebuah adegan, hingga visual yang absurd untuk menggaris bawahi keadaan mental protagonis yang tidak stabil.
Beberapa eksekusi visual dijamin akan mengejutkan penonton, namun dengan cara yang tidak enak. Ada rasa janggal dan ketidakpastian yang justru membuat film thriller ini tiba-tiba menjadi cheesy dan murahan. Kemudian bercampur dengan visual teatrikal yang tampak lebih pantas untuk menjadi artistik. Kekontrasan ini akhirnya memberikan penilaian yang tidak konsisten dalam segi sinematografi. Alih-alih hendak membuat statement, secara visual film ini pada akhirnya tidak memiliki karakter sama sekali.
Blocking aktor dalam beberapa adegan juga terasa canggung dan terasa dipaksaan untuk mendukung plot twist. Kemudian teriakan yang berpadu dengan scoring violin yang menyayat juga diaplikasikan pada adegan puncak, satu lagi referensi dari film khas Hitchcock.
Perlu diakui bahwa secara keseluruhan film ini memiliki editing yang mendukung nuansa suspense atau menegangkan. Kembali ke poin pertama, hal tersebut hanya bagian dari elemen yang mendukung film bukan cerita yang seharusnya krusial dalam sebuah film misteri.
Sederet Cast Hollywood Ternama yang Tidak Memenuhi Ekspektasi
Nama-nama aktor yang mewarnai film ini bisa jadi satu-satunya alasan "The Woman in the Window" menarik perhatian penggemar film. Mulai dari Amy Adams, Gary Oldman, Julianne Moore, hingga Anthony Mackie, semuanya merupakan aktor papan atas di Hollywood saat ini.
Meski Amy Adams telah memberikan penampilan terbaiknya, secara keseluruhan ekspektasi kita akan adu akting yang berkualitas tidak akan kita temukan dalam film ini. Aktor boleh papan atas, namun jika tidak ada dialog atau naskah yang menarik untuk disajikan, tidak akan terjadi keajaiban hanya karena tim produksi sanggup mengumpulkan aktor-aktor terbaik.
Adapun beberapa aktor yang mengganggu jalannya cerita karena penyampaian akting yang terkesan katatonik atau kaku. Semakin membuat karakter terasa tidak hidup dan cukup mempengaruhi perkembangan cerita.
Pada akhirnya, "The Woman in the Window" masih bisa dikatakan layak sebagai tontonan santai buat kita yang ingin menonton film baru. Namun, buat kita penggemar film thriller atau suspense garis keras, film ini tidak akan memberikan banyak kejutan maupun kisah misteri yang baru.