The Suicide Squad Review: Paket Lengkap Film Superhero
Tampil dengan ragam aspek baik, The Suicide Squad memberikan kesegaran pada film bertema superhero tahun ini.
Film bertema pahlawan super umumnya bermain aman dengan menampilkan konten yang cenderung family-friendly. Walau begitu, ada beberapa film superhero dengan rating R yang mampu tampil menawan, seperti 'Watchmen', 'Deadpool', hingga 'Logan' yang tayang 2017 lalu. Untuk melengkapi daftar tersebut, hadirlah 'The Suicide Squad' yang memberikan gebrakan serupa dengan judul-judul film di atas.
'The Suicide Squad' merupakan film terbaru produksi DC Films dan Atlas Entertainment, sekaligus menambah daftar panjang filmografi dari sutradara James Gunn. Film kesepuluh dari 'DC Extended Universe' ini bertabur bintang, mulai dari Margot Robbie, Idris Elba, John Cena, Joel Kinnaman, Viola Davis, sampai Sylvester Stallone.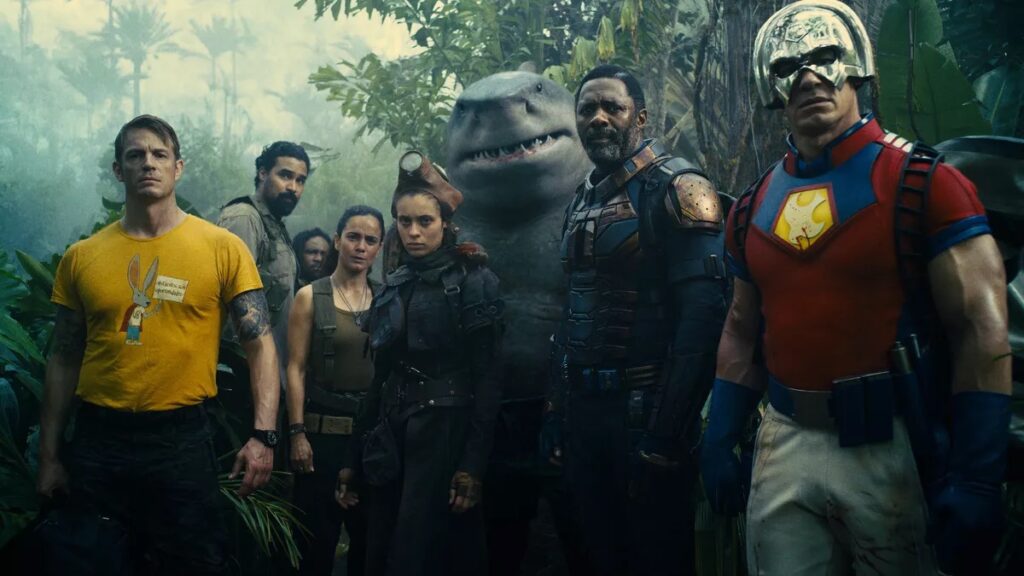 Film superhero menjadi loose sequel dari 'Suicide Squad' 2016 lalu ini berkisah tentang kelompok titular yang terdiri dari mantan penjahat super yang menjadi napi di Belle Reve. Suatu ketika, mereka semua dipanggil kembali oleh Amanda Waller untuk menjalani misi baru, yakni menyusup ke Corto Maltese dan menghancurkan laboratorium di sana karena berkaitan dengan 'Project Starfish'.
Dari segi penceritaan, 'The Suicide Squad' sendiri tetap membawa pakem serupa seperti sang prekuel, dimana nantinya satu kelompok tersebut bekerja sama dalam mengatasi satu ancaman baru bagi umat manusia. Walau tidak berbeda jauh, ada ragam hal yang membuat film terbaru dari 'DC Extended Universe' ini tampak lebih superior.
Salah satu yang paling kentara adalah kemunculan bumbu-bumbu konspirasi politik di dalamnya. Dengan elemen-elemen seperti pemerintahan yang radikal, eksperimen rahasia antar dua penguasa, hingga hadirnya freedom fighter juga membuat segala konflik yang disajikan terasa lebih dalam. Karena aspek ini pula, tubrukan konflik antar karakternya terasa lebih mudah untuk dipahami dan dinikmati di saat yang sama.
Selain elemen politiknya, 'The Suicide Squad' dibawa dengan alur non-linear yang maju dan mundur sepanjang film. Akan tetapi, penggunaan alur seperti ini diterapkan dengan baik untuk membangun backstory dari plot yang terjadi dan memberikan insight terkait kejadian lainnya. Alih-alih membuat penonton bingung, penerapan alur nonlinear ini justru membuat film James Gunn ini terasa segar dan enjoyable.
Banyak hal yang dirombak dalam 'The Suicide Squad', termasuk ke karakter yang dimunculkan. Walau di bagian awal sempat menampilkan beberapa karakter dari 'Suicide Squad', nyatanya itu semua hanya digunakan sebagai bridging untuk menampilkan rentetan tokoh baru. Walau tampak riskan karena membuang beberapa karakter yang sudah populer, James Gunn mampu menggantinya dengan set of characters yang jauh lebih menarik, baik yang tampil minor maupun major.
Sebagai film superhero dengan rating R, James Gunn mampu membuat 'The Suicide Squad' ini tampil gila dengan rentetan elemennya. Bila film-film bertema serupa kerap terkekang demi bisa dinikmati segala kalangan, film ini seakan tampil sangat bebas. Jadi jangan kaget bila nantinya akan banyak profanity, kekerasan, adegan aksi penuh darah, sampai elemen-elemen sex yang ditampilkan di sini.
Mengesampingkan segala aspek di atas, sisi teknikal dari 'The Suicide Squad' juga tampak serius digarap. Penggunaan visual ala 'Zack Snyder's Justice League', sinematografi yang mulus, sampai penggunaan scoring asiknya membuat pengalaman menonton tidak menjemukan.
Walau genre superhero belakangan ini mulai basi, 'The Suicide Squad' hadir untuk memberikan gebrakan yang menyegarkan. Meski diberi rating R, pada akhirnya James Gunn mampu membuat film superhero dengan segudang elemen dewasa beserta ragam aspek lain, menjadikannya sebagai salah satu film bertema pahlawan terbaik di tahun ini.