Ada banyak film zombie bergenre comedy. Beberapa yang terkenal misalnya Pride and Prejudice and Zombies (2016), Zombieland (2009), dan Shaun of The Dead (2004).
Tapi bagaimana dengan film zombie komedi asal Korea? Kita mungkin lebih familiar dengan Train To Busan (2016) atau Kingdom (2019) yang sama sekali bukan komedi. Padahal film zombie komedinya juga lumayan. Contohnya The Odd Family: Zombie on Sale.
Media ramai memberitakan sebuah perusahaan obat yang diduga menggunakan gelandangan untuk uji coba obat baru mereka. Namun berita itu tentunya hanya ramai di kota saja. Sementara orang-orang di desa yang sibuk dengan kehidupannya tidak tahu menahu tentang hal itu.
Kedamaian desa mulai terusik. Sesosok zombie merangkak keluar dari lubang bawah tanah di siang hari. Zombie itu dikejar-kejar anjing dan membuat ketenangan desa lenyap. Orang-orang merasa suara gonggongan anjing sangat menganggu.
Singkat cerita, zombie tersebut dipelihara oleh keluarga Man Deok. Mereka mempekerjakan zombie tersebut untuk menularkan virusnya pada pria-pria tua di desa. Tujuannya agar para pria ini meningkat staminanya sehingga seperti perjaka lagi. Mereka berani membayar tinggi.
Awalnya hanya beberapa orang saja yang datang. Berita mengenai zombie yang membuat perkasa itu menyebar luas. Antrian orang-orang yang ingin digigit zombie makin panjang. Si zombie kini menjadi anggota keluarga baru.
Film zombie dengan genre komedi mungkin sudah banyak tapi bisa dibilang The Odd Family: Zombie On Sale berhasil memberi plot yang menarik. Kita tidak terpikirkan bukan bila zombie bisa menggantikan Viagra? Selain itu zombie ini sendiri tidak menyeramkan. Ia hanya terlihat sedikit aneh. Ada banyak hal tentang zombie yang dipatahkan dalam film ini. Zombie ini memakai gigi palsu dan seorang vegetarian. Bila bosan makan, tambahkan saja makanannya dengan saus sambal. Ia pasti lahap lagi.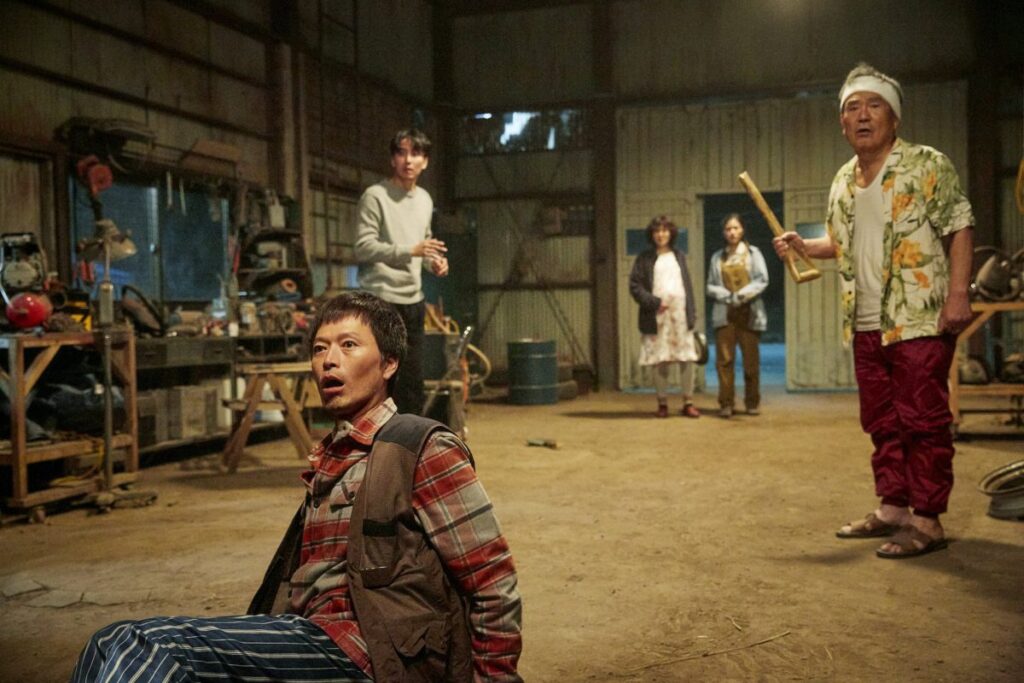 Memang kalau dipikirkan baik-baik film ini sungguh absurd. Banyak hal yang tidak kita duga. Sebenarnya keluarga Man Deok ini tidaklah aneh. Mereka saling menyayangi dan riuh dengan caranya sendiri. Hanya saja, karena selama ini kesulitan keuangan, mereka jadi mata duitan.
Karakter tiap tokohnya pun unik dan membuat film ini semakin menarik. Ditambah lagi transformasi si zombie yang makin mirip manusia—terutama ketika memakai cushion—sungguh tak disangka.
Sayangnya, mungkin akan banyak yang berharap film ini bisa menyelipkan lebih banyak lagi scene komedi. Menjual absurditas saja tak cukup, film ini belum sampai membuat kita tertawa terpingkal sampai sakit perut.
Plot twist pada ending film patut diacungi jempol. Jalan cerita dan akting para aktor maupun aktrisnya pun sudah cukup mendukung keberhasilan film ini. Tapi tentu saja masih ada plot hole terutama mengapa Jjongbie tidak bersikap liar seperti zombie-zombie lainnya.