"A Christmas Carol" merupakan dongeng klasik Natal yang telah melegenda, ditulis oleh Charles Dickens. Dongeng ini telah diangkat sebagai film hingga serial, salah satu adaptasi film animasinya yang terbaik adalah "A Christmas Carol" oleh Robert Zemeckis pada 2009 silam.
Netflix kembali mengangkat dongeng natal ini dalam format animasi dengan judul "Scrooge: A Christmas Carol" yang disutradarai oleh Stephen Donnelly. Dimeriahkan oleh sederet aktor dan aktris sebagai pengisi suara, mulai dari Luke Evans, Olivia Colman, Jessie Buckley, dan Jonathan Pryce.
Masih mengisahkan seorang pebisnis makmur namun kikir, Ebenezer Scrooge, yang membenci Hari Natal. Pada malam Natal, ia dikunjungi oleh arwah partner bisnisnya yang telah lama meninggal, Jacob Marley, beserta tiga roh Natal dari masa lalu, masa kini, dan masa depan. Melalui petualangan Natal melintasi waktu bersama roh-roh tersebut, Marley berharap Scrooge berubah menjadi orang yang lebih baik.
Perbedaan "Scrooge: A Christmas Carol" dengan film-film setema sebelumnya adalah kali ini kita menyaksikan suguhan drama musikal. Berikut ulasan lengkapnya!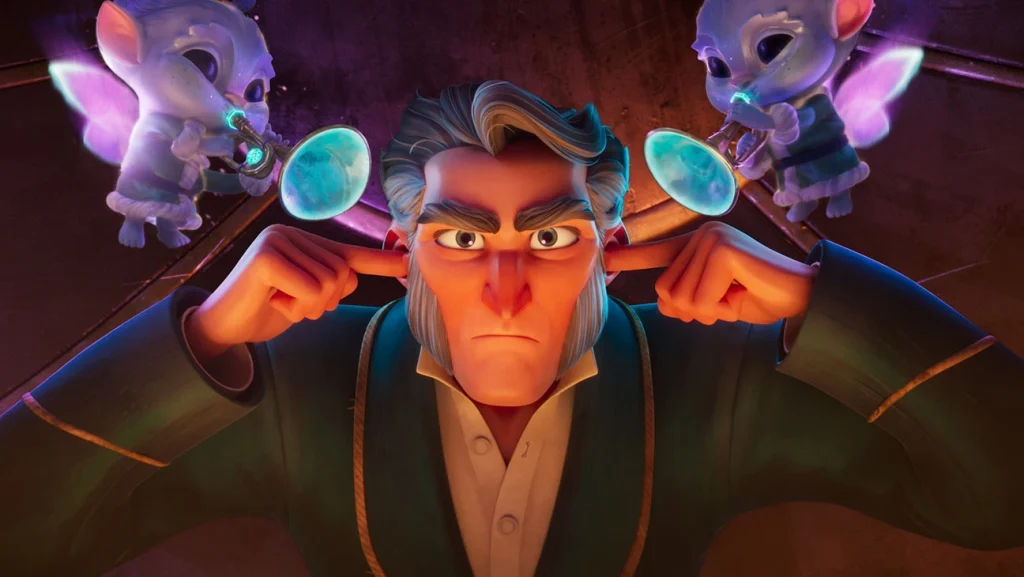 Adaptasi Kisah Scrooge yang Lebih Ceria dan Hangat
Film animasi musikal ini memiliki plot yang kurang lebih sama dengan materi sumber karangan Dickens. Namun ada sedikit perubahan detail yang mengurangi kekompleksan penokohan Scrooge. Versi cerita kali ini memiliki beberapa elemen yang diubah. Sebetulnya tidak terlalu mempengaruhi plot dan pesan, hanya mengubah perkembangan karakter dari Scrooge.
Jika Scrooge versi klasik memiliki penokohan yang kikir, tidak punya hati, dan keras kepala, seakan tidak ada sedikit pun kebaikan dalam diri Scrooge sejak babak utama. Scrooge satu ini telah memiliki sedikit kesan baik dari pertama kali muncul. Terutama karena ia diberi anjing peliharaan dan terlihat menunjukan emosi dalam beberapa adegan.
Membuat Ebenezer Scrooge sudah memberikan harapan bagi penonton bahwa ia akan berubah. Berbeda dengan adaptasi 'Christmas Carol' pada umumnya, dimana berusaha keras menunjukan betapa kerasnya hati Scrooge untuk bisa berubah hanya dalam kurun waktu satu malam. Tidak dengan adaptasi satu ini. Seakan tidak ada tensi baru yang sedang disajikan selain pesona drama musikalnya yang warna-warni dan semarak.
Sajian Musikal dengan Visual Animasi Menggugah
Yang patut dinikmati selama menonton "Scrooge: A Christmas Carol" adalah presentasi animasi dan elemen musikalnya. Dibuka oleh lagu ceria 'I Love Christmas', tentang seorang pria yang mencintai Natal, dibawakan oleh Fra Free sebagai Harry Huffman, keponakan Scrooge.
Fra Free menjadi salah satu penampil terbaik dalam film ini. Begitu pula Luke Evans sebagai Scrooge yang juga membawakan beberapa lagu. Sebelumnya kita juga menyaksikan kelihaian Evans dalam genre musikal melalui live-action "Beauty and the Beast" (2017). Ia juga menampilkan duet harmonis dengan Jessie Buckley dalam 'Later Never Comes'.
Setiap sesi musikal juga didukung dengan presentasi animasi fantasi yang menawan. Ada koreografi maupun permainan visualisasi yang imajinatif. Jika dibandingkan dengan "A Christmas Carol" versi 2009 yang lebih suram dan creepy, 'Christmas Carol' satu ini memilih gaya animasi yang lebih cartoonish, lembut, dan hangat. Mungkin cukup sulit juga harus membandingkan dua versi adaptasi animasi ini. Karena setiap versi pada akhirnya memiliki pesonanya masing-masing.
Tidak pernah dibuat bosan melihat kisah Scrooge, pria kikir yang bertobat di malam Natal, "Scrooge: A Christmas Carol" juga menjadi versi adaptasi terbaru yang layak ditonton. Apalagi sudah mulai memasuki masa liburan Natal dan akhir, film animasi Netflix terbaru ini bisa banget jadi tontonan keluarga yang seru dan menghibur.