Apa jadinya bila Dwayne Johnson, Ryan Reynolds, dan Gal Gadot disatukan? Rawson Marshall Thurber mungkin bisa menjawab pertanyaan itu dengan memadukan ketiganya lewat film "Red Notice" (2021).
Kisah yang disajikan "Red Notice" sendiri berkutat pada tiga tokoh utamanya, yakni John Hartley (Dwayne Johnson), Nolan Booth (Ryan Reynolds), serta The Bishop (Gal Gadot). Ketiganya terlibat secara langsung dalam rencana pencurian tiga telur legendaris Mesir dengan peran mereka masing-masing. Sampai hari ini, "Red Notice berhasil memecahkan rekor penonton terbanyak di hari pertama perilisannya.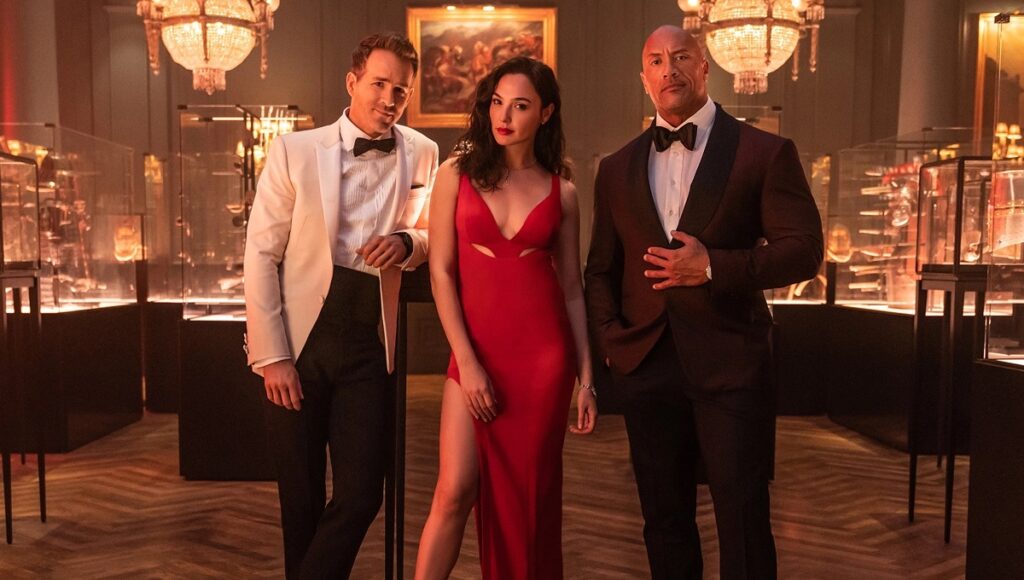 Formula Klise yang Masih Layak Ditonton
Tak ada hal baru yang disajikan "Red Notice". Berbagai macam formula khas film comedy-action masih banyak dipakai di film sepanjang hampir dua jam ini. Mulai dari premis yang hendak disajikan, sampai asupan komedi di dalamnya.
Kendati begitu, film ini masih layak ditonton sampai tuntas. Selain karena kehadiran tiga aktor ternama, cara Rawson Marshall Thurber menyajikan plot ceritanya adalah alasan lain dibalik itu.
Tiap adegan action-nya disajikan dengan cukup menegangkan, serta sedikit unsur komedi di dalamnya. Semua adegan dilengkapi dengan lokasi syuting yang beragam, penggunaan properti yang sesuai, serta sajian musik yang klise namun tepat guna.
Ada pula plot twist yang tersaji menjelang film berakhir. Walau tak terlalu istimewa, plot twist yang tersaji di film ini masih cukup menghibur. Selain plot twist, film ini juga menampilkan salah satu pemusik ternama Inggris yang bikin film ini kian menarik.
Rawson juga mencoba memberi fanservice kepada para penonton Indonesia. Hal itu bisa dilihat dari penyebutan nama Bali dan Jakarta, sampai pemakaian properti mobil kepolisian Indonesia.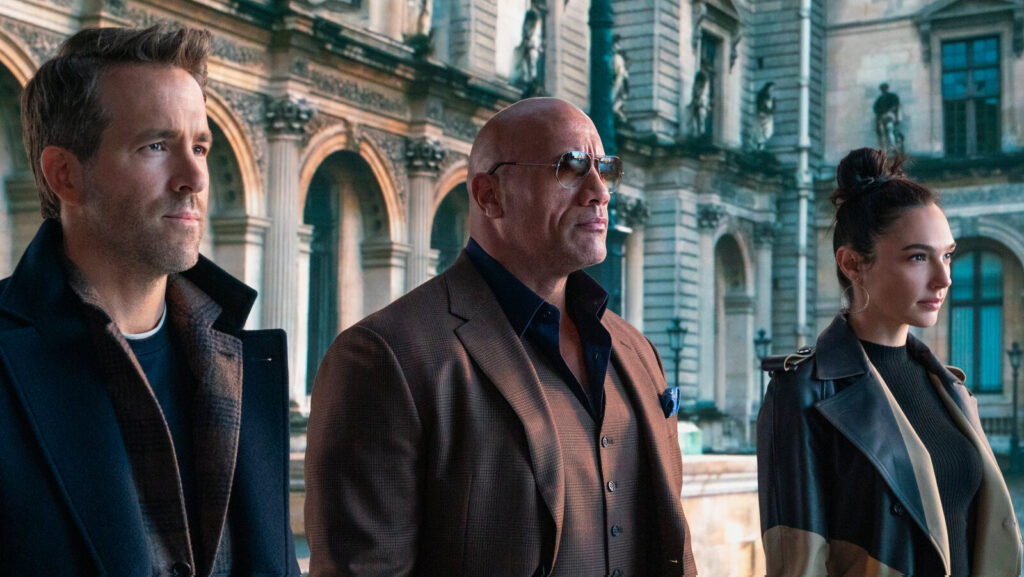 Dwayne Johnson dan Ryan Reynolds yang Padu
Dari tiga aktor besar yang dipakai, boleh dibilang hanya Dwayne Johnson dan Ryan Reynolds yang paling bersinar. Keduanya mampu menciptakan chemistry yang baik, kendati dua tokoh yang mereka perankan punya latar belakang berbeda.
John Hartley yang diperankan Dwayne Johnson adalah seorang polisi yang awalnya akan menangkap Nolan Booth. Sedangkan Nolan Booth yang diperankan Ryan Reynolds adalah seorang pencuri ulung yang mau mencuri ketiga telur legendaris Mesir.
Di lain pihak, Gal Gadot sebetulnya tampil cukup baik sebagai The Bishop. Sayangnya, ia kurang bisa membangun chemistry yang kuat layaknya Dwayne Johnson dan Ryan Reynolds. Kendati begitu, ia masih tetap mampu mencuri perhatian lewat pesona dan kemampuannya dalam bela diri.
Punya Potensi Sekuel ataupun Spin-Off
Terlepas kelebihan dan kekurangan yang ada, "Red Notice" masih punya potensi untuk dibikinkan sekuel atau spin-off. Hal itu bisa dilihat dari sejumlah aspek. Mulai dari open ending yang disajikan film ini, sampai beberapa tokoh yang bisa digali lagi ceritanya.
Dari sejumlah tokoh yang ada, Nolan Booth mungkin paling cocok untuk dijadikan spin-off. Tokoh yang diperankan Ryan Reynolds itu masih bisa digali cerita masa lalunya yang menarik, sehingga cocok untuk dibikin film sendiri.
"Red Notice" adalah sajian action-comedy yang masih tergolong klise. Walau begitu, sang sutradara mampu menyajikan film ini dengan ringan dan menghibur. Kalau mau film ringan yang bisa ditonton di waktu senggang, "Red Notice" bisa jadi pilihan tepat.