Film ini diadaptasi dari novel karya Takafumi Nanatsuki berjudul "Boku wa Ashita, Kinou no Kimi to Deeto Suru" atau yang lebih dikenal dengan "Tomorrow I Will Date With Yesterday's You".
"My Tomorrow, Your Yesterday" (2016) membawa cerita romantis antara dua remaja dengan sentuhan fantasi yang meskipun selintas hanya seperti drama biasa, namun nyatanya jauh lebih menarik dinikmati dengan pikiran rasional.
Sutradara Takahiro Miki yang sebelumnya sempat menjadi perbincangan publik lewat film remaja "Blue Spring Ride" (2016) membawa beberapa nama aktor muda Jepang yang sedang bersinar seperti Nana Komatsu dan Sota Fukushi untuk bermain di film ini.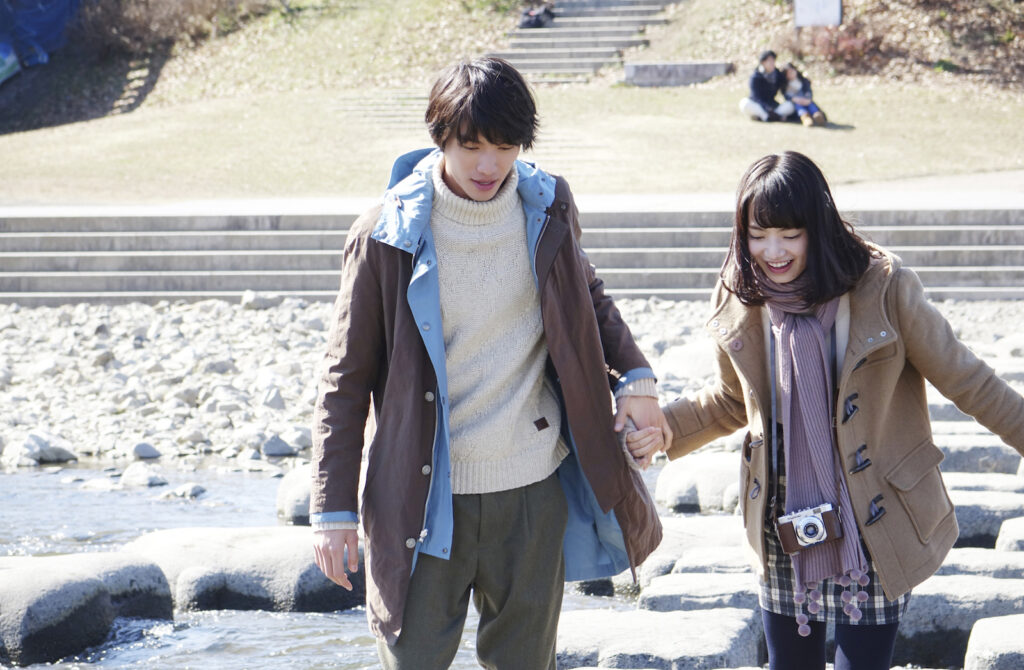 Cinta dan Garis Waktu yang Berlawanan
"My Tomorrow, Your Yesterday" pada awalnya menawarkan kisah cinta biasa antara sepasang anak muda berusia 20 tahun, Takatoshi Minamiya (Sota Fukushi) jatuh cinta pada pandangan pertama kepada Emi Fukuju (Nana Komatsu) saat berada di satu gerbong kereta yang sama. Namun, apakah benar itu adalah cinta pada pandangan pertama?
Sesuai dengan judul novelnya, "Tomorrow I Will Date With Yesterday's You" setengah perjalanan film ini mengikuti kegiatan kencan antara Takatoshi dan Emi dalam 30 hari perjumpaannya. Film semakin mengejutkan saat elemen fantasi mulai dihadirkan, penonton secara beruntun diberikan kenyataan fiksional, bahwa Takatoshi dan Emi ternyata adalah dua orang yang terhubung namun secara dimensi waktu mereka berjalan pada garis yang berlawanan.
Mirip seperti premis yang ada di film "The Curious Case of Benjamin Button" (2008), bedanya dalam "My Tomorrow, Your Yesterday" pasangan ini hanya dipertemukan setiap lima tahun sekali dan tidak ada satu pihak yang umurnya berjalan mundur, titik-titik yang coba dihubungkan hanyalah permainan hari esok dan kemarin dalam versi masing-masing.
Film yang Hanya Mengandalkan Storyline dan Kekuatan Akting
Nana Komatsu berperan dengan sangat baik di film ini, bagian-bagian sedih berhasil dibawakan tanpa banyak drama yang berlebihan. Adegan-adegan pembuka rahasia dibuat dengan begitu organik, misalnya saat menyadari bahwa semua hal pertama untuk Takatoshi adalah yang terakhir baginya. Seperti saat ia tidak bisa menahan tangis ketika mereka pertama kali bertemu, pertama kali berpegangan tangan, atau pertama kali memanggil satu sama lain dengan sapaan yang lebih akrab.
Walaupun tidak menggunakan set yang megah, nyatanya film ini mampu menarik perhatian dengan storyline berisi paradoks-paradoks waktu yang penuh teka-teki. "My Tomorrow, Your Yesterday" diimbangi juga dengan kualitas akting para aktornya pendukung yang tampil dengan sangat baik.
Rentetan Adegan Berputar yang Tidak Perlu
Sepertiga babak awal film ini rasanya bisa dinikmati dengan baik, penonton seolah diberi kesempatan untuk menebak dan berasumsi bagaimana perputaran waktu yang dialami oleh kedua tokoh utamanya. Namun, menjelang berakhirnya film, dengan sangat tergesa-gesa Sutradara Takahiro Miki malah memilih jalan yang memutar, penonton diajak kembali menjelajahi putaran waktu versi Emi.
Penjelasan mengenai kapan sebenarnya pasangan ini pertama kali bertemu, memori apa saja yang mereka tahu dan tidak tahu, serta bagaimana pada akhirnya waktu membawa pertemuan mereka kembali diceritakan dengan sangat jelas. Detail tersebut sebenarnya hanya membuat film ini mengalami klimaks beruntun. Seharusnya tidak perlu terus-menerus memberi makan rasa penasaran penonton dengan misteri-misteri tersebut. Cerita mungkin akan lebih hidup jika dibiarkan menjadi misteri saja.
Pada akhirnya, "My Tomorrow, Your Yesterday" adalah salah satu drama remaja Jepang yang tidak hanya menawarkan cerita cinta saja, konflik yang didasarkan pada fantasi waktu menjadi elemen penting yang membuat film ini malah semakin menarik.