LaLaLa Festival kembali memberikan kejutan bagi para penikmat musik Indonesia. Sebelumnya, LaLaLa Festival berhasil menyita perhatian publik dengan mengumumkan serangkaian lineup penampil internasional yang spektakuler, yaitu Tori Kelly, Heize, dan Jeff Bernat. Ini juga merupakan suatu kehormatan bagi LaLaLa Festival karena menjadi panggung pertama di Indonesia yang akan disambangi oleh Ms. Kelly, sang penyanyi dengan predikat dua piala Grammy pada 2019—kategori Best Gospel Album dan Best Gospel Performance/Song.
Kali ini, LaLaLa Festival mengumumkan Simple Plan, Aurora, dan Shinichi Osawa (Mondo Grosso) sebagai lineup penampil internasional di International Forest Music Festival terbesar di Indonesia tersebut.
Simple Plan adalah band yang sangat fenomenal, terutama di industri musik beraliran pop-punk. Band ini dibentuk pada tahun 1999, sehingga namanya sangat tidak asing bagi mereka yang lahir di era 90-an. Lagu-lagu dari Simple Plan selalu apik dan berhasil melekat dengan baik di telinga para penggemarnya, menyebabkan lagu-lagu seperti "Welcome to My Life", "Jetlag", dan "Perfect" menjadi lagu-lagu yang tidak lekang oleh waktu.
Aurora Aknes, atau yang biasa dikenal dengan Aurora, adalah pemusik asal Norwegia yang debut pada 2015 dengan merilis sebuah EP. "Into The Unknown", satu lagu milik Aurora, adalah soundtrack dari film Frozen 2 dan berhasil mendapatkan nominasi di Academy Awards. Banyak penggemar Aurora beranggapan bahwa LaLaLa Festival merupakan panggung yang sempurna bagi pemusik berpenampilan eksentrik tersebut, karena cerita hidup serta musiknya sering dikaitkan dengan hutan dan alam.
Dalam memilih lineup, seperti yang dikatakan oleh Carmel Puma selaku Founder LaLaLa Festival, pihak penyelenggara LaLaLa Festival memperhitungkan segala pertimbangan, termasuk melibatkan audience dalam mementukan siapa saja yang akan menjadi penampil di LaLaLa Festival. Selain lineup internasional, LaLaLa Festival juga dimeriahkan oleh rentetan musisi tanah air, seperti Maw & Wang, Mantra Vutura, Svmmerdose, Reality Club, Amigdala, Stars & Rabbit, Petra, Sal Priadi, Danilla, dan Kunto Aji.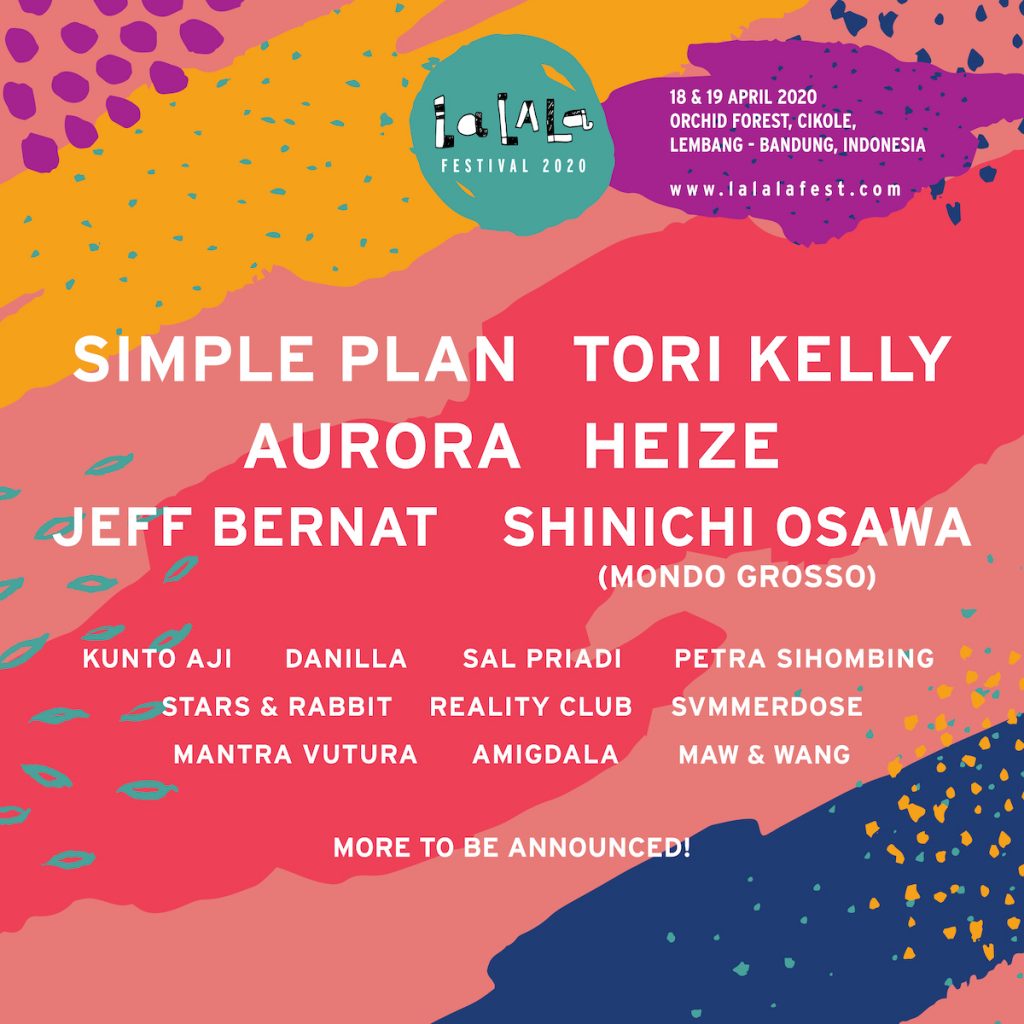 Dengan deretan lineup yang keren, ditambah lagi beberapa penampilnya menjadikan LaLaLa Festival sebagai penampilan perdana mereka di Asia Tenggara dan Indonesia, tidak heran banyak penggemar yang telah membeli tiket LaLaLa Festival sejak awal masa penjualan dimulai. Dengan habisnya penjualan tiket di periode presale 2, LaLaLa Festival kemudian membuka presale 3 bagi yang kehabisan dan belum sempat membeli pada periode presale sebelumnya.
Melalui website resminya di www.lalalafest.com, para penggemar dapat membeli tiket untuk dua hari dengan harga Rp750.000. Bertempat di Orchid Forest Cikole, Lembang, Bandung, LaLaLa Festival akan diselenggarakan pada 18-19 April 2020.