Selang 4 tahun sejak 'The Search for Everything,' John Mayer meluncurkan beberapa judul single. Kali ini single-single tersebut dirangkum bersama sederet track lain dalam album retro-rock-satire, 'Sob Rock.'
Membicarakan album John Mayer tak akan terlepas dari membahas sang penyanyi. Tidak saja karena John menulis dan memproduseri nyaris semua track di album-albumnya sendiri. Musikalitas dari satu album ke lainnya pun memiliki kekhasan karakter John Mayer yang begitu kental.
Album-album tersebut seolah menjadi bagian kepribadian dan karakter John Mayer. Begitu pun 'Sob Rock,' studio album kedelapan dengan genre utama soft rock; serta sisipan genre pop, funk, dan bahkan country.
'Sob Rock,' seperti judulnya seolah menjadi sisi satir John Mayer. Sang musisi mengungkap melalui salah satu wawancara bahwa album ini seakan dibuat di tahun 1988 dan baru dipasarkan sekarang. Konsep retro tersebut rupanya tak hanya dihadirkan pada track bernada soft rock 80an saja. Melainkan konsep album fisik hingga media promosi.
Kesan satir dan upaya John menertawai dirinya sendiri pun sangat kental di album ini. Ambil contoh saja, judul album 'Sob Rock' yang seakan hadir dari berbagai julukan John Mayer sebagai soft, mellow boy dengan lagu-lagu tentang patah hati. Tampilan cover album pun bahkan memiliki stiker "Nice Price" yang dulu digunakan Columbia Records untuk album-album diskon.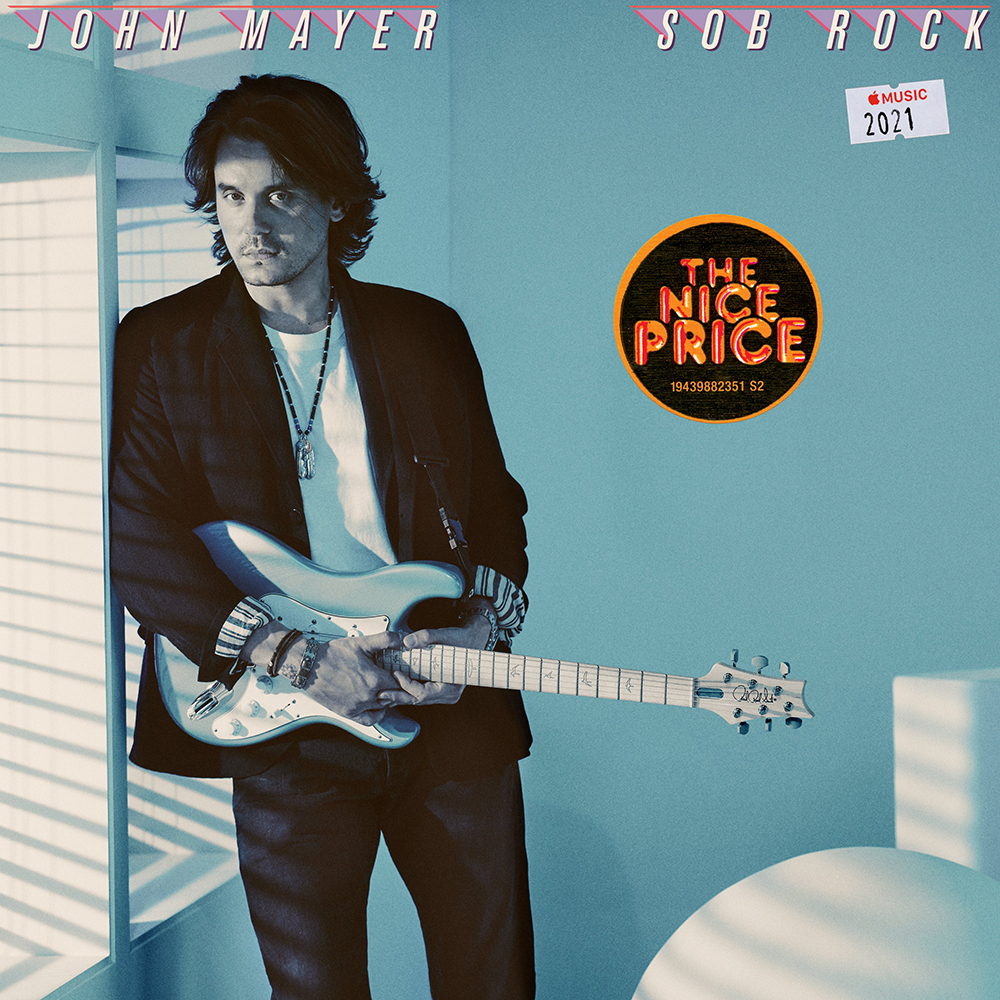 Konsep retro yang matang dari album ini (bahkan album fisik 'Sob Rock' dirilis dalam versi kaset dan vinyl) seakan datang terlambat. Mengingat tren retro di industri musik berhembus kencang di tahun 2020 kemarin.
Namun this is John Mayer dan John Mayer tidak pernah mengikuti tren maupun ketinggalan jaman. Bahkan beberapa track di album ini sudah dirilis sebagai single beberapa tahun lalu, dan tetap terdengar segar. Tak ada tanda-tanda lagu tersebut tidak lagi cocok didengarkan saat ini, bertahun sejak perilisan pertama kali.
"Last Train Home" meluncur sebagai opener dengan dentuman drum di intro. Aransemen synth di lagu ini menghadirkan kesan soundtrack film James Bond di tahun 80an. Sedangkan melodi "Last Train Home" akan pas dipadukan bersama hits "Africa" dari Toto.
Track ini memiliki vibe 80an yang sangat kental. Bahkan tak sulit membayangkan lagu ini diputar di latar belakang pada akhir sebuah pesta; ketika lampu sudah mulai redup dan kesedihan setelah patah hati mulai dapat dirasakan.
Musik beralih ke nada-nada bertempo lambat pada track selanjutnya, "Shouldn't Matter but It Does." Kali ini dapat dibayangkan duduk seorang diri di balkon, memandangi kegelapan malam sembari memainkan irama balada dengan gitar.
"Shouldn't Matter but It Does" memadukan rock-ballad dengan musik country. Sepintas, track ini terdengar mirip dengan beberapa lagu lain di album 'Paradise Valley' rilisan 2013. Mungkin ini menjadi upaya John untuk tetap menghadirkan irama musik lawasnya. Meski bisa jadi kemiripan tersebut karena tak banyak eksplorasi yang dilakukan untuk 'Sob Rock.'
Track berikutnya, "New Light" sudah dirilis sebagai single di tahun 2018. John menghadirkan irama funk pop. Lagu mengenai cinta bertepuk sebelah tangan ini memiliki lirik witty. Sekaligus memperlihatkan bagaimana John tak ragu menertawakan dirinya sendiri: "Lighting up inside your drawer at home, all alone / Pushing 40 in the friend zone / We talk and then you walk away, every day."
"Why You No Love Me" tanpa diragukan menjadi highlight di album ini. Lagu ini merupakan definisi it's so bad, it's good. "Why You No Love Me" hadir dengan lirik cheesy dan musik yang tidak kalah cringey. John Mayer tidak berlama-lama memperlihatkan sisi cringe-pop pada dirinya. "Wild Blue" membuktikan musikalitas John Mayer nan legendaris.
Track ini mengusung irama "Sultans Of Swing" dari Dire Straits; mengiri lirik patah hati ("found myself when I lost you") yang tak bisa dilepaskan dari John Mayer.
Lirik patah hati nan romantis dan manis masih dihadirkan di "Shot in the Dark." Bersama bait-bait lirik "And I don't know what I'm gonna do / I've loved seven other women and they all were you," lagu ini hadir membawa suasana dari film Martin Scorsese. Terutama pada bagian menari romantis di bawah cahaya rembulan.
John Mayer tidak saja dikenal sebagai musisi dan penulis lagu apik. Termasuk dengan lirik-lirik jenius, seperti "I want you in the worst way / Is the gate code still your birthday?" dari track "Shot in The Dark"; atau "I shouldn't hold on / I shouldn't leave messages in every little song" di ""Shouldn't Matter but It Does."
John Mayer juga seorang penyanyi handal. Ini dibuktikan dengan falsetto klasik di "I Guess I Just Feel Like." Single balada dengan sentuhan blues rilisan tahun 2019 ini tetap memukau berkat vokalisasi John Mayer. "Til the Right One Comes" juga masih mengusung nada-nada berirama blues. Kali ini berpadu dengan permainan instrumen dengan melodi ala soft rock klasik.
Track penutup "All I Want Is to Be with You" terdengar dramatis. Sekaligus memiliki unsur teatrikal berpadu dextrous counter-melody yang tak terduga.
'Sob Rock' boleh jadi terdengar satir di beberapa bagian. John Mayer seakan menggarap konsep album ini sebagai upaya menertawakan dirinya sendiri. Sedangkan secara musikalitas, 'Sob Rock' justru terdengar datang dari musisi handal yang memainkan lagu demi lagu untuk dirinya sendiri. Tak peduli apakah orang lain akan menyukai aransemen, lirik, atau bahkan gabungan genre-genre tak biasa yang ia padu padan.
Dibalik album yang nampak tak lebih dari "bercanda," John Mayer jelas menggarap 'Sob Rock' dengan sangat serius; dan ia pun jelas menikmati setiap prosesnya.