Berlatar sekitar 200 tahun sebelum "Game of Thrones", "House of  the Dragon" (HOTD) merupakan serial prekuel yang diadaptasi dari novel George R.R. Martin, "Fire & Dragon". Martin juga ambil peran dalam pengembangan naskah serial HBO ini bersama Ryan Condal.
Masih tentang perebutan Iron Throne, namun kali ini dalam liga yang berbeda. HOTD akan menjadi opera perebutan tahta di antara Targaryen, sesama penunggang naga, yang sempat kita dengar dalam semesta "A Song of Fire and Ice" sebagai Dance of the Dragons.
Bagi kita yang sebelumnya tidak menonton "Game of Thrones" (GOT) sekalipun tampaknya akan bisa menikmati HOTD. Karena serial ini memiliki gap latar waktu yang sangat jauh, silsilah keluarga Targaryen ini juga masih terlalu jauh dengan Daenerys Targaryen di GOT.
Episode perdana "House of the Dragon" disutradarai oleh Miguel Sapochnik dengan judul 'The Heirs of the Dragon'. Dibintangi oleh Paddy Considine sebagai Raja Viserys I Targaryen, Math Smith sebagai Daemon Targaryen, dan Milly Alcock sebagai Putri Rhaenyra Targaryen yang masih muda pada episode pertama.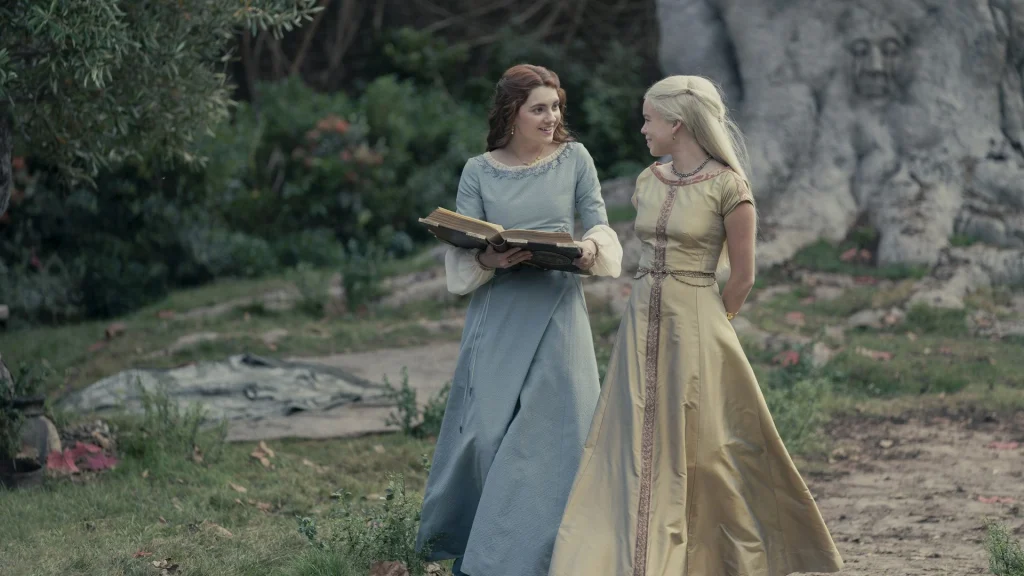 Skenario Perebutan Tahta di Antara Bangsawan Targaryen
Jika episode pertama season perdana GOT menunjukan kerapuhan Daenerys Targaryen sebagai putri terbuang, kita akan melihat kekontrasan pada Rhaenyra sebagai putri dari House Targaryen yang dalam puncak kejayaannya. Kekontrasan ini akan menjadi sedikit detail menarik bagi penggemar GOT lama. Semacam tribute yang sayangnya menimbulkan ironi dan perasaan tragis pada masa depan House Targaryen.
Perdebatan tentang penerus tahta menjadi konflik utama yang awalnya terasa ringan dalam episode pertama HOTD. Dimana Viserys I masih menjadi raja yang duduk di atas Iron Throne. Sementara Rhaenys Targaryen (Eve Best) adalah sepupu tua Viserys dengan julukan 'Queen Who Never Was'. Satu lagi Daemon Targaryen, adik Viserys yang ditentang oleh petinggi kerajaan sebagai penerus tahta di Seven Kingdoms. Kemudian ada Rhaenyra, putri sulung Viserys yang merasa tidak dianggap sebagai penerus tahta yang diharapkan, karena sang ayah masih menuntut ibunya untuk memberikan anak laki-laki.
Dengan objektif utama episode yang terus mempertimbangkan hingga memperdebatkan penerus tahta, narasi secara jelas telah memperkenalkan setiap karakter kunci dalam kisah ini. Meski premis perebutan tahta sudah tidak biasa lagi dalam genre drama fantasi kerajaan seperti ini, "House of the Dragon" mampu memberikan presentasi dalam episode pilot yang ringkas, padat materi, dan berkesan bagi penontonnya.
Narasi Lebih Fokus dengan Perkembangan Adegan yang Berkesan
Jika "Game of Thrones" memiliki sudut pandang cerita yang banyak pada setiap episodenya (terutama pada season-season pertama), "House of the Dragon" memiliki narasi yang lebih fokus; House of Targaryen di King's Landing yang sedang menanti kelahiran anak kedua Viserys dan Lady Aemma Arryn. Alur cerita juga kronologis dan lebih nyaman untuk diikuti.
Building up setiap adegan yang monumental juga terasa menegangkan, dieksekusi dengan editing yang mendukung narasi dan mempermainkan emosi penonton.
Mengikuti jejak pendahulunya, HOTD telah memberikan sample nuansa kebrutalan dan drama yang mendebarkan melalui episode perdana ini. Ada ekspektasi untuk jenis serial drama konflik kerajaan yang berat. Dimana kita akan kesal dengan satu karakter, kemudian mencintai karakter yang lain, berharap mereka selamat hingga episode atau season berikutnya.
Masih Tampilkan Konten Dewasa dan Adegan Sadis
Buat yang menonton di HBO dengan televisi atau fasilitas keluarga, perlu diingat bahwa "House of the Dragon" merupakan serial drama dengan konten dewasa. Akan ada beberapa adegan erotis dan nudity, hingga adegan kekerasan yang brutal dan sadis. Namun berbeda dengan GOT yang intensitasnya terlalu banyak pada season pertama, HOTD hanya menampilkan materi tersebut sebagai selingan secukupnya dan cukup esensial untuk perkembangan plot.
Kalau untuk desain produksi secara keseluruhan, sudah tidak perlu ditanya lagi kualitasnya. Belum memperlihatkan potensi terbesarnya, namun bisa dikategorikan melampaui "Game of Thrones". Belum apa-apa kita sudah bisa melihat dua naga dalam episode pertama ini. Dilansir dari Screenrant, akan ada 17 naga berbeda dalam HOTD. Karena apalah arti serial tentang Targaryen tanpa naga yang menjadi peliharaan kebanggan mereka.
Secara keseluruhan, "House of the Dragon" episode pilot berhasil menyambut kita di Westeros dalam masa kejayaan House Targaryen. Naskahnya lebih fokus, presentasi karakter kunci juga jelas, premis utama dan akhir episode telah membentuk pondasi akan konflik yang kuat pada kelanjutan episode-episode berikutnya. "House of the Dragon" season pertama terdiri dari 10 episode yang bisa kita streaming di HBO GO.