Disco: genre musik yang telah lama mati yang kemudian bangkit kembali bagaikan Lazarus. Lihat saja rekaman musik populer yang sedang mendominasi radio dan streaming platform masa kini.
Artis-artis internasional seperti The Weeknd ("Blinding Lights"), Dua Lipa ("Don't Start Now"), dan bahkan musisi alternatif seperti Tame Impala ("Is It True") menyuguhkan musik disco dengan modern twist.
Melihat jumlah spin lagu-lagu tersebut yang mencapai puluhan juta, terbukti pula bahwa pasar (dan music lovers) merespon positif keajaiban Lazarus tersebut. Rasa-rasanya tinggal menunggu waktu saja bagi kebangkitan genre disco terjadi di industri musik Indonesia.
Patut diperhatikan bahwa Diskoria bukan pet project sembarangan. Diskoria digawangi oleh Merdi Simanjuntak dan Fadli Aat yang esensinya berprofesi sebagai disc jockey alias DJ. Single debut mereka ("Balada Insan Muda") digarap bersama trio produser Laleilmanino (dengan portofolio meliputi Maudy Ayunda, Marion Jola, dan HIVI!) dan menjadi sleeper hit yang kemudian memberikan mereka nominasi AMI Awards pertama untuk Pendatang Baru Terbaik Terbaik 2019.
Diskoria telah menyatakan bahwa mereka berambisi untuk memperkenalkan kembali genre disco dengan rasa yang lebih 'kekinian' dan sepenuhnya berbahasa Indonesia–ambisi yang patut diacungi dua jempol.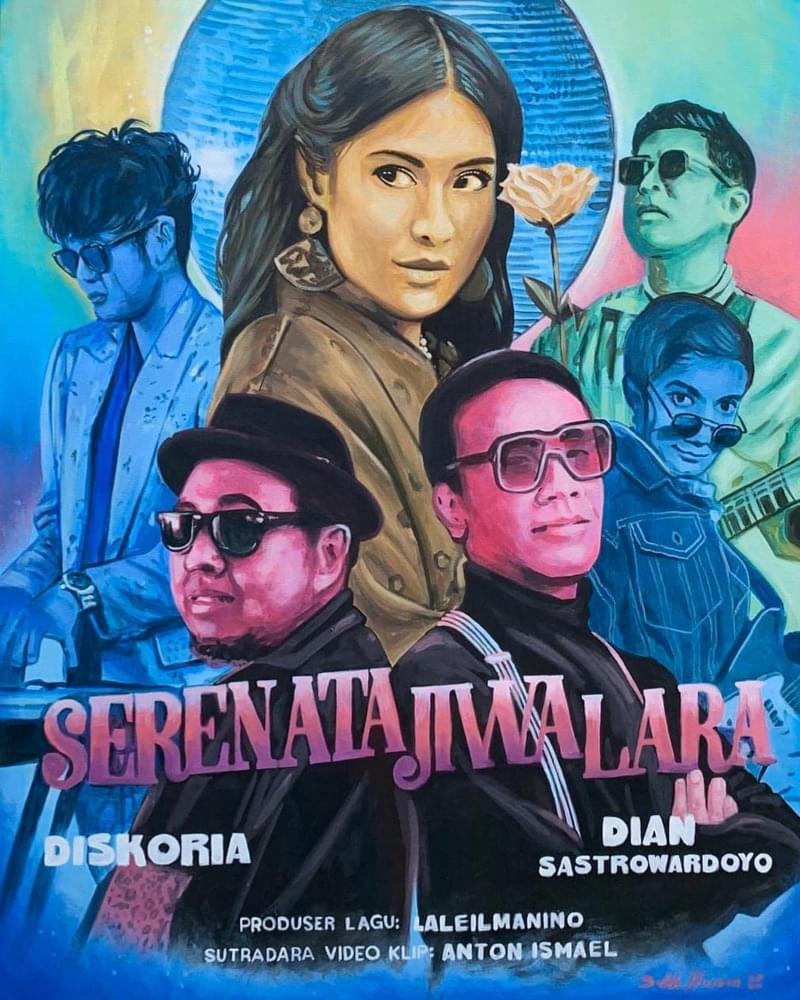 Memulai dekade baru, Diskoria hadir dengan single kedua berjudul "Serenata Jiwa Lara". Sama halnya dengan "Balada Insan Muda", duo DJ yang satu ini kembali menggaet Laleilmanino sebagai produser dan Dian Sastrowardoyo sebagai featured vocal. Bahkan hanya dengan mencantumkan nama Dian saja, pastinya music lovers akan menyimak single yang satu ini dengan lebih mikroskopik. After all, it is DIAN SASTRO. Right?
"Serenata Jiwa Lara" masih berbagi DNA yang serupa dengan "Balada Insan Muda". Dari segi lirik, "Serenata Jiwa Lara" adalah balada patah hati (Jeritan perih hati yang luka/Cinta sederhana kau buat merana/Bilang-bilang sayang lalu hilang tanpa bayang) yang dibalut dengan disco beat yang seolah-olah menjadi perpaduan modern antara The Groove dan Rafika Duri.
Terlepas dari itu, terasa bahwa "Serenata Jiwa Lara" jauh lebih old-school daripada "Balada Insan Muda"–yang justru menjadi poin positif sekaligus poin negatif. Poin positifnya adalah Diskoria seolah-olah memberikan homage bagi sejarah disco yang memang tidak semestinya dilupakan. Poin negatifnya adalah kemungkinan besar music lovers generasi milenial ke bawah akan sulit mengapresiasi "Serenata Jiwa Lara".
Sekarang, bagaimana dengan Dian Sastro? Di sini hal yang paling bijaksana adalah dengan menutup mata kita dan mendengarkan "Serenata Jiwa Lara" sebagai karya musik pada umumnya. Sayang sekali–dan memang sepatutnya dinyatakan sejujur-jujurnya–Dian Sastrowardoyo bukanlah seorang vokalis.
Entah apa yang menjadi motif sesungguhnya Diskoria dan Laleilmanino menggaet Dian. Kenyataannya, vokal Dian sangat over-processed dan robotic (entah disengaja atau tidak) sehingga bila tidak ada nama Dian pada single tersebut, mungkin tidak akan ada seorang pun yang menyadari kehadiran Dian sebagai guest vocal. Setidaknya kehadiran Dian berhasil membangkitkan awareness para pendengar mainstream mengenai Diskoria dan misi yang diembannya. Akan tetapi, kontribusi Dian hanya sampai di situ saja.
Kesimpulannya, "Serenata Jiwa Lara" bukan single yang buruk, tapi bukan pula karya terbaik Diskoria. Melihat pernyataan Diskoria bahwa "Serenata Jiwa Lara" didedikasikan untuk mendukung Yayasan Irama Nusantara, dapat disimpulkan pula bahwa karya yang satu ini lebih bersifat charity single dan bukannya lead single. Tidak salah membangkitkan awareness dengan menggaet bintang ternama. Akan tetapi, di akhir hari, it's all about the music.
IN A NUTSHELL:
+ Diskoria menunjukkan ambisi lebih besar untuk memperkenalkan kembali genre disco–sesuatu yang patut diacungi jempol
– Pada akhirnya, sebagai sebuah karya musik, tidak ada yang benar-benar istimewa