"Blood Red Sky" merupakan film Jerman-Inggris yang disutradarai oleh Peter Thorwarth. Kita pastinya sudah tidak asing dengan film thriller action berlatar di dalam transportasi umum, terutama pesawat. Mulai dari "Air Force One" (1997) hingga "Snakes on Plane" (2006).
"Blood Red Sky" memiliki sinopsis yang sebetulnya sudah tidak asing lagi; teroris yang membajak sebuah pesawat. Bedanya, ada Nadja (Peri Baumeister) sebagai seorang ibu yang hendak melindungi anaknya, hingga akhirnya Ia melepaskan kekuatan yang selama ini disembunyikan.
Film ini merupakan Netflix Original Movie yang cukup populer, bahkan ratingnya cukup tinggi. Apa benar "Blood Red Sky" merupakan film thriller action yang menyuguhkan keseruan dan cerita yang baru?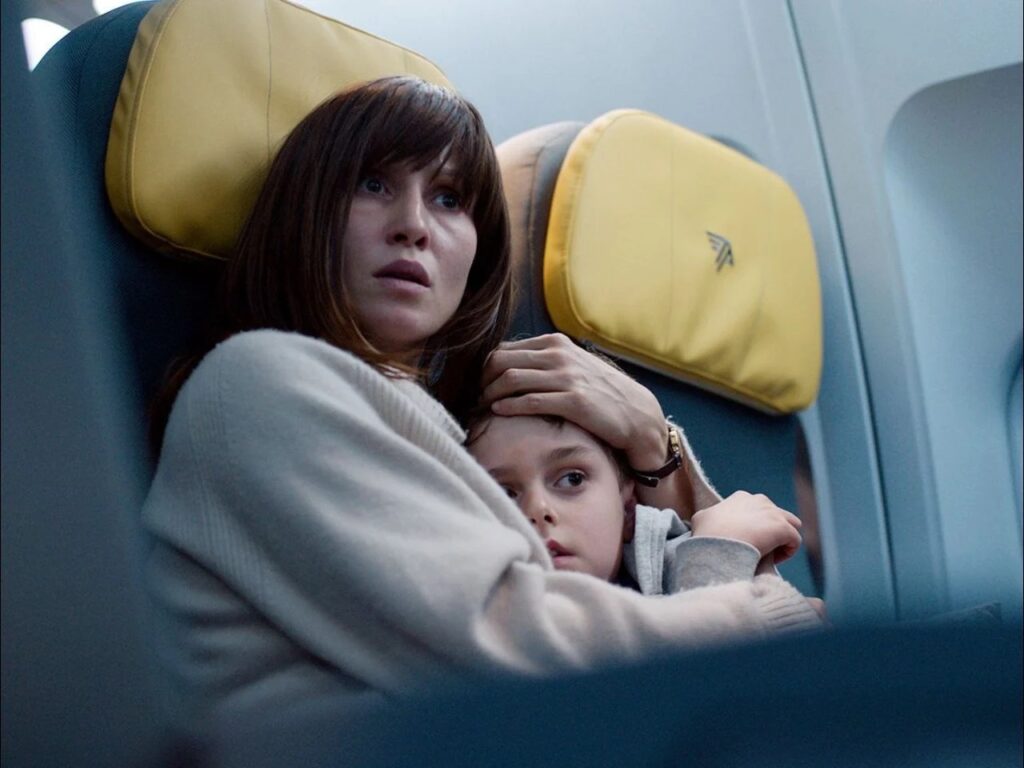 Gabungan Antara Flightplan dan 30 Days of Night di Dalam Pesawat
Secara keseluruhan, "Blood Red Sky" memiliki tema cerita cukup mengingatkan kita pada "Train to Busan" (2016), yaitu sama-sama tentang orangtua yang melindungi anaknya dari ancaman dalam sebuah transportasi. Juga cukup serupa dengan film "Flightplan" (2005) yang dibintangi oleh Jodie Foster.
Namun kali ini ancaman lebih dari sekadar teroris maupun mayat hidup, namun vampir yang serupa dengan film "30 Days of Night" (2007). Pada akhirnya, terlalu bayak referensi dari film yang sudah ada dimasukan dalam "Blood Red Sky".
Film ini hendak menyampaikan banyak hal, namun berakhir dengan tidak ada satupun yang memiliki penjelasan solid. Pertama, ada kecenderungan ingin mematahkan steriotip teroris yang selalu diperankan oleh orang Timur Tengah. Kedua, konsep dari monster vampir versi film ini yang kurang mendasar, dan berakhir menjadi kekacauan besar. Terakhir, tentang kasih sayang ibu pada anaknya, mungkin cuma hal ini yang bisa tersampaikan dengan baik, namun instrumen cerita yang membalut keseluruhan naskah terasa kurang pas. Terlalu banyak hal terjadi dalam satu film untuk kita cerna. Bahkan durasi 2 jam terasa sangat sia-sia.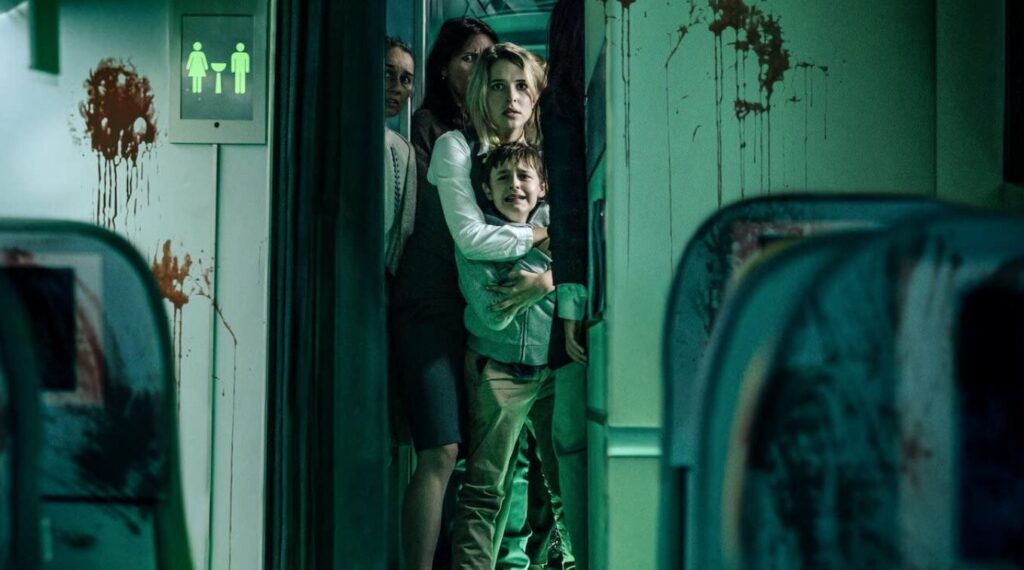 Merusak Suspense dengan Adegan Flashback yang Tidak Tepat
Meski memuat tema cerita pembajakan di dalam pesawat yang digabungkan dengan plot serangan monster, "Blood Red Sky" sama sekali tidak menegangkan apalagi menakutkan.
Salah satu kesalahan yang dilakukan dalam proses editing adalah peletakan plot flashback yang justru "membunuh" mood yang telah dibangun dalam suatu adegan. Ketika penonton sudah merasa tegang, tiba-tiba adegan dipotong menuju masa lalu. Mungkin niatnya untuk memberikan babak pengungkapan rahasia Nadja sebagai protagonis. Namun usaha tersebut sebetulnya sia-sia, penonton sudah tahu lewat trailer film ini.
Adegan flashback terus diulang-ulang dan membuat penonton jadi kehilangan mood. Menimbulkan perasaan bosan dan tak sabar film segera selesai. Pada akhirnya, penulis tampaknya juga tidak mau tanggung jawab dengan kekacauan yang telah Ia buat, dengan memberikan adegan terakhir yang instan untuk mengakhiri semuanya.
Dialog Konyol dan Banyak Plot Hole
Ada beberapa dialog konyol dan karakter pendukung yang terlalu berlebihan penokohannya. Kita akan melihat orang bicara tentang uang bahkan mendekati nafas terakhirnya, kemudian disambut dengan jawaban yang sangat klise dan cheesy.
Dalam kisah ini, kelompok teroris yang hadir tetap menjadi 'the bad guys', ada yang benar-benar jahat dan gila, ada juga yang sepertinya masih memikirikan moral. Namun akhirnya juga tidak jelas apa objektif mereka meneror pesawat tersebut. Karena terlalu banyak yang ingin disajikan dalam satu film, akhirnya justru ada banyak plot hole yang timbul.
"Blood Red Sky" mengandung segala hal yang pernah ada dalam sebuah film bertema pembajakan di dalam pesawat yang terbang. Namun, hal tersebut justru melahirkan kekacauan dan banyak aspek dalam kisah yang tidak tereksplorasi secara fokus dan maksimal.