Setiap orang tentu memiliki lukanya masing-masing. Akan tetapi, setiap luka dapat menjadi pelajaran berharga dalam hidup dan sekaligus membuat seseorang menjadi pribadi baru. Hal tersebutlah yang nampaknya ingin disorot oleh Mamoru Hosoda dalam film animasi terbarunya, 'Belle'.
'Belle' sendiri merupakan film bertema drama fantasi yang diproduksi oleh Studio Chizu. Terinspirasi dari 'Beauty and the Beast', film ini mengisahkan seorang perempuan yang selalu tampak murung semenjak meninggalnya sang ibu. Suatu ketika, ia masuk ke dalam dunia virtual dengan avatar yang lebih menawan. Akan tetapi, hal ini justru membawanya dalam konflik baru kala bertemu dengan satu avatar buruk rupa pembawa onar dengan sebutan 'Naga'.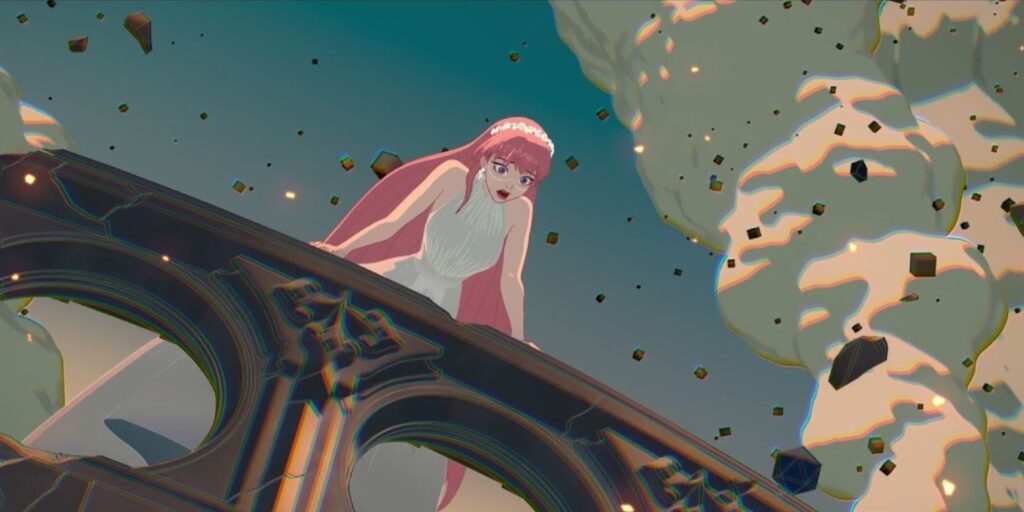 Secara kasat mata, orang-orang akan mengira ini adalah versi lain dari 'Beauty and the Beast'. Namun, 'Belle' sejatinya adalah kisah seseorang dalam menerima luka masa lalu dan melihatnya sebagai sesuatu yang tidak selamanya buruk. Inilah yang membuat kisah dalam film terbaru Mamoru Hosoda ini sangat mudah untuk menyentuh penonton.
Untuk membuat 'Belle' ini lebih membumi dan relate dengan masa kini, Mamoru Hosoda tak lupa mengemasnya dengan deretan drama remaja dan hadirnya dunia virtual layaknya media sosial yang sedang marak saat ini. Meski beragam elemen tersebut tampak lebih mendominasi, film drama fantasi ini tetap tak lupa dengan apa yang ingin disampaikan sedari awal.
Narasi ciamik dalam 'Belle' didukung pula dengan karakterisasi menarik di dalamnya. Berbagai karakternya dapat ditampilkan dengan baik dan mampu menghidupkan cerita yang diusung dalam film ini. Hal ini juga ditambah dengan voice acting menawan yang membuat karakternya serasa hidup dan tetap make sense.
Narasi dan karakterisasi yang menggugah tersebut tentunya dikemas dengan teknis yang tetap stay true dengan karakteristik Mamoru Hosoda. Animasi yang indah dan tampak dikemas dengan rapi sangat memanjakan mata kala dinikmati di layar lebar. Selain itu, scoring yang menggugah indera pendengaran juga membuat pengalaman menikmati 'Belle' sangat mengharukan.
Akhir kata, 'Belle' merupakan film drama fantasi Mamoru Hosoda yang berhasil menggugah rasa mengenai penemuan arti dalam luka seseorang. Didukung dengan berbagai elemen menarik dan teknis menawannya, film ini sangat layak untuk dinikmati dari sekarang.