Sebelum sukses menyutradarai film biografi "Forrest Gump" (1994), Robert Zemeckis pernah menyutradarai satu film science fiction yang sukses menjadi perbincangan, yaitu "Back to the Future" (1985).
Film sepanjang 116 menit ini berkisah tentang remaja bernama Marty McFly (Michael J. Fox) yang berteman dengan ilmuwan nyentrik Emmett "Doc" Brown (christopher Lloyd).
Suatu hari, Doc membuat sebuah penemuan unik dan meminta Marty untuk meliputnya hasil temuannya itu, yaitu mobil time-traveler yang bisa membawa seseorang ke masa lalu ataupun masa depan. Saat tengah meliput, Marty dan Doc didatangi sejumlah orang-orang Libya yang marah kepada Doc karena telah mencuri plutonium milik mereka. Peristiwa tersebut kelak membuat Marty tak sengaja masuk ke tahun 1955.
Film Science-Fiction yang Ringan
Tak seperti science-fiction pada umumnya yang cenderung serius, "Back to The Future" justru mengambil pendekatan yang lebih ringan. Semua itu berkat ceritanya yang mengalir dan mudah diikuti, serta unsur komedi yang diselipkan di berbagai adegannya. 30 menit pertama film akan menggambarkan bagaimana hidup Marty yang medioker, serta Doc dengan segala uji cobanya yang aneh dan sering kali gagal.
Alur cerita pun berubah saat Marty masuk ke tahun 1955. Di bagian ini, cerita utama pun ditampilkan, yaitu usaha Marty untuk back to the future alias kembali ke tahun ia hidup (1985). Semua usaha Marty itu lantas disajikan lewat adegan-adegan yang mengalir, komikal, dan sedikit dramatis. Ditampilkan pula sub plot cerita di filmnya, yaitu kisah cinta ayah dan ibu Marty sebelum menikah. Subplot tersebut disajikan bersama plot utama filmnya secara padu, sehingga tak membuat cerita filmnya semakin kaya.
Konflik demi konflik pun muncul di 30 menit terakhir film. Film pun lantas ditutup dengan open ending yang menjadi pemicu sekuel film ini, "Back to The Future II (1989). Selain dibuatkan sekuel, "Back to the Future" juga nantinya dikembangkan menjadi franchise lewat kehadiran sekuel-sekuel lain setelah "Back to The Future II", serta film pendek dan TV series.
Properti yang Menarik
Selain penulisan cerita, hal lain yang menjadi kelebihan "Back to the Future" adalah pemakaian sejumlah properti di dalamnya yang menarik dan sesuai zamannya. Salah satu properti yang paling menarik perhatian adalah mobil tim-traveler garapan Doc yang dikenal dengan nama The DeLorean Time Machine. Properti ini terbuat dari mobil sedan yang didesain seunik mungkin. Seusai "Back to the Future" dirilis, mobil tersebut lantas diincar oleh sejumlah orang untuk dikoleksi.
Pemakaian sound effect dan special effect adalah kelebihan lainnya dari "Back to the Future". Semua efek spesial dan suara yang dihasilkan di film ini terasa begitu nyata dan menarik secara visual (utamanya pada special effect). Tak heran bila film ini mendapatkan penghargaan dari Academy Awards untuk kategori Best Sound Effects Editing".
Jangan lupakan sajian music scoring-nya yang berhasil membuat film ini kian menarik. Semua sajian musik di sini disajikan dengan tempo upbeat, heroik, dan punya sentuhan 80-an. Ada pula sajian cover version dari salah satu lagu Chuck Berry di salah satu adegan yang dilakoni Marty. Kredit sebesar-besarnya untuk Alan Silvestri selaku penata musik.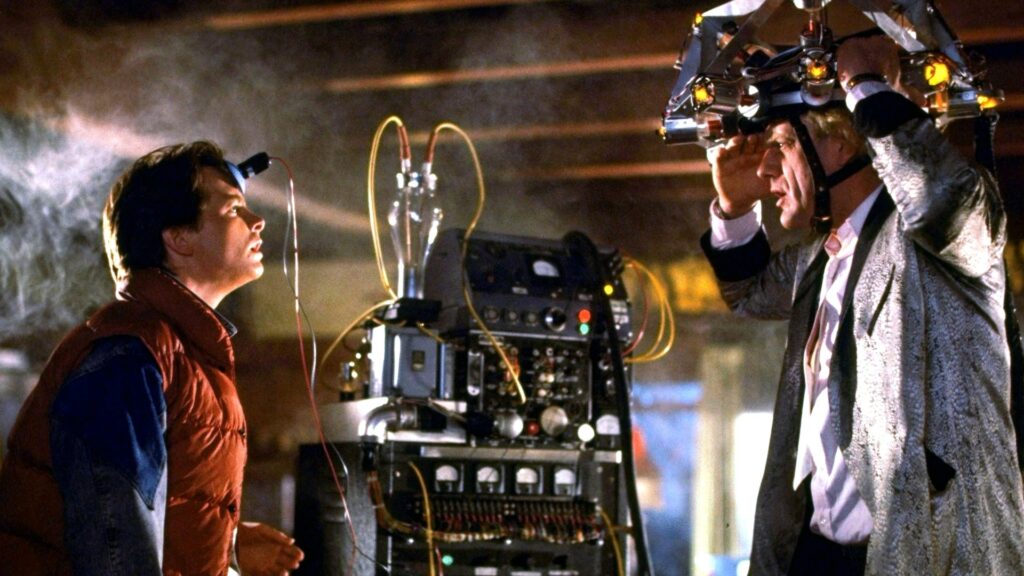 Chemistry Unik Michael J. Fox dan Christopher Lloyd
Selain tampil natural saat memerankan tokoh mereka masing-masing, Michael J. Fox dan Christopher Lloyd juga berhasil menciptakan chemistry unik di antara Marty dan Doc. Walaupun film ini tidak menggambarkan secara jelas kapan keduanya bertemu dan menjalin hubungan unik antara profesor nyentrik dan asistennya yang merupakan remaja medioker.
Di jajaran supporting role, Crispin Glover mampu memerankan sosok George McFly yang culun dan lemah, namun mengalami perkembangan karakter sejak bertemu Marty di tahun 1955. Lea Thompson juga tampil baik sebagai Lorraine yang terlihat lugu namun genit dan sedikit nakal.Thomas F. Wilson menunjukkan akting tengilnya sebagai Biff Tannen yang selalu merundung George, terutama sebelum Marty datang ke tahun 1955.
"Back to the Future" merupakan film science fiction yang berbeda berkat penyajiannya ceritanya yang mengalir dan ringan untuk diikuti. Siapa pun pasti bisa menonton film garapan Robert Zemeckis ini. "Back to the Future" bisa kembali disimak di Netflix.