Perhelatan akbar tahunan, Jakarta Internasional BNI Java Jazz Festival, kini memasuki usia ke-16. Hanya tinggal hitungan hari, Java Jazz kembali gelar di JiExpo Kemayoran, Jakarta.
Java Festival Production kembali menggelar Java Jazz Festival 2020 selama 3 hari dimulai dari 28 Februari hingga 1 Maret. Nama-nama seperti Phil Perry, Maurice Brown, Tony Monaco and Friends serta grup musik legendaris The Jacksons siap memeriahkan BNI Java Jazz Festival 2020.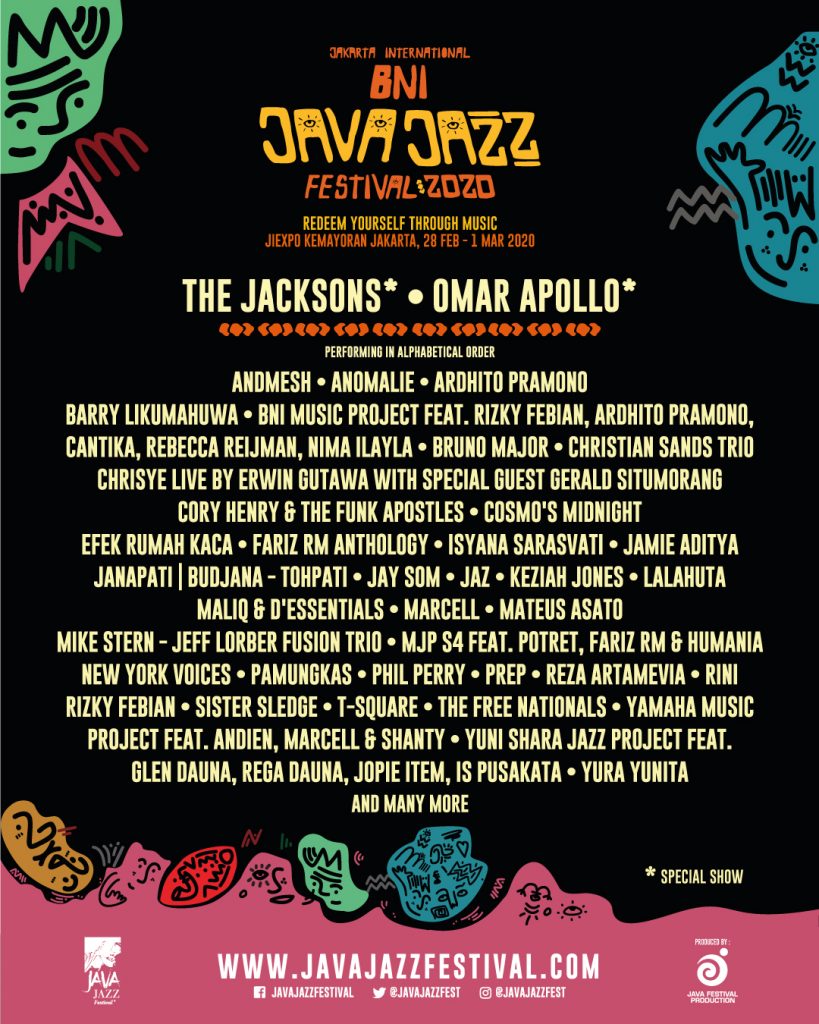 Ramenya pemberitaan kasus infeksi virus corona di dunia, sempat membuat beberapa pihak meragukan akan terselenggaranya acara Java Jazz Festival 2020. Dewi Gontha selaku President Director PT Java Festival Production sebelumnya mengaku khawatir atas masalah yang sedang menimpa dunia. Namun tekad Dewi tetap kuat untuk mewujudkan salah satu festival jazz terbesar di dunia ini.
"Kita ingin Java Jazz tidak putus meskipun ada outbreak. Saya sudah bertemu dengan Menteri Kesehatan. Tidak boleh batal, selagi masih diizinkan". Ujar Dewi, saat Press Conference Java Jazz Festival 2020 di Hotel Borobudur, Jakarta (27/2).
Hal senada juga disampaikan oleh Menteri Pariwisata dan Ekonomi Kreatif, Wishnutama Kusubandio. Meskipun statistik pariwisata sedang mengalami penurunan, namun dengan adanya Java Jazz Festival 2020 diharapkan masih dapat menarik minat wisatawan mancanegara untuk melakukan safari ke Indonesia. Begitu pula dukungan diberikan oleh Komisaris Utama Garuda Indonesia yang juga mantan kepala Badan Ekonomi Kreatif, Triawan Munaf. Menurutnya sangat disayangkan jika tahun ini Java Jazz Festival harus terhenti. Oleh karenanya, Triawan akan terus mendorong Dewi dan teman-teman untuk tetap ambil bagian dalam salah satu event jazz tersebut.
Meski saat ini belum ada data pasti mengenai angka kejadian Corona Virus di Indonesia, Dewi beserta tim tetap melakukan sosialisasi dan antisipasi terhadap wabah corona berupa himbauan agar para pengunjung Java Jazz Festival 2020 selalu menjaga kebersihan tangan dan hidrasi tubuh. Di beberapa spot tertentu nantinya akan disediakan hand sanitizer atau cairan pembersih tangan untuk pengunjung.
Tahun ini, Java Jazz Festival 2020 juga akan bersinergi dengan beberapa instansi pemerintah terkait seperti Pemerintah Provinsi DKI Jakarta, Kementerian Pariwisata dan Ekonomi Kreatif serta Kementrian Lingkungan Hidup dan Kehutanan.