The Game Awards kembali diselenggarakan pada tahun ini di Microsoft Theater, LA, Amerika Serikat, tepatnya pada 8 Desember 2022 waktu setempat. Geoff Keighley kembali memandu acara ini dengan dibantu oleh Sydnee Goodman.
Sebanyak 108 game, tim, tokoh, hingga acara game memperebutkan 31 nominasi penghargaan. Sistem voting untuk pemenang terbagi dengan persentase 90% dari juri dan 10% dari penggemar secara online.
Game Awards Orchestra kembali membawakan medley dari soundtrack masing-masing game yang masuk dalam nominasi Game of the Year. Penampilan juga dibawakan oleh Hozier dan Bear McCreary dengan 'Blood Upon the Snow' dari soundtrack "God of War Ragnarok" dan Hasley dengan 'Lilith' dari soundtrack "Diablo IV".
"God of War Ragnarok" mendominasi dengan memenangkan 6 dari 10 nominasi, diikuti oleh "Elden Ring" dengan memenangkan 4 dari 7 nominasi. Christopher Judge tampil maksimal dengan perannya sebagai Kratos hingga memenangkan Best Performance.
Pembacaan pemenangnya sendiri dibawakan oleh aktor legendaris Al Pacino. Beberapa kejadian lain juga menyita perhatian seperti interupsi oleh seorang remaja yang naik ke atas panggung dan performa The Flute Guy yang totalitas ketika penampilan The Game Awards Orchestra.
Selain pembacaan para pemenang, The Game Awards 2022 juga memberikan banyak pengumuman terkait game-game mendatang, seperti "Death Stranding 2", "Diablo IV", "Star Wars Jedi: Survivor", hingga "Suicide Squad: Kill the Justice League" yang memberikan penghormatan terakhir kepada mendiang Kevin Conroy sebagai Batman.
Persaingan Ketat antara Elden Ring dan God of War Ragnarok
"Elden Ring" dan "God of War Ragnarok" menjadi perhatian utama pada gelaran Game Awards 2022. Padahal, beberapa game lain juga patut diperhitungkan seperti "Sifu" dan "Horizon Forbidden West". Para penggemar game justru ramai memperdebatkan siapa yang lebih pantas menyandang Game of The Year di antara "Elden Ring" dan "God of War Ragnarok" sejak awal pengumuman nominasinya.
"God of War Ragnarok" dengan mudah membangun hype yang masif. Kratos telah dikenal sebagai ikon figur game sejak seri pertamanya di tahun 2000-an. Karakternya juga semakin berkesan ketika berkembang sebagai sosok ayah yang pendiam di dunia Nordik.
Game ini menawarkan berbagai level kesulitan dari termudah (give me story) hingga tersulit (give me god of war). Akan tetapi, game ini lebih menyasar pemain tipe casual yang menikmati game sebagai hiburan hingga selesai. Aspek naratif terlihat ditonjolkan sebagai nilai utama, baik melalui alur cerita, karakter, aksesibilitas, hingga musik yang berkolaborasi dengan Hozier.
Meskipun demikian, keputusan atas Game of the Year tahun ini nampaknya kembali melihat esensi game ketika dimainkan. "Elden Ring" tidak kalah unggul dengan memenangkan kategori concept art dan directing. Tidak seperti "God of War Ragnarok" yang cenderung ditujukan kepada pemain casual, "Elden Ring" menawarkan permainan yang lebih kompleks.
Tidak setiap pemain mampu menikmati "Elden Ring", tetapi kepopulerannya dibangun secara bertahap mulai dari "Dark Souls" series, "Bloodborne" hingga "Sekiro: Shadows Die Twice". Pemain juga diberikan opsi yang lebih bebas seperti membangun karakter secara unik, menunda boss fight, hingga menentukan jalan ceritanya sendiri.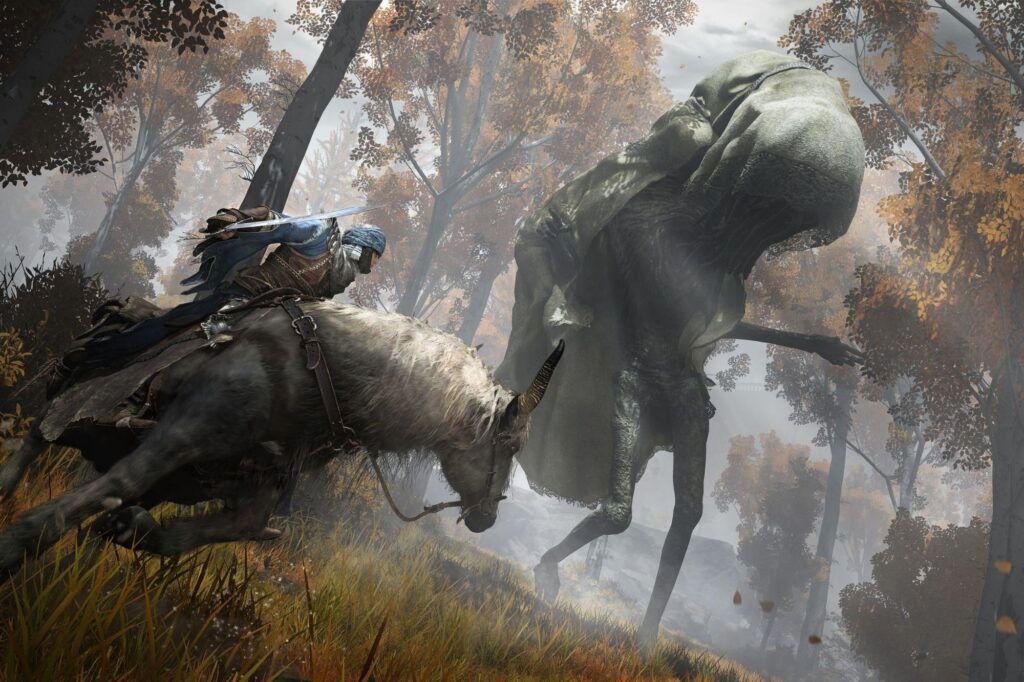 Game ini juga menawarkan open world yang lebih luas dan layak untuk dieksplorasi untuk pengalaman baru, tidak sekadar menuntaskan side mission bahkan setelah menyelesaikan main villain.
Selain itu, game ini juga mampu berkaitan dengan berbagai referensi pop culture seperti "Game of Thrones" (karena R. R. Martin menulis pondasi cerita dalam Elden Ring) yang memiliki basis penggemar yang luas.
Secara sederhana, kompleksitas yang berpadu dengan menjadi nilai plus bagi game ini yang ditujukan kepada pemain bertipe hardcore. Meskipun masih banyak menyisakan pro dan kontra, "Elden Ring" patut diapresiasi sebagai Game of The Year tahun ini.
Berikut daftar lengkap para pemenang dalam The Game Awards 2022:
Game of The Year: Elden Ring
Best Direction: Elden Ring
Best Narrative: God of War Ragnarok
Best Art Direction: Elden Ring
Best Score and Music: Bear McCreary, God of War Ragnarok
Best Audio: God of War Ragnarok
Best Performance: Christopher Judge, God of War Ragnarok
Games fo Impact Award: As Dusk Falls
Best Ongoing Game: Final Fantasy 14
Best Independent Game: Stray
Best Debut Indie Game: Stray
Best Community Support: Final Fantasy 14
Best Mobile Game: Marvel Snap
Best VR/AR Game: Moss: Book 2
Best Action Game: Bayoneeta 3
Best Action/Adventure Game: God of War Ragnarok
Best Role-playing Game: Elden Ring
Best Fighting Game: MultiVersus
Best Family Game: Kirby and Forgotten Land
Best SIM/Strategy Game: Mario + Rabbinds Sparks of Hope
Best Sports or Racing Game: Gran Turismo 7
Best Multiplayer Game: Splatoon 3
Best Esport Game: Valorant
Best Esport Athlete: Jacob "Yay" Whiteaker
Best Esport Team: LOUD
Best Esport Coach: Matheus "bzkA" Tarasconi
Best Esport Event: 2022 League of Legends World Championship
Content Creator of the Year: Ludwig
Best Adaptation: Arcane: League of Legends
Most Anticipated Game of 2023: The Legend of Zelda: Tears of the Kingdom
Award for Innovation in Accessibility: God of War Ragnarok