Empat tahun setelah aksi pembunuhan yang ia lakukan, Akira Sato alias The Fable (Junichi Okada) menjalani hidup layaknya orang biasa. Pada kehidupannya yang baru, ia melakoni profesi sebagai desainer grafis paruh waktu, serta tinggal bersama adiknya bernama Yoko Sato (Fumino Kimura).
Di tempat lain, Utsubo (Shinichi Tsutsumi) yang tak sempat dibunuh The Fable menyamar sebagai pegawai NPO. Dalam penyamarannya itu, ia tinggal bersama pembunuh bayaran bernama Suzuki (Masanobu Ando), serta seorang gadis bernama Hinako Saba (Yurina Hirate).
Hinako sendiri merupakan gadis yang mengalami kelumpuhan akibat insiden empat tahun lalu. Suatu ketika, Hinako yang hendak menyembuhkan lumpuhnya berjumpa dengan Akira Sato. Ia tak tahu kalau Sato adalah The Fable yang ia lihat empat tahun lalu. Dari pertemuan itu, perlahan membawa Akira Sato untuk beraksi lagi. Tak seperti dulu, ia mencoba beraksi tanpa membunuh siapa pun.
"The Fable: The Killer Doesn't Kill" (2021) adalah sekuel "The Fable" (2019) yang menyajikan nuansa berbeda. Pada sekuel ini, penonton akan melihat sisi manusiawi dari The Fable si pembunuh legendaris. Selain tersedia di Netflix, film ini rencananya akan ditayangkan di Australia pada Desember nanti.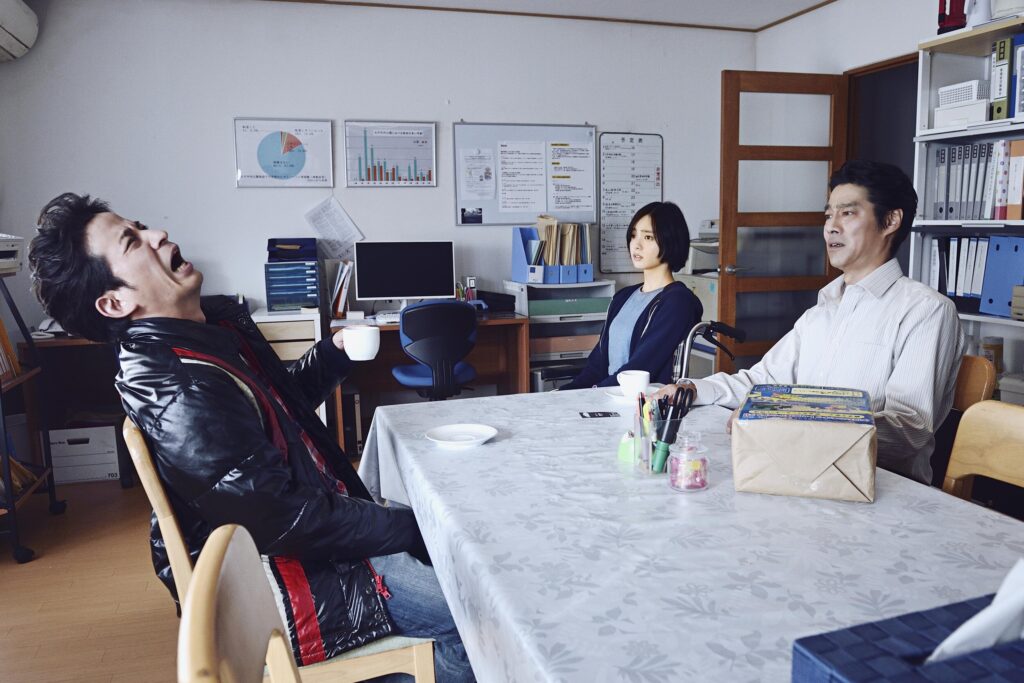 Manusiawi Tanpa Kehilangan Aksi
Seperti yang sudah disebutkan, sekuel ini akan lebih menonjolkan sisi manusiawi The Fable. Hal itu bisa dilihat dari satu jam pertama film ini yang memperlihatkan keseharian The Fable sebagai Akira Sato. Mulai saat ia bekerja sebagai desainer grafis paruh waktu, sampai interaksinya dengan sang adik. Melihat tiap adegan di satu jam pertama akan membuat penonton awam mengira kalau The Fable bukanlah pembunuh legendaris.
Penonton juga akan disajikan keseharian Utsubo dkk sebagai pegawai NPO. Walau menyamar sebagai orang biasa, Utsubo masih melakukan sejumlah tindakan culas. Baik itu kepada salah satu teman kerja The Fable, maupun pada Hinako yang tinggal bersamanya.
Walau banyak menampilkan unsur manusiawi, deretan aksi tetap bisa disimak di film ini. Setiap adegan aksinya disajikan dengan darah dan ledakan yang begitu nyata. Adapula sentuhan slow motion di beberapa adegan, serta bumbu-bumbu dramatisasi. Semua itu bikin tiap adegan aksinya terasa nyata, mendebarkan, sekaligus indah.
Satu-satunya hal yang kurang menonjol di film ini adalah music scoring-nya. Musik yang tersaji di film ini tergolong sedikit. Walau demikian, hal tersebut tidak membuat sekuel "The Fable" kehilangan taji.
Akting Junichi Okada yang Bervariatif
Pada sekuel ini, Junichi Okada mampu menyajikan akting yang bervariasi. Ia tak hanya menyajikan kemampuan bertarung The Fable, tetapi juga mengeluarkan sisi manusiawi dari si pembunuh legendaris itu.
Lewat aktingnya itu, penonton akan melihat bahwa The Fable pun juga manusia biasa umumnya yang punya perasaan, memiliki tingkah konyol, serta ingin hidup damai layaknya orang biasa. Junichi juga berhasil membawa The Fable menjalin chemistry yang menarik dengan beberapa tokoh. Semisal Yoko Sato, Hiraki Soba, serta beberapa rekan kerjanya.
Shinichi Tsutsumi tampil cukup mengesankan sebagai Utsubo yang licik dan culas. Sedangkan rekan mainnya Masanobu Ando tampil baik sebagai sosok Suzuki yang garang sekaligus komikal. Fumino Kimura berhasil memerankan Yoko Sato. Adik dari The Fable yang terlihat seperti wanita biasa, namun punya kemampuan bertarung yang hebat.
Yang paling mencuri perhatian adalah Yurina Hirate. Di film ini, ia mampu memerankan sosok Hiraki Soba yang kakinya lumpuh akibat insiden empat tahun lalu. Lewat aktingnya, ia berhasil mengajak penonton menyelami kedalaman emosi Hiraki Soba, serta perjuangannya untuk hidup lebih baik. Kehadiran Hiraki sendiri menambah sisi humanis di film sekuel "The Fable" ini.
Beberapa peran kecilnya mampu menyajikan akting komikal. Semisal Takoda yang diperankan Jiro Sato, serta Jackal yang diperankan Daisuke Miyagawa. Akting komikal keduanya membuat sekel "The Fable" ini punya bumbu humor di dalamnya.
Secara keseluruhan, "The Fable" The Killer Who Doesn't Kill" berhasil menjadi sekuel yang mumpuni. Lewat sekuel ini, penonton akan melihat sisi manusiawi The Fable si pembunuh legendaris. Sekuel ini juga masih menyajikan deretan adegan aksi yang layak ditonton.