Setelah penantian yang cukup lama dari para fans fanatik Star Wars akhirnya terpenuhi dengan cuplikan terbaru The Rise of Skywalker. Cuplikan terbaru ini semakin membuat para penggemar Star Wars bertanya-tanya dan penasaran apa yang akan terjadi di film terbaru dari saga Star Wars ini.
26 Agustus 2019, D23 Special Look Star Wars: The Rise of Skywalker akhirnya resmi dirilis. Sebelumnya hanya diperlihatkan secara terbatas untuk para pengunjung event D23 Expo 2019. Dari dua teaser yang dirilis sejauh ini, tak ada satupun yang bisa menjelaskan cerita utama yang akan disajikan di seri kesembilan Star Wars.
D23 Special Look ini dibuka dengan narasi yang kalau kita dengar lebih seksama seperti suara Emperor Palpatine alias Darth Sidious. Karena seperti yang kita tahu, sang pimpinan tertinggi dari para Sith tersebut sudah tewas oleh anak didiknya sendiri yaitu Darth Vader pada film Star Wars Episode VI: Return of The Jedi. Tapi ini bukan hal yang mengejutkan karena pada teaser pertamanya, suara tawa dari Emperor Sith juga terdengar saat teaser tersebut akan berakhir. Jadi apakah Sith Lord hidup kembali?
Terkait pembahasan D23 Special Look ini, adegan pembuka diawali dengan potongan-potongan scene tiap saga Star Wars, dari Star Wars klasik seperti Episode IV – A New Hope, Episode I – The Phantom Menace, sampai yang terbaru The Last Jedi, semua momen penting di tiap episode saga Star Wars terangkum dalam adegan pembuka teaser ini. Tentunya makin membawa nostalgia terutama bagi para Star Warriors yang sudah mengikuti saga ini dari tahun 1977.
Setelah beberapa potongan scene yang cukup membuat kita terkenang akan film-film Star Wars klasik tersebut, setelah menit pertama barulah terlihat sedikit cuplikan terbaru dari Episode IX ini. Dan seperti yang penulis katakan sebelumnya, tak banyak yang bisa diulik terkait story utama yang akan disajikan oleh film yang konon akan menjadi akhir cerita bagi warisan keluarga Skywalker tersebut.
Beberapa scene hanya menampilkan Rey beserta Finn dan Poe Dameron yang mengunjungi suatu desa atau perkampungan di planet yang mirip seperti Tatooine. Yang sedikit mengejutkan ada scene penampakan Lady Leia Organa yang diperankan mendiang Carrie Fisher. Seperti kita tahu beliau sudah meninggal pada 2017 lalu setelah menyelesaikan proses shooting Star Wars: Episode VIII – The Last jedi. Yang jadi pertanyaan apakah pihak Lucasfilm dan Disney akan benar-benar menggunakan full CGI untuk bisa menghidupkan mendiang Carrie Fisher tersebut? karena Carrie yang meninggal pada usia 60 tahun tersebut sama sekali belum melakukan pengambilan gambar untuk Episode IX ini. Ataukah itu hanya sebatas potongan adegan yang seharusnya ada di Episode VIII tapi tak sempat ditampilkan dalam film tersebut?
Selain adegan Lady Leia Organa yang membuat para fans cukup terkejut, ada juga adegan Rey dan Kylo Ren tengah bertarung di atas sebuah kapal yang akan tenggelam dan kedua Jedi yang bersebrangan jalan tersebut tengah bertarung cukup sengit dikelilingi oleh ombak laut dan hujan badai yang cukup besar.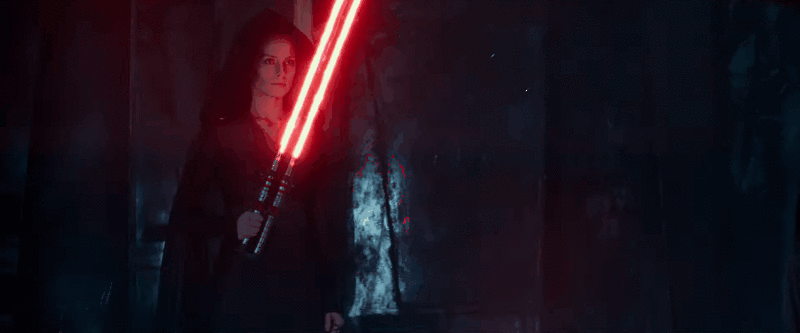 Adegan penutup dari teaser tersebut memperlihatkan Rey yang mengenakan tudung gelap berwarna hitam sambil memegang pedang Lightsaber merah ganda, yang mengingatkan kita akan tokoh Darth Maul dari Episode I The Phantom Menace. Apakah ini pertanda bahwa dia beralih ke Dark Side?
Disutradarai oleh J.J. Abrams, The Rise of Skywalker akan menjadi bab terakhir dari trilogi Skywalker, mengikuti Star Wars 2015: Episode VII – The Force Awakens dan Star Wars 2017: Episode VIII – The Last Jedi. Abrams, yang juga menyutradarai The Force Awakens, mengambil alih The Rise of Skywalker setelah Colin Trevorrow dari Jurassic World meninggalkan film pada tahun 2017 karena "perbedaan kreatif." The Rise of Skywalker akan tayang di bioskop pada 20 Desember 2019.