Koleksi vila-vila mewah yang berada di pusat Canggu dan berdekatan dengan Pererenan, membuktikan bahwa ketenangan masih menjadi spesialisasi Pulau Dewata. Para pencari ketenangan akan menemukan teman di sini.
Riverhouse Bali didirikan oleh pasangan suami-istri ekspatriat, Drew Burrell dan Amy Bennet. Pasangan ini memiliki portofolio properti berbasis Australia yang terus berkembang. Ocean Farm di Gerringong di Pantai Selatan New South Wales merupakan salah satu properti milik Drew dan Amy yang mengusung konsep pilihan akomodasi ramah–perkembangan terbaru dari portofolio mereka. Sekarang, pasangan ini telah menetap di Pererenan, Bali. Dengan adanya Riverhouse Bali, keduanya berharap dapat berbagi keindahan alam yang sarat dengan sawah pada pengunjung.
Niat awal Drew untuk mendirikan Riverhouse Bali muncul saat ia baru saja menyelesaikan beberapa proyek pengembangan di NSW. Saat itu, ia berpikir bahwa akan menyenangkan untuk mencoba sesuatu yang berbeda. Drew melihat niatnya ini sebagai kesempatan untuk menghabiskan waktu di suatu daerah yang ia sukai, yaitu menciptakan rumah dan ruang untuk dinikmati orang.
Canggu tidak hanya dipilih karena daya tarik estetisnya, tetapi juga karena kemudahannya. Canggu merupakan surga bagi para pencinta kuliner dan rumah bagi beberapa surfer karena memiliki ombak terbaik di pulau Bali. Drew menjelaskan, "Saya memilih Canggu karena saya menyukai ombak, tenang dan campuran yang baik dari wisatawan, Bali lokal, dan ekspatriat dari seluruh dunia."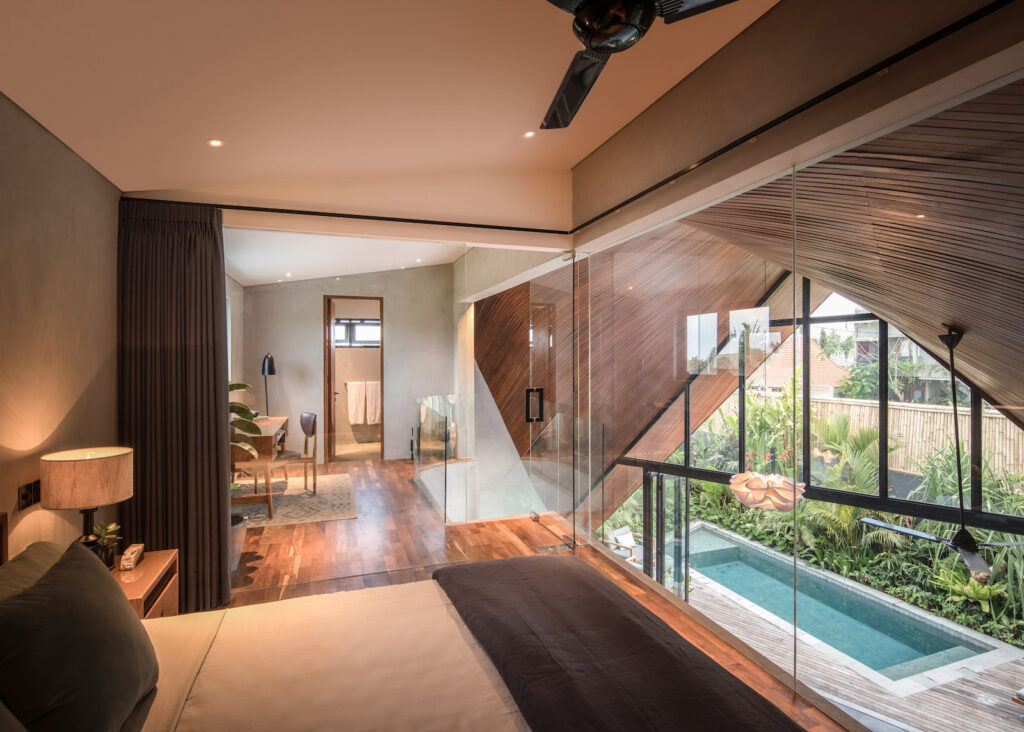 Ada tiga villa Riverhouse Bali yang dapat ditemukan di wilayah Canggu dan Pererenan. Pertama, Villa Ixora yang berada di jantung Canggu–beberapa menit dari Crate, dan Shady Shack.
Kedua, The Riverhouse yang berlokasi di Pererenan. The Riverhouse memang dirancang untuk grup traveler. Oleh sebab itu, The Riverhouse memiliki lima kamar tidur yang bisa menampung hingga total 12 orang. The Riverhouse juga menggunakan smart-design dengan menawarkan tujuh kamar mandi, dua dapur, dan ruang pijat sebagai lambang kemewahan.
Ketiga, The River Studio yang bertempat tidak jauh dari tidak jauh dari The Riverhouse. The River Studio sangat cocok bagi pasangan atau individu yang mencari liburan indah. Hunian satu kamar tidur ini memberikan kesan yang sama seperti The Riverhouse—kesan ramah. Kabar baiknya, The River Studio dan The Riverhouse dapat disewa bersamaan jika wisatawan ingin mendapatkan akomodasi dengan ruang yang lebih banyak.
Desain-desain indah Riverhouse Bali dirancang secara arsitektural. Alexis Dornier adalah arsitek di balik Riverhouse dan River Studio, sementara Ryan Gabso adalah arsitek yang merancang Ixora. Secara praktis, dua arsitek ini adalah orang yang berada di garis depan setiap brief desain, kata Drew.
"Kami senang mendorong desain yang indah dan mencolok, namun kami tidak pernah menjadikannya tujuan utama. Tiap bagian haruslah memiliki fungsi, dan dari situ baru kami ciptakan desain yang cantik. Ruang-ruang kami dirancang dengan mempertimbangkan lingkungan, meskipun bisa saja kami menaruh pendingin ruangan di seluruh bagiannya jika diinginkan."